Clarification
Wow! You guys have way to much confidence in my abilities and are giving me way too much credit! My internet was down from Friday-Monday–so, I had more than just one day to complete the projects listed down below. Although, I do like feeling like superwoman. =)
I can understand how that may have been confusing–as one would expect the internet to be down for only a day–but,no…that was not the case.
In fact, not internet related at all–but about doing without modern conveniences, one Christmas a few years back, we had no electric for a full week–right over Christmas & my sister and her husband were staying with us for the holidays. Granted, we had a huge ice storm and some folks were without electric a whole lot longer than we were. I'm thankful that we didn't have any kidders at the time–our house was very cold–Ohio winters can be a tad nippy. My husband and I, my sister and her husband and my other sister(who was living with us at the time) all camped out in the living room–we have a gas fireplace that we could use(minus the fan) which kept us at a roasty 50 degrees or so(as long as we didn't need to venture from the living room, to say, go to the bathroom or anything). I do have some funny memories from that Christmas though….I've got some great sisters! =)
And a picture–nothing to do with my post: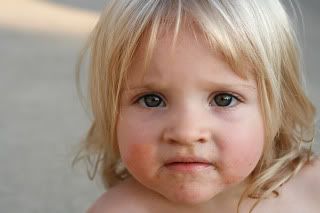 She's so cute with her messy face. =) There is something very "squeezy" about a messy little girlie. Although if my Mother-in-Law saw her she'd be chasing her down trying to clean her up.