Birthday Giveaway Day #1
Happy Mother's Day and welcome to the first day of my WEEKLONG Giveaway!  I have lined up some great giveaways and we are gonna party all week long in celebration of my birthday on Saturday. =)  How old am I gonna be you wonder….well…I will be hitting the ripe old age of 33–so I suppose I am still heading up the hill. =p  I have asked some of my very favorite shops to join me in celebrating this birthday and offering all my readers some fabulous giveaways—you are gonna love it!
We are starting things off with a bang with my first giveaway sponsored by….
Kimberly always has a fantastic selection of fabrics and super fast shipping–when I am itching for a fabric fix that fast shipping is a life saver. =)  And everyone always thinks I am nuts when I talk about this, but I love the bags that the fabric is packaged in—they are the smoothest/clearest bags ever and with all that fabric goodness folded up in there…I just love it. =)
If I had $100 to spend today this is what would be in my cart(actually it may already be in there):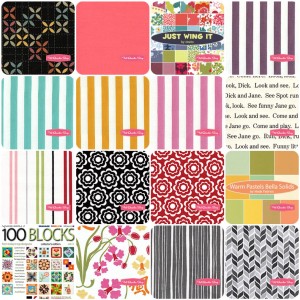 From Left to Right starting at the top:
1.  Max & Whiskers Black Maybley
4. From Little Things Stripe Purple
5. From Little Things Stripe Teal
6. From Little Things Stripe Orange
7. From Little Things Stripe Pink
10. Cherry Fizz Simply Floral Black
11. Cherry Fizz Simply Floral Cherry
12. Warm Pastels Bella Solids Charm Pack
13. Quiltmakers 100 Blocks Volume 3
14. Sanctuary Sherbet Orchid Feng Shui
Another thing that I love about Fat Quarter Shop is the coming soon page.  I swear I check that crazy page a couple times a week.  Why?..you ask..well, I'll tell you. =)  You can catch sneak peeks of upcoming fabric lines long before they are available—that gives you a chance to not only stare at these little lovelies and plan where to use them in your next project, but to save up all your little pennies.  And just this past week, this page was updated to include a "newly added" section–an invaluable tool if you love your fabric like me and check this page frequently. 
So, you are probably wondering about the giveaway part…Kimberly was kind enough to donate a Baby Fat Quarter Bundle by Michael Miller Fabrics:
You have 3 chances to enter this giveaway & please make sure that I have a way to contact you!!
1.  Leave a comment
2. If you are a follower of mine or become a follower of mine, leave a 2nd comment
3. If you are a FQS fan on Facebook or become one, leave a 3rd comment.  You are gonna want to make sure and do this anyway so you don't miss out on all the great sales posted on facebook. =)
So, there ya go–three chances to win a great bundle of fabric!  I will leave the giveaway open until thru Saturday, May 14 and draw a winner on Sunday. 
 Make sure to stop back tomorrow for another wonderful giveaway! =)
COMMENTS ARE NOW CLOSED