Birthday Giveaway Day #3
Are you all tired of the giveaways yet?  No, you say?…well, that's good 'cause I have a great one today from another one of my favorite Etsy shops….
Fabric Shoppe is in the house! =)
And, let me tell you that there is a great giveaway in store for you!
I could drop a serious boatload of cash at Fabric Shoppe right now!  If you haven't stopped by recently you really need to–Jody has some amazing fabrics available right now (doesn't she always?!?).  She also has a wonderful blog with great giveaways and lots of fun happenings. 
Now for some serious Fabric Shoppe eye candy…
These Pick a Bunch fabrics have really been catching my eye lately:
And, I don't know how many times I have had to stop myself from purchasing these houndstooth fabrics–I can see them being used in so many different projects. 
And how eye catching is this little damask bundle:
Another thing that I love about Fabric Shoppe is the ease with which you can purchase custom bundles–I love when Etsy shops have this feature–as if I needed to be able to purchase fabrics more easily. =):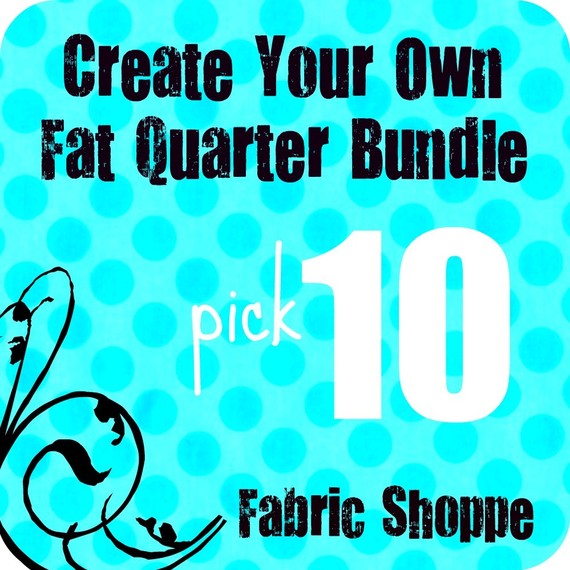 And now, the news you have been waiting for, Jody from the Fabric Shoppe is sponsoring a wonderful giveaway to help celebrate my birthday week.  Seriously, you guys, I want this one for myself!
A Fat Quarter bundle of Ty Pennington's Impressions in the ice/persimmon colorway–see, swoon-worthy..didn't I tell you?! =)
You have three chances to win–Please make sure that I can contact you!:
1.  Leave a comment
2. If you are a follower of mine or become one, leave a 2nd comment.
3. If you are a fan of Fabric Shoppe on Facebook or become one, leave a 3rd comment.
This giveaway will run thru Monday, May 16 & I'll draw a winner on Tuesday.
If you haven't already entered to win yesterday's giveaway and Sunday's giveaway make sure you do!
 Comments are now closed.