Ruby, Pearl, & Opal Quilt
Well folks!–I'm pretty excited to be sharing another quilt over on Moda Bake Shop today! =)  For this one I got to work with Moda's Ruby line of fabric by Bonnie and Camille—let me tell you, it is a beautiful line of fabric.  I really liked Bliss but the addition of the grey in this line of fabric has me smitten. =p
As I mentioned earlier, I have included instructions for the pieced backing–which for me, is not one of my favorite things to figure.  Once I get the quilt top finished I want to have that puppy finished! =p  So, I've saved you some backing figuring and it utilizes almost all of the leftover pieces from the layer cake used to make the quilt top.
 So, how about that giveaway!
I have a few Ruby scraps that I will be mailing out to one lucky winner.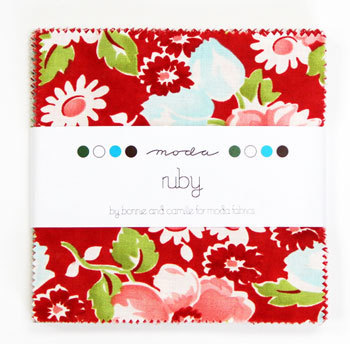 And, that's not all!  Randi of Fresh Squeezed Fabrics contacted me and offered to make my little meager giveaway just a bit more exciting. =)  She will be sending a Ruby Charm pack to a 2nd lucky winner.  Thanks so much Randi!! 
How's that to brighten your Monday. =)
So, if you'd like a chance to win–pop on over to Moda Bake Shop & leave me a little comment love & then pop back over here and let me know that you did.  I'll draw two winners on Wednesday.
I hope you all love my new tutorial!
Comments are closed.