Ruby Winners
First off, I want to say a huge thanks for all the wonderful feedback you all have given me about my latest Moda Bake Shop quilt!  I was blown away by all of the nice things that everyone said!  Many of you commented about how handy & appreciated the pieced backing was–I have already planned to include backing instructions in my next Moda Bake Shop tutorial(my fabric for that quilt should be arriving tommorrow!) & I just may need to include pieced backing instructions in all of my future tutorials!  It seems like many of you are with me in  disliking having to figure out a cute backing layout using the leftover quilt top fabrics.
Now, onto some giveaway winners!  The winner of the Ruby Charm pack kindly donated by Fresh Squeezed Fabrics is: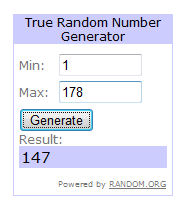 147
laurel says:
loved this quilt so much i just left a comment over there, then came over here to see what else you do! adding you to my google reader to see what other goodness you come up with!!
An email is on the way to you as well!
Again, thanks so much everyone for all of your wonderful feedback!