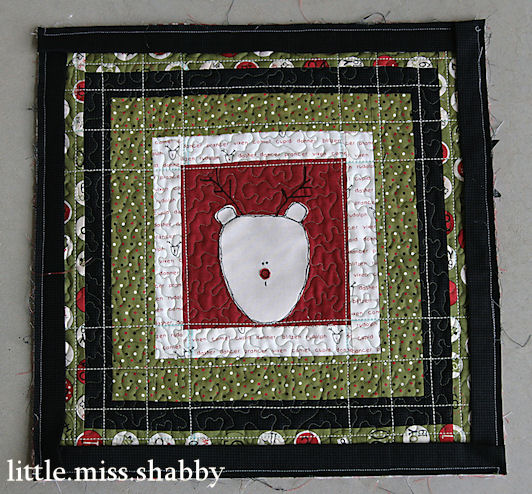 I have finished up the quilting on my reindeer pillow and the binding has been sewn down.  Has anyone had any luck machine sewing down binding?  I have tried several different popular machine sewing binding tutorials and I am never happy with the way it turns out.  Unless, the front and the back stitching line up perfectly I am just not happy with it.  Any tips or tutorials that worked for you?  Until then I will be hand sewing my binding…plodding along… =p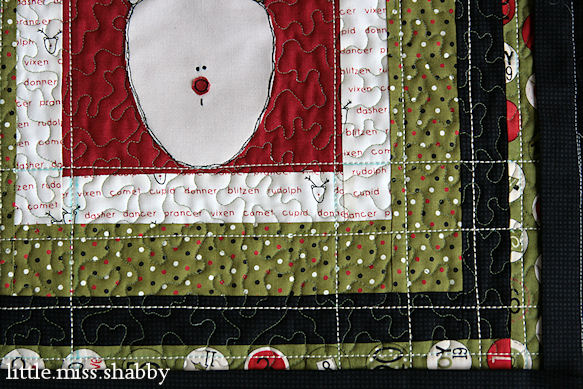 For the quilting on this pillow, I did an all over stipple, not over Mr. Reindeer, and then I did something a little bit different(for me).  Aurifil sent me a fantastic package of thread to try out several weeks ago.  One of the things that I have been playing with since receiving my fun thread package  is using the heavier 12 weight thread to straight line machine quilt.  I had planned to hand quilt the straight lines over the stippling but instead, I machine quilted them.  I used a longer stitch length for the straight lines but other than that I didn't make any changes to my machine/needle.  I am so pleased with the way that it turned out.  Totally makes me want to try doing a white whole cloth quilt using straight line quilting and a rainbow of 12 weight Aurifil thread–how pretty would that be!–and since Aurifil thread comes in 100s of colors it would be a breeze to choose some pretty ones.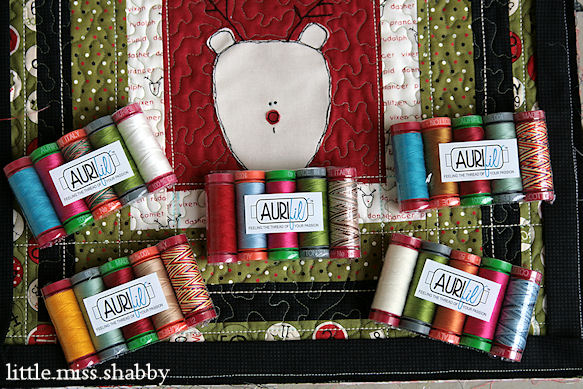 The folks over at Aurifil were also kind enough to send over 5 thread samplers for me to give away to 5 of my readers.  So, If you'd like to try out some fun thread leave me a comment.  If you aren't into machine quilting, the 50 weight thread is perfect for piecing–some threads mess with your seam allowance just a bit which doesn't seem like a big deal until you start putting together all the blocks.  Even 1/16 inch adds up over the piecing of a whole quilt.  US entries only please for this giveaway.