Kid Tested, Mother Approved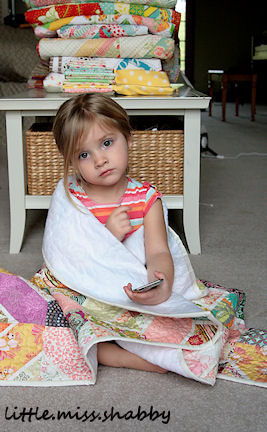 I finished up my Art Gallery Project Linus quilt.  I used a soft fleece to back the quilt with which makes it super cozy.  As I've mentioned before using fleece to back with is one of my current favorite things to use–it's cozier and not quite as stiff as using batting/cotton backing.  When I use fleece I forgo the batting.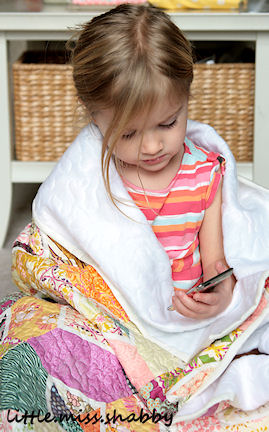 Elonie is a big fan of the fleece–perfect for her date with mommy's ipod.  On that note, am I the only mommy whose 3 year old wants to use the ipod more often than I do? =p  I don't know how much she would use it if I didn't limit her ipod time!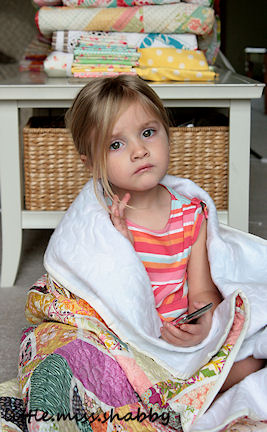 I stippled this quilt which I gotta say I wouldn't do again with the fleece backing.  Because the fleece is slightly stretchy, stippling just didn't work as well as I had hoped–it was very difficult to keep a consistent movement–straight line quilting is definitely the way to go(which I've done before with fleece and had no trouble).  And I finished it off with a white binding–I think it frames all the bright colors perfectly and it ties in the small bits of white within the quilt.
Now I just need to drop off the quilt at my local Project Linus site.  I'm lucky to have two different quilt shops within 5 miles that are both Project Linus drop off sites.  What a fun project–thanks so much to Pat of Art Gallery fabrics for putting together such a wonderful event!