Road Trip!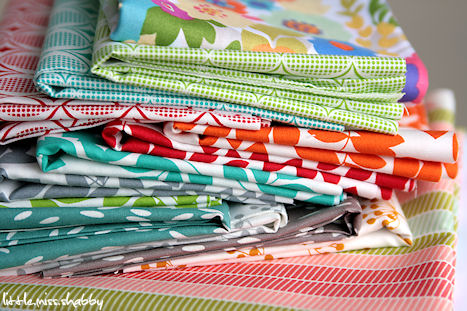 Yesterday, my mom and I made the trek to Fabric Shack.  It's almost 3 hours from my house, a bit of a drive, but well worth it in my opinion if you love fabric.  My goal when I left yesterday was to stay under $50–that's not to say I wouldn't have gone over my budget if I "needed" to, but I was really hoping to stay under that number…and I did. =)  And I still ended up with a great bundle of fabrics.
I picked up my favorite Echo prints (I already have the other mustard "dandelion" print).  I really like all of the prints in this line but, realistically, because of their larger scale I knew they weren't going to be ones I was reaching for no matter how pretty they are.  So, I talked myself down. =p
I've had my eye on this Dear Stella print since it came out–I think it'll mix perfectly with my vintage sheets.
I picked up my favorites from the Half Moon Modern line of fabric.  Again, I stuck with the smaller scale prints–I adore those leafy prints–totally my favorites from the whole line.  The more quilts I make, the more I realize I am reaching for the blender prints–those that can be mixed well with many other fabrics–they might not have the initial panache that a large scale fabric has  but their versatility really makes them my go to fabrics.
And lastly, I picked up some fabric from Art Gallery's Bespoken line.  I purchased it thinking how great it will work as binding–I do love a striped binding & this is a palette I work with quite a bit.
And, I made it home in time to enjoy some Skip-bo action with Chloe–I might add my day began with a rowsing game of Skip-bo as well. =p