Brrr! Mini Quilt Monday & Free Embroidery Pattern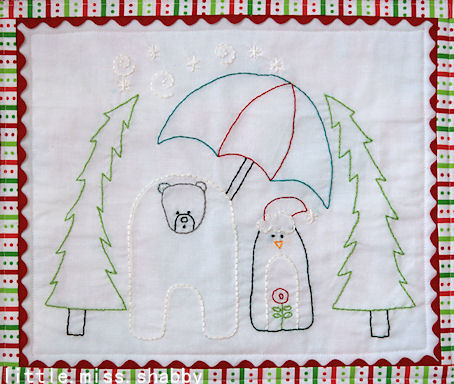 As promised, my completed Brrr! mini quilt.  I have thoroughly enjoyed working with these fun fabrics.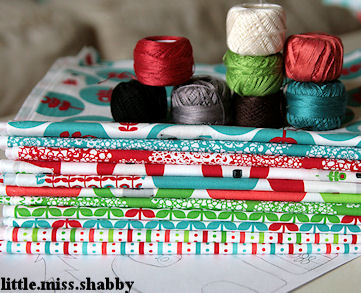 After opening up my package from Robert Kaufman, I knew that I wanted to do some kind of embroidery project.  Laurie's cute designs just lend themselves perfectly to embroidery!  Originally I had thought I would be going with a pillow but as I was working on it I decided to go with a mini quilt.  Would you believe this is my first mini quilt?  This gives my couch a much needed break from more pillows!
Jessica finished up a Brrr! baby quilt last week & her design incorporated rick rack–which I thought was a perfect touch.  I remembered seeing a quilt from Elizabeth of Oh Fransson which I thought was cool at the time that incorporated into the quilt blocks.  I thought this was a perfect option for my mini quilt.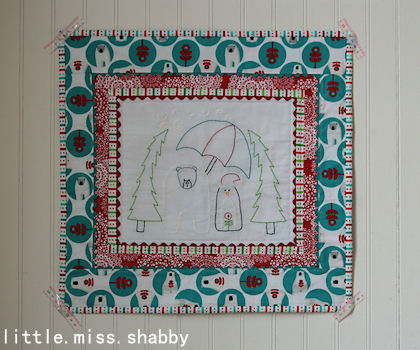 This little quilt finishes at about 18″ square.  The embroidery is done using 8 weight Perle Cotton.  I straight line quilted just a bit around the borders and finished it off with a stripey binding.  I can't get enough of striped binding and this line has two prints that work perfectly. =)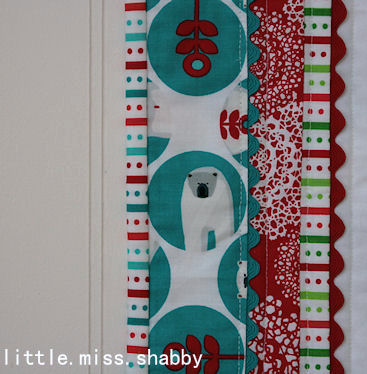 And here is the pdf embroidery pattern for you to enjoy as well! =)
The Polar Bear and The Penguin
The embroidery pattern finishes out at about 8″x10.5″.
Brrr! will be available in June.  There are more fun projects using Brrr! popping up around blogland if you can't wait to see more until then:  Jessica's baby quilt. Angela's Swoon Blocks and pj's, Molly's Fabric Bags, Krista's amazing Star Quilt.
I have another Brrr project up my sleeve–it's just a lot of fun to work with!  Thanks again Laurie for sending such a fantastic package my way to play with! =)