French Roses Complete
My French Roses Quilt is complete.  My goal was to finish it up over the weekend and I stitched the last of the binding on yesterday.  And got a hole in my finger from so much hand stitching–do you guys use thimbles to sew on binding?  My poor finger thinks I need to—I'm fine if I don't stitch a lot of binding on at once–but, last week I did two pillows and a quilt so my poor finger has had it. =p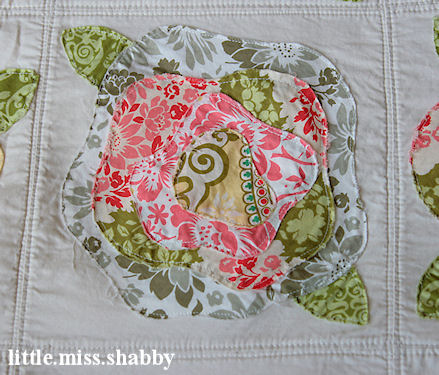 I straight line quilted about 1/8″ on either side of the seams which I think framed the roses nicely.  Since I could use the seams as my quilting guide I didn't need to mark any quilting lines which was a real time saver.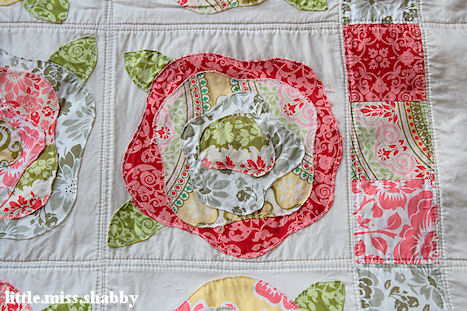 The roses frayed up nicely in the wash & the fleece backing that I used makes this quite a cuddly quilt. (You might be interested to know that Ryan is calling this my Pig & Turtle quilt…why?, you ask….Tip your head to the right and you'll see the pig  & if you look at the rose right above this one you can see the turtle.)…men….
Here's a closer pic of one of the roses–it'll fray a little bit more after a couple more washes.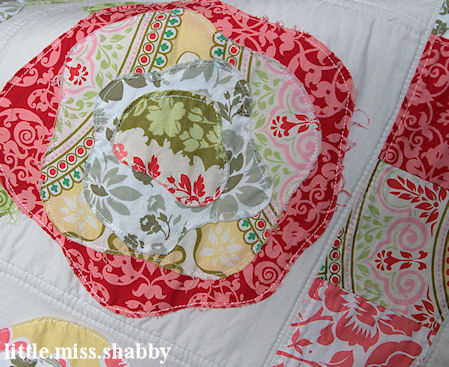 Quilt Stats:
French Roses Quilt Pattern by Heather French
Finshed Quilt Size–57″ x 57″
Fabrics used–Secret Garden by Sandi Henderson for Michael Miller Fabrics