Quilt Market
I wasn't lucky enough to attend Quilt Market this year–hopefully sometime though!  I did have a couple quilts I designed present though. =)  A month or so ago, P&B Textiles contacted me to see if I would be interested in designing quilts for them…it didn't take me long to take them up on that offer!  I love designing and I love working with new fabrics.  The first quilt I designed used Color Weave which is a collection somewhat similiar to Moda's Cross Weave fabrics only it is a printed fabric.  You might remember this stack of fabrics: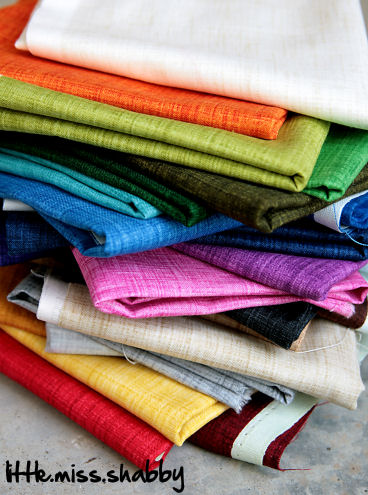 These are the fabrics I received in the mail from P&B.  It gives you a great idea of the colors and the look of texture these fabrics have.
After seeing the Color Weave scans I came up with this quilt:
And here it is in the P&B Textiles Booth at Quilt Market!
 I believe that the pattern will be available through P&B Textiles shortly.  It is a wonderfully simple pattern that comes together quickly and it perfect for showcasing larger scale prints.  I'll let you know when it's available!