Fabric + Yarn = Love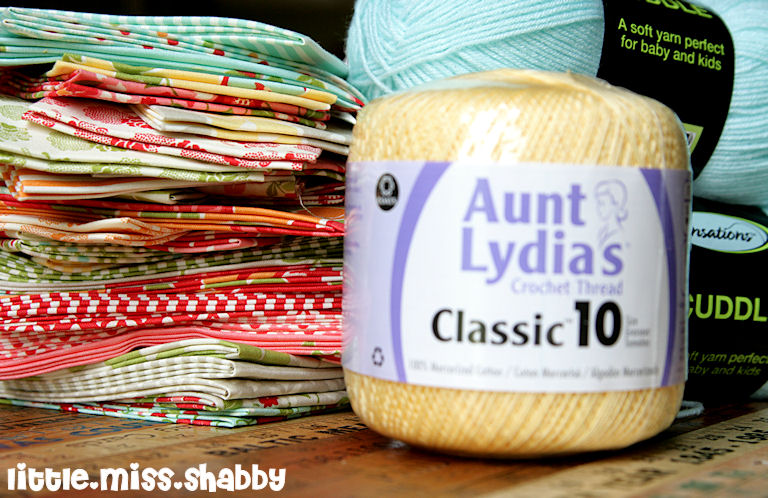 I'm a little bit excited about this whole fabric crocheted afghan idea that I talked about on Friday–and I'm pretty excited to have so many people interested in crocheting along! =)  I twisted my mom's arm, well I didn't have to twist too hard, to go along with me to Joann's to pick out some supplies on Saturday.  I really didn't know what I needed so I really had to have her help.
I ended up with Sensations Cuddle Yarn in Turquoise & I decided to use yellow crochet thread for the blanket stitch around the edge.  Of course, a trial block was in order….so, more arm twisting ensued and Sunday evening was spent at Moms.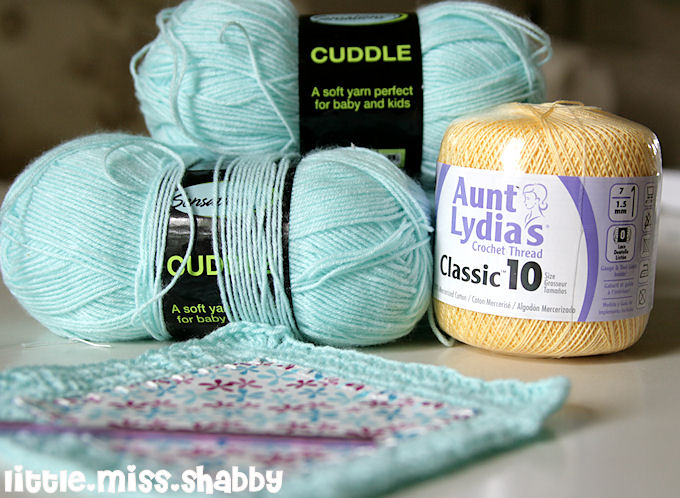 The blanket pattern uses 5″ squares–perfect for using up those extra charm packs that you have been hoarding. =)  I happened to have some Kate Spain Charm packs handy so I grabbed a couple squares, plus the fabrics matched my new crochet hook & yarn….very important.  And with my mom's help: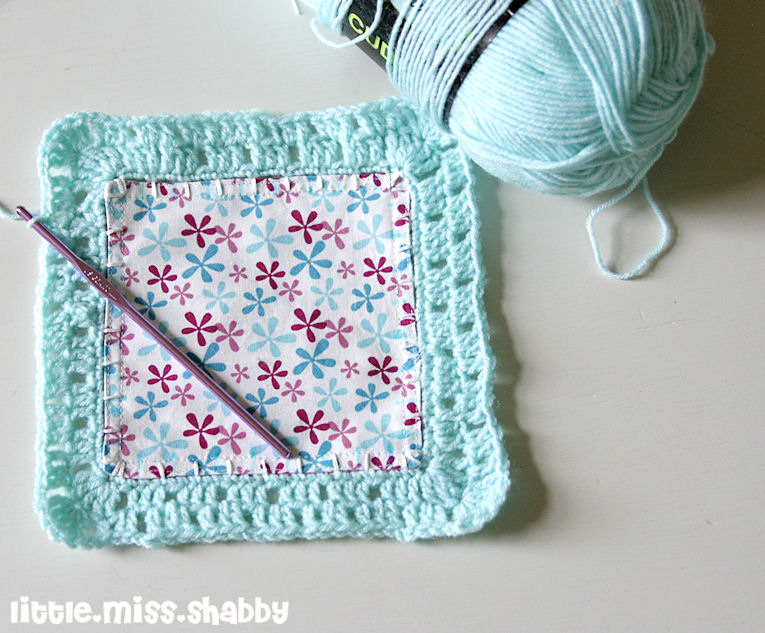 I now have a little trial block.  It's not perfect….and I am far from speedy, but it's pretty cute, right?  And, I love that the back is going to be different than the front…if you want it to be…of course, you could use the same fabrics on the front and back.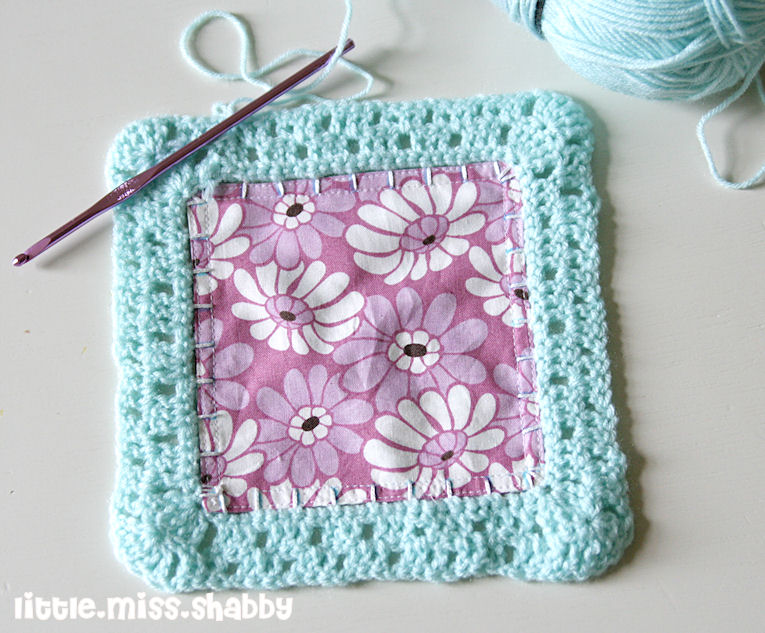 So, if you want to join in here's what you will need to start:
First off here's the original blog post by Sewing Daisies with her pattern.
Charm Squares–You will need to decide how big you want your blanket to know how many charm squares you'll need.  My completed block measures 6.5″ square.  So, I'm thinking maybe 52″ x 65″(a nice throw size).  I will need 80 completed squares ( my blanket will be 8 squares x 10 squares) which means I'll need 160 charm squares.  The equivalent of 4 charm packs or 1 layer cake.

Yarn–I picked up 3 skeins.  I will need to purchase more as I go.  I am not concerned about the dye lot varying a bit.  If you are, make sure to purchase plenty of yarn, or purchase yarn without a dye lot.  You could also opt to use different colors of yarn.

Crochet Hook–Pick up the recommended crochet hook for the yarn you are using.  I am using a lighter weight yarn & the recommended hook is G which is what I purchased.

Perle Cotton or Crochet Thread–This is for the blanket stitch around the outside edge.  For my trial block I used 8 wt. Perle Cotton which works great.  For my Marmalade blanket I will be using Crochet Thread–it's a little bit more cost effective & I am all about that.
And, there you have it.  I'll be working on cutting up my charm squares, sewing together my squares and working on the blanket stitch.  I'll keep sharing as I go along so you can play too. =)