Fusion Blanket Crochet Along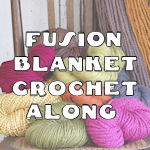 Welcome everyone to the Fusion Blanket Crochet Along!  Cindy , Deb, & I are ready to get this party started!
By now, you've probably picked up most of your supplies, if not, you can reference this post for what you will need to get started.  If you are looking for shops with great selections of precuts, Southern Fabric is a great one to check–I was just scoping out her site and she's even got in some early precuts of Marmalade!  These are sure to go fast!  I also think Seaside would make an amazing blanket–Randi just got some in last week–it's one of the lines that I have been waiting for. =)
So, let's get cracking!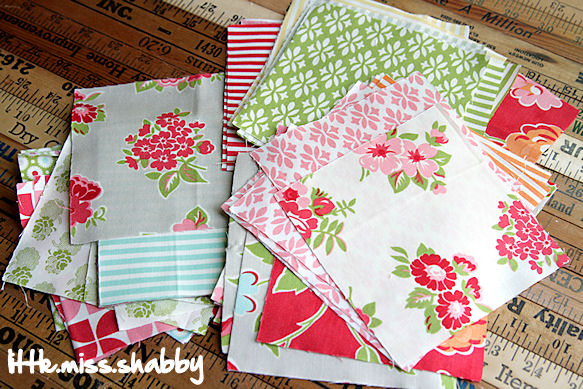 If you aren't starting with charm squares, begin by cutting your fabrics into 5″ squares.  My blanket will be 8 squares by 10 squares so I have cut 160 charm squares, 80 for the front and 80 for the back.
Step #1.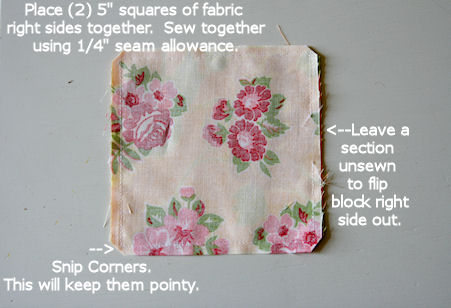 Step #2
For this step, you could also opt to hand sew the opening closed.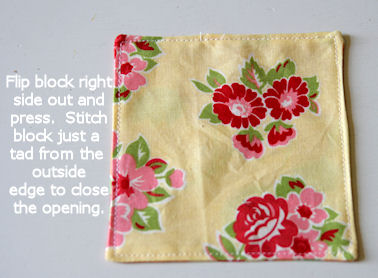 Step #3
I marked my blanket stitch at 1/2″ intervals–you can certainly go closer together if you prefer!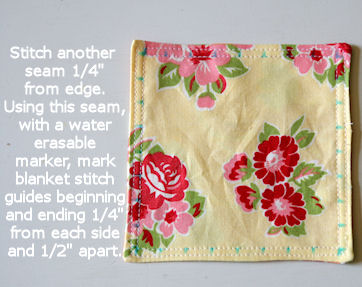 You are now ready to complete the blanket stitch around the edge.  If you are unfamiliar with the blanket stitch, there are a lot of great tutorials on You Tube or via a quick google search for blanket stitch.
I used a double thickness of thread to complete my blanket stitch.  You'll need a very sturdy needle with a large eye if you choose to double up your thread.  Also, make sure to give yourself plenty of thread to work with–it takes more than you might think!
*I am using crochet thread for my blocks.*  On my practice block, I used 8 wt. perle cotton which was also a great choice(it is easier to work with than the two strands of crochet thread).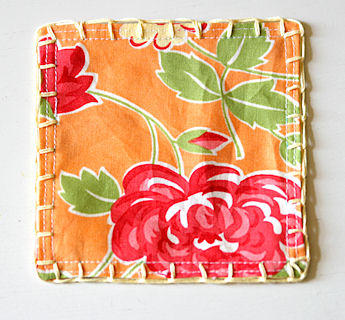 Repeat for the remainder of your charm squares.
Next Tuesday, Cindy will be sharing Part Two of our Fusion Blanket Crochet Along.
Be sure to share your own progress in our flickr group.  We love to see how everyone's blankets are taking shape!
*Original Fusion Blanket Pattern by Sewing Daisies can be found here.*