Why Hello There!
Yay!–I'm happy to be sharing with you all again today!–That was such a long break, but a much needed one! I had a great Christmas–complete with the required holiday germs—can't have Christmas without a sick kid! =p  Luckily the germs did move out in time for us not to have to miss any of our parties.
Now that the big project I've mentioned in passing here and there is getting closer to wrapping up…I've got some free time…and things to share with you all…finally!
Last Summer I had the opportunity to work with RJR Fabrics to promote their line of solids.  What great solids!–And if you've been reading my blog for any length of time you'll see I picked out some of my favorite "sherbety colors" for my Make it Modern quilt.
I had big intentions of taking this quilt outside this morning to snap some great outdoor shots.  So I put on hubbys crocs to hike out into the snow..yes, it was as bad an idea as you are thinking.  I got the quilt hung all fancy, got ready to shoot the first picture and my camera battery died.  By this time, my feet were wet, I was cold, and I wasn't going back out after the battery charged.  So, you are getting some inside shots. =)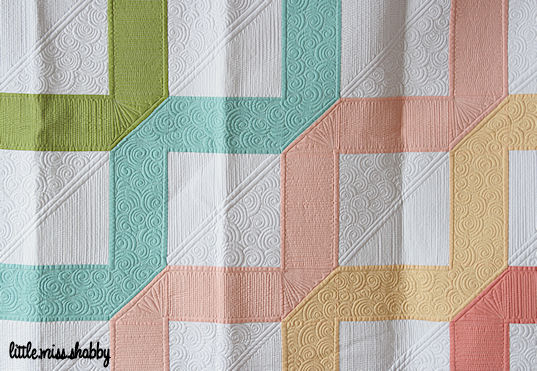 Even darkish indoor pictures can't disguise Angela's great quilting!  She always does an amazing job!  You'll have to excuse the wrinkles in the quilt…I usually have this quilt folded & hanging like this: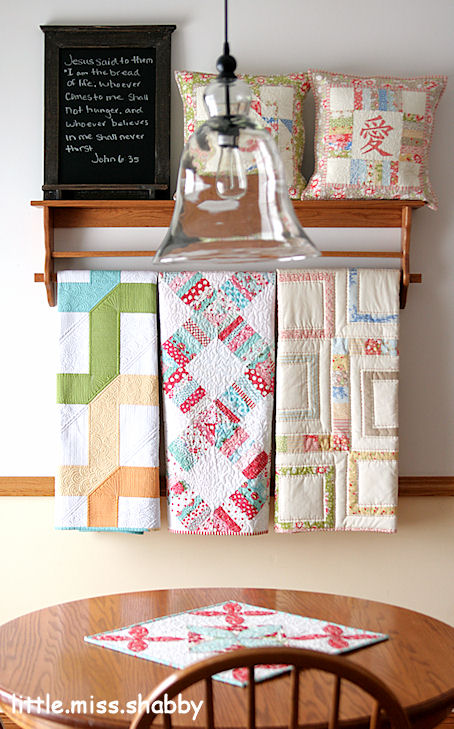 My Make it Modern quilt pattern was published in the December/January 2013 issue of quilt magazine–it even made a tiny corner of the cover. =)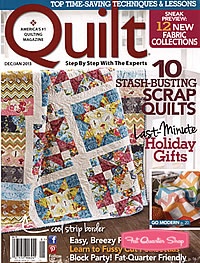 Hope you all have a great weekend–with some great projects!