That Red Quilted Pillow–A Free Tutorial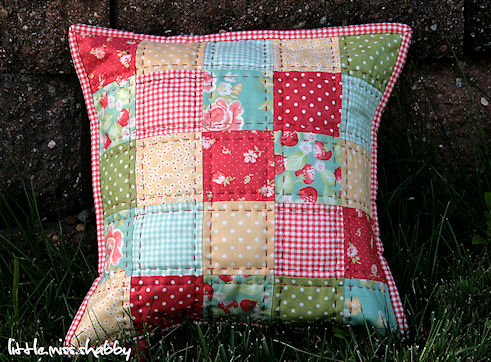 I get asked quite frequently for a tutorial on this little pillow which I made for a class I taught awhile back.  It's gotten pinned and repinned quite a bit over on pinterest–especially after Joann Fabrics pinned it(how fun!).
I've decided to offer the tutorial here on my blog for anyone interested in making one of their own!  It's a super easy tutorial with tons of pictures–including all of the finishing details(binding/pillow back).  The quilting is easy to do & a perfect project for a beginning quilter.
The tutorial itself doesn't have the supplies listed so here they are:
Pillow Supplies:
25–3″ squares of assorted fabrics
1/2 yard fabric for pillow top backing and pillow backing or a 15″ square piece of muslin for pillow top back and 1/3 yard print fabric for pillow backing)
1/4 yd. fabric for binding
14″ square piece of batting
505 Spray & Fix temporary adhesive
Perle Cotton
embroidery needle (size 5)
water erasable marker
thimble (optional if preferred for quilting)–quilting can also be done without a thimble for this project
12″ pillow form
Enjoy!