Are you ready to kick the week off with another row?
We are ready for Row #3 of Elonie's Rainbow Rows quilt.  Row #3 details:
Fabrics: 1/4 yard Crystal Pink Elements fabric by Art Gallery & the 3 1/2″ x 96 1/2″ strip you saved from last week
You will also need 1/2 yard of HeatnBond Lite–if you don't have this on hand, go ahead and purchase 2 yards of it–it's gonna be used in a few more rows.
Begin by printing out this weeks circle template pattern here.  Note: If applique isn't your thing, I've provided alternate pieced row instructions at the bottom of this post.
Trace 32 circles onto the paper side of the HeatnBond lite.  Iron onto the wrong side of the pink fabric.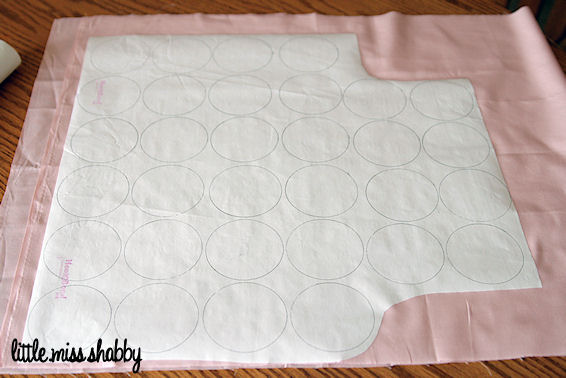 Cut apart the circles on the traced line.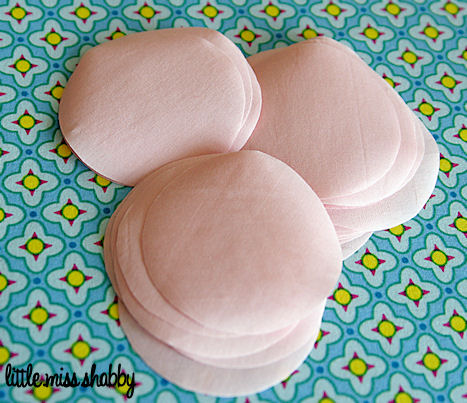 Place the circles on the 3 1/2″ x 96 1/2″ white strip saved from last week.  The circles will begin and end about 1/2″ from the top and bottom of the strip and will have just under 1/2″ between the circles.  Keep them 1/4″ from the sides of the strip.  I ended up only needing 31 of the circles with this spacing.  You could also place them closer together.
A tip as you are placing the circles:  as you put the circles in place touch the tip of your hot iron onto the center of each circle.  This will activate the glue and will keep the circles in place–but, if you need to reposition them you can as they are just tacked in place lightly.
After the circles are positioned, iron them into place.  Finish the edges using a blanket stitch(or your stitch of choice) and coordinating thread.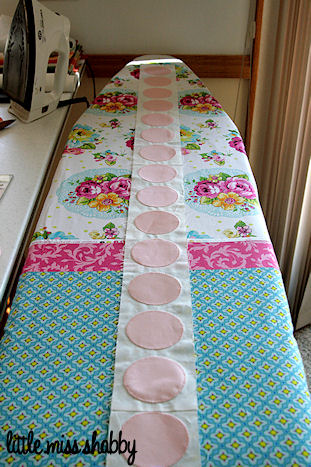 Sew row #3 onto Rows #1 & #2.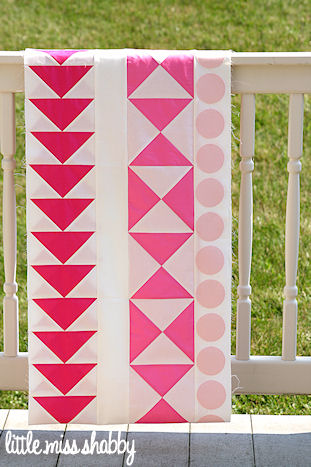 *If you prefer not to applique you can substitute this strip with pieced squares instead.  Although I have to tell you that Elonie said this row was her favorite so far! =)  If you decide to swap out this row you will need 1/4 yard of pink fabric and 1/4 yard of white(or you can cut up the 3 1/2″ x 96 1/2″ strip you saved from last week).  Cut (2) 3 1/2″ x WOF strips from both the white and the pink, subcut into 16 squares 3 1/2″ x 3 1/2″.  Piece the squares together alternating pink and white to form a 3 1/2″ x 96 1/2″ pieced square strip.  Sew this strip onto rows #1 & #2.
Hope you are all merrily rowing along!