This week for our Rainbow Row Along we are going to be making another polka dot row!  I am a huge fan of applique so these little dotty rows are some of my favorites.
Fabrics: 1/4 yard Light Citron Pure Elements by Art Gallery & 1/2 yard Moda Bella PFD White (someone asked me last week why I was using this particular white–it's because I like this particular shade of white–it's a nice creamy warm white.  Very similar in color to Kona Snow if you prefer to use a Kona).
You will also need 1/2 yard of HeatnBond Lite–you should have this on hand from when you made the first polka dot row.
From the White solid cut (5) 3 1/2″ x WOF strips, trim selvages and sew end to end, cut 2 strips 3 1/2″ x 96 1/2″–set aside one of them for later
From here, I'm going to refer you to the directions for Row #3.  Make an identical row using the Light Citron fabric.  One tip that will make this row go even quicker:
When you are ready to iron the circles onto the white strip, place the long white strip directly over top and centered onto the pink polka dot row in your quilt top.  Then you can lay the green circles in place without having to measure their placement & it will be identical to your first row.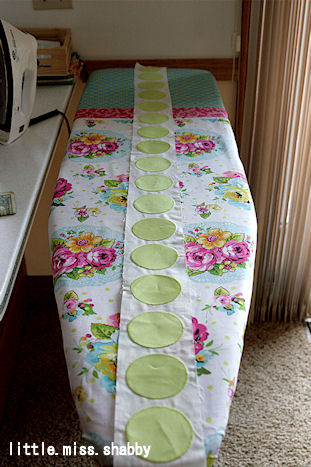 After completing the strip, sew it onto the quilt top.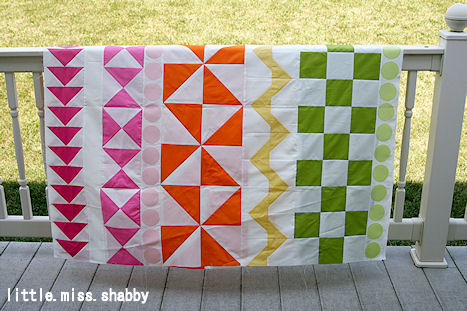 Happy Monday!