Welcome to week #5 of our Rainbow Row Along!  For this weeks row you will need:
1/2 yard Banana Cream Pure Elements by Art Gallery, 3/4 yard Moda Bella PFD White
From the Yellow Fabric:  Cut 4 strips 3 1/2″ x WOF, subcut into (48) 3 1/2″ squares
From the White Fabric:  Cut 6 strips 4 1/2″ x WOF, subcut into (48) 4 1/2″ squares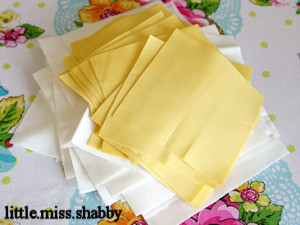 Place a yellow square right sides together with a white square & sew on the diagonal.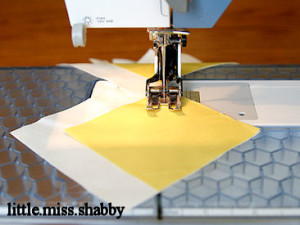 Trim away fabric leaving a 1/4″ seam allowance and press seams to the yellow.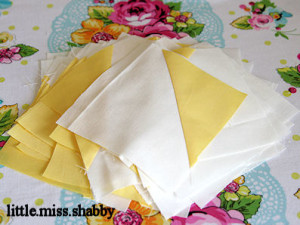 Sew together the blocks using the two different orientations as pictured(1/2 of each orientation).  Press the top orientation to the left and the bottom orientation to the right.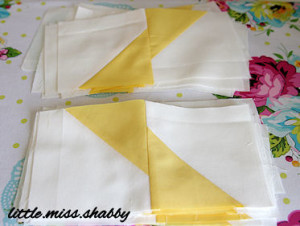 Sew together all of the blocks.  Press in one direction.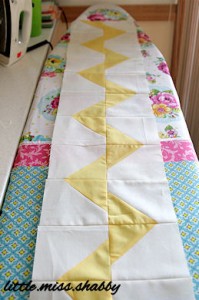 Sew the yellow strip onto the quilt top.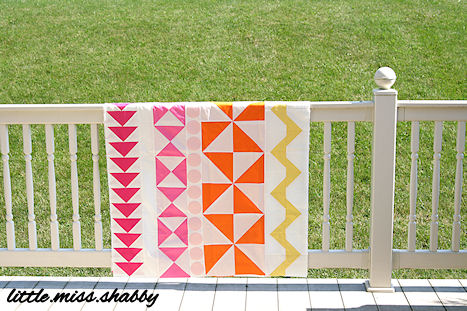 And there you have it!  Next week we are moving onto the greens. =)