Wednesday WIP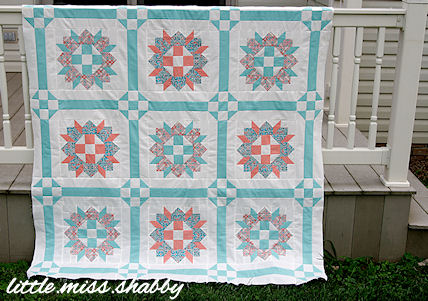 Grace's Flower Garden is now a completed quilt top.  This was such a fun quilt to make.  The fabrics are right up my alley.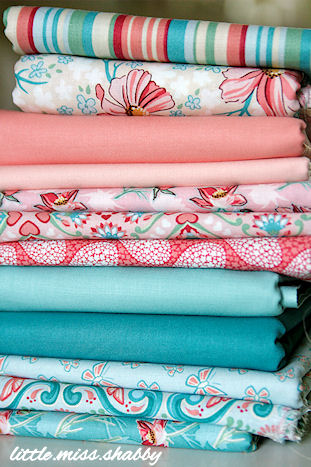 Yum!.. Coral and Aqua such a pretty combo.  These fabrics will be available in a few months (Grace by Mary McGuire for RJR Fabrics).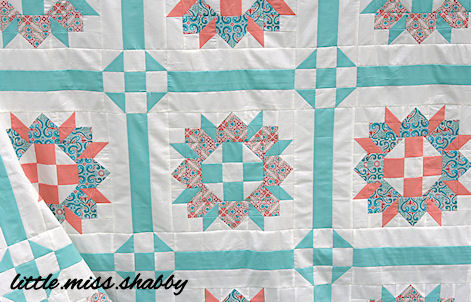 I used two prints from the Grace line of fabric plus 2 solids from RJR's Cotton Supreme Solids.  My pattern for this quilt,  Grace's Flower Garden, will be available on the RJR website.  I'll be sure to let you know when it is!  The quilt will finish at 72″ x 90″.  The pattern includes two borders to get it to that size.  The blocks are a little bit fussy–they finish at 12″ and they do take a bit of time to piece but they are worth it!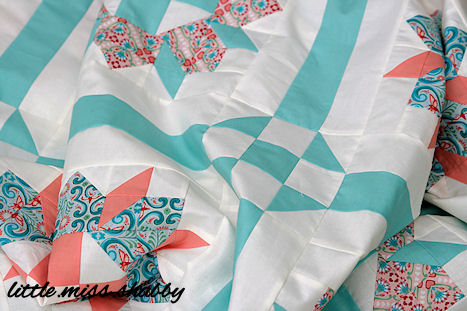 I haven't decided yet whether I will quilt this on my machine at home or send it off to be quilted.  I have to admit that quilting on my Bernina, especially larger quilts, is not that much fun for me.  Do you guys have any tips for quilting large quilts on your regular sewing machine?
I once heard a fellow quilter say that she quilts her own quilts as that aspect of quilting was one she didn't enjoy.  She wanted to use her time for the parts of quilting that she did enjoy.  I think I may be in that camp–manhandling quilts thru my machine to get them quilted is not my idea of a good time!  Any words of wisdom from you ladies that quilt amazing quilts on your sewing machine?