Friday Happenings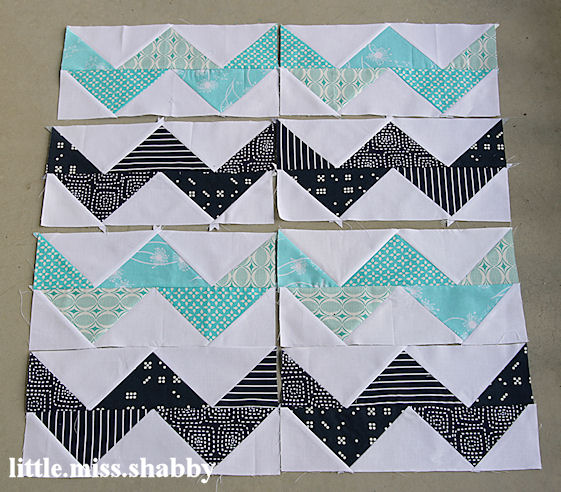 October was Rachael's month in Bee Purposeful.  She chose a fun aqua/navy chevron block.  My stash of navy fabric is in bad shape so I picked up the domino dot fabric and the stitch square fabrics.  What color is your stash lacking in?–For me it's definitely navy followed closely by purples and browns.  It's interesting to me that I have the largest selection of aquas as I would not consider aqua to be a favorite color of mine.
If you are interested in making chevron type blocks like these of your own, they can be made using 3 1/2″ x 6 1/2″ flying geese or if you prefer not to have as many seams in your blocks the larger triangles are 7 1/4″ squares cut diagonally twice and the smaller side triangles are 3 7/8″ triangles cut diagonally once.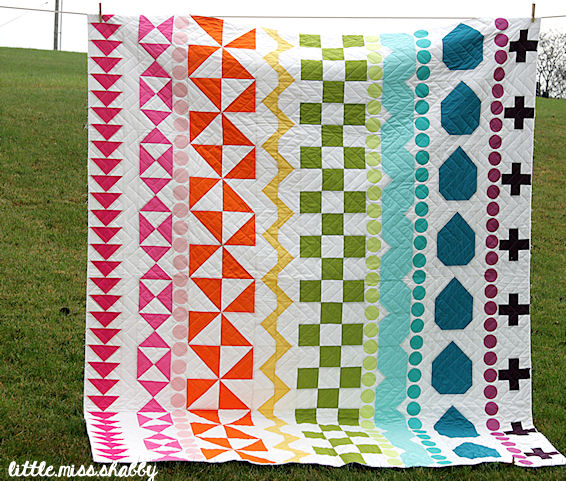 Thanks so much for all of the input on Elonie's quilt binding–you guys had so many great suggestions!–I've decided to go with a scrappy binding using all of the solids.  I hope to work on it this weekend but I also have another quilt top to complete so we'll see what happens.
It's also Ryan and I's 16th anniversary today. =)  We don't have anything particularly exciting going on but it is crazy to think that we've been married that long!  And tomorrow evening we have a little birthday party for Ryan over at my mom's–we got married just a couple days after his birthday.  So, its going to be a busy weekend!