Bust those WIP's!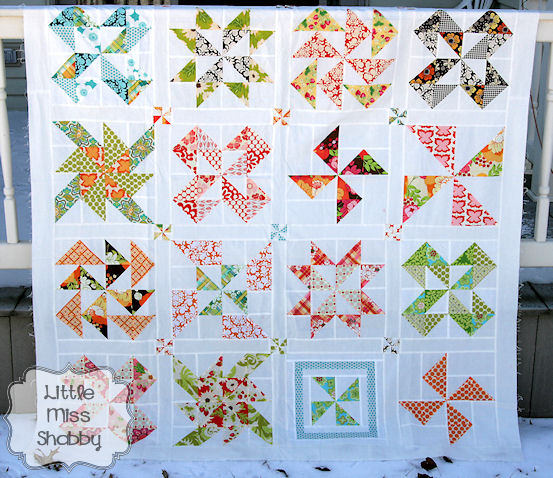 What is it about quilter's and the endless WIP's and UFO's?  I am certainly as guilty as the rest of them!  I know part of the problem is all of the new fabric lines that come out.  For me, as soon as I have the fabric in hand I want to work with it–but then the next new line comes out and the cycle repeats and the unfinished projects pile up.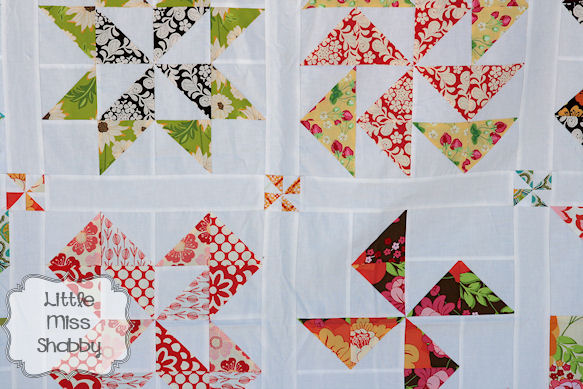 This pinwheel quilt top is an example of one of those projects that has been just waiting!  I finished it up several years ago as part of Rachel's quilt along over on PS I quilt.  I about fell out of my chair when I popped over to grab the link to her page for you…2010…4 years ago!
I had actually almost forgotten about it a little bit until one of my blog readers asked me about it earlier this week.  I've even had the backing and binding just waiting for F.O.U.R. years–ridiculous!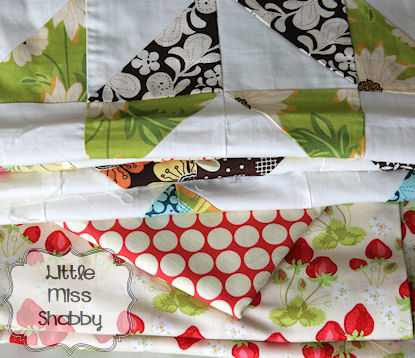 I've done a fair share of quilt alongs–many of them courtesy of the Old Red Barn quilt alongs over on flickr…do you all remember those!–what fun!  It is now time to get some of these bad boys quilted!  I've worked with Abby from Latimer Lane quilting a couple times over the last few months and she is always a delight to work with.  She quilted both Elonie's Rainbow Rows quilt: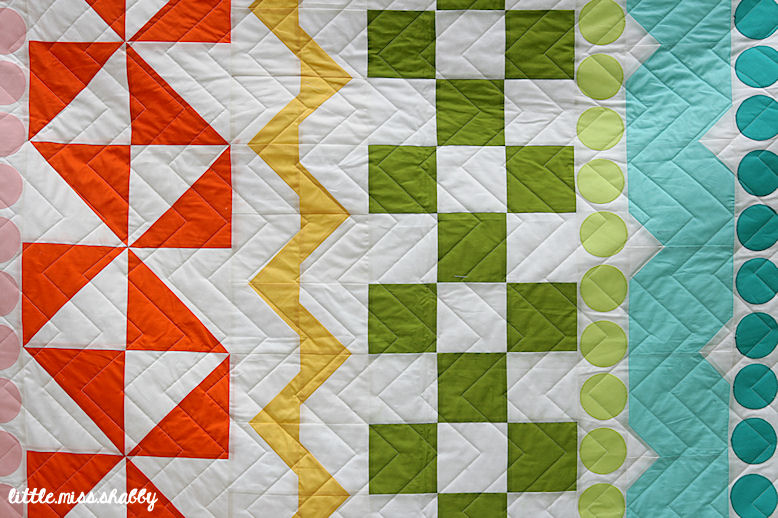 and the Scrappy Trip Along quilt I donated: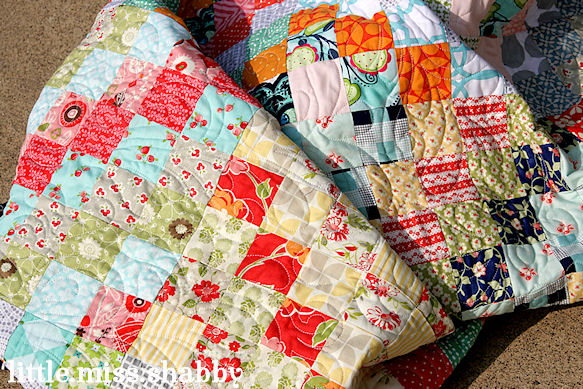 So, my plan is to send my pinwheel quilt over to her to quilt it on up.  I'd much rather be able to enjoy it then having it stuck away on a quilt pile somewhere!  And while I'm at it, I might just send over a couple more quilts to have quilted.  I can't believe how many quilt tops I have just waiting to be quilted and bound and then enjoyed!
If any of you are looking for a great machine quilter, I can't recommend Abby enough–especially if you are looking for someone who offers affordable, well done, all over designs.  If you tell her I sent you, she'll quilt your first quilt for .01/sq.in. for an all over quilt design–and she has lots to choose from.
Here's to some 2014 finishes!