Epic HST Technique
As part of my goal to finish up some WIP's, I broke out these blocks this week: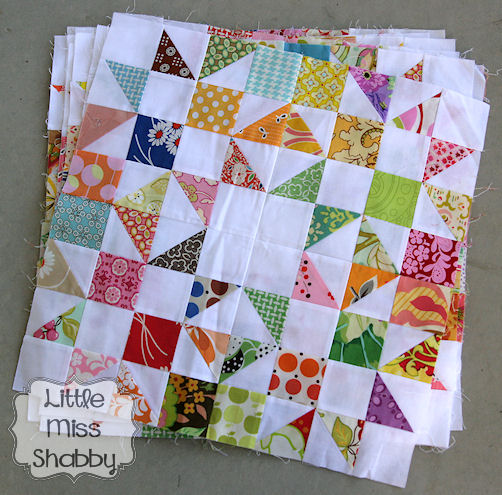 These are quilt blocks from several years ago that I had made for me in a quilting bee.  All the fabrics used are scraps from my stash-and I love these blocks.  By, the way, this is not a block I would recommend for a quilting bee!–All those HST's–the dear ladies in my bee are so appreciated! =)
This block is an easy block to make though–if you don't mind making lots of HST's.  The block is 16″(if you use 2 1/2″ HST's/patches–the HST's will finish at 2″) and is constructed using 8 Block A's: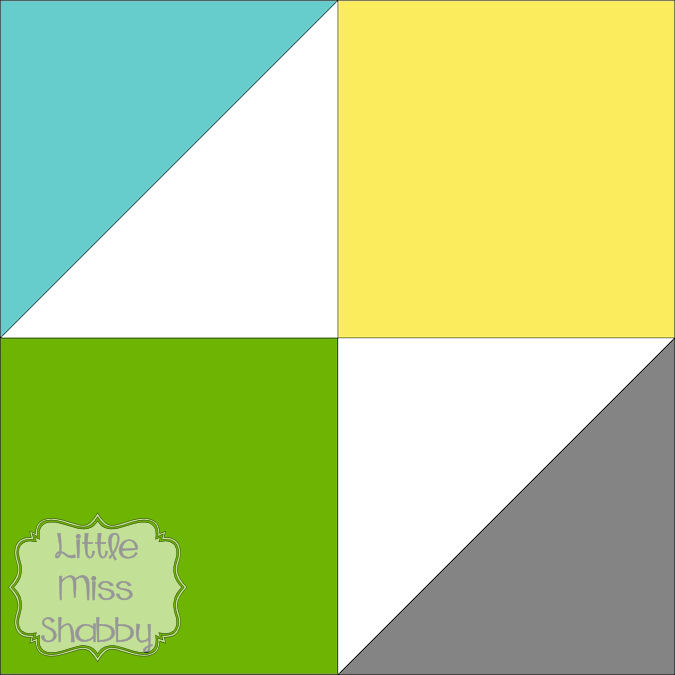 And 8 Block B's: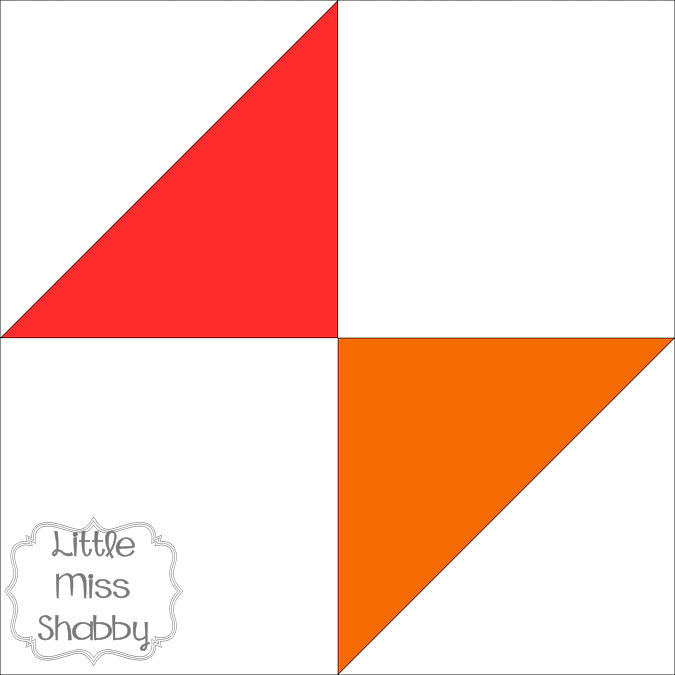 Arrange and sew together to make the 16″ block: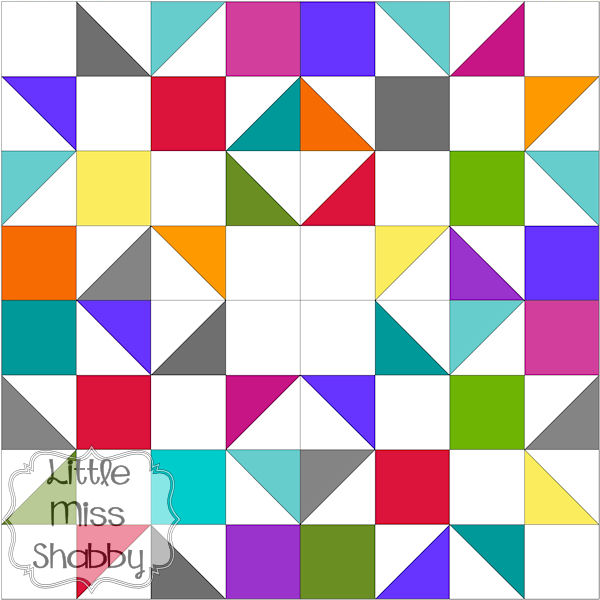 I need to make a couple more blocks and I plan to add sashing that includes HST's as well.  So, I was feeling a bit daunted by trimming up all those HST's–it always takes so long.  I had a bunch of already made HST's that just needed trimmed that I had received back from the ladies in my bee.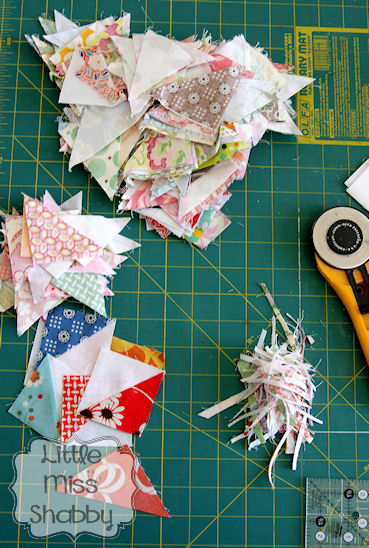 And, I thought, there has got to be a better way.  As luck would have it, I had just purchased a handy little 2 1/2″ square ruler on Saturday.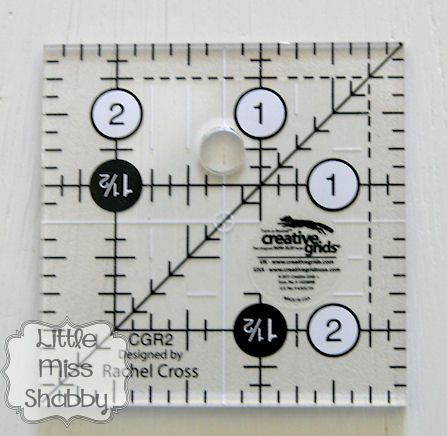 And it hit me that, since I was making 2 1/2″ unfinished HST's, I could use this ruler to trim up my HST's much faster.  By cutting them *before* pressing them open I could cut the trimming time in half.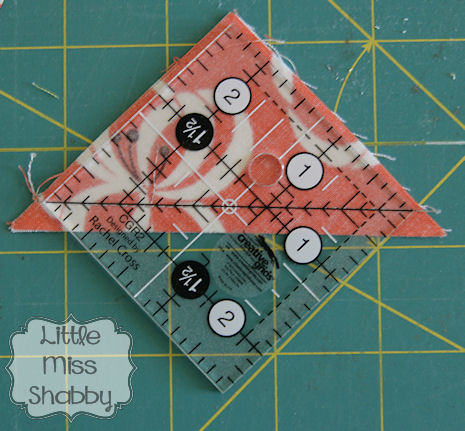 Just place, the diagonal line of the ruler onto the seam line of the HST and trim the 2 sides–so fast!
You can do this with any square ruler that has a diagonal line.  Now, I am sure you are thinking:  "well, that's handy if you happen to have the right sized square ruler ~with~ a marked diagonal line".  But here's where it gets even handier.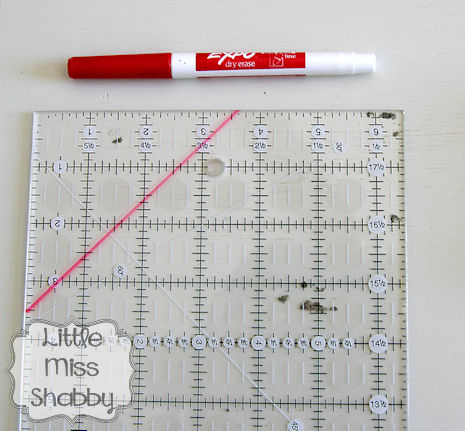 I remembered seeing on Pinterest where someone had used a dry erase marker to write on their washing machine(so they'd remember to line dry or check for stains on a certain garment) & I thought "Ha!–I can totally use that idea to make any size HST ruler".  The ruler in the picture above is my 6 1/2″ x 18″ ruler.
Make your HST's however you normally do but when you get to the trimming part, do not press them open.  Whatever size you want your HST's to be before sewn into the project that is where you would draw your diagonal line on your ruler(use a fine point dry erase marker for accuracy).  For my example, you will notice I drew my line from 3 1/2″ to 3 1/2″–the HST will be 3 1/2″ *before* sewn into the quilt or 3″ once it's sewn in.
Place the dry erase line onto the seam line(not the edge of the HST) and trim the two sides.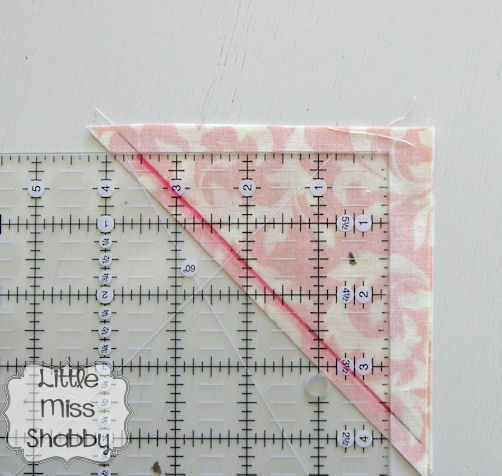 Press open and you will have a perfect HST in half the time!  And when you are finished, just wipe the dry erase line right off.  I think this is such a great way to trim HST's and I am always all about saving time.  Hope this technique helps some of you out in your HST endeavors! =)