Sweet As Honey Blog Tour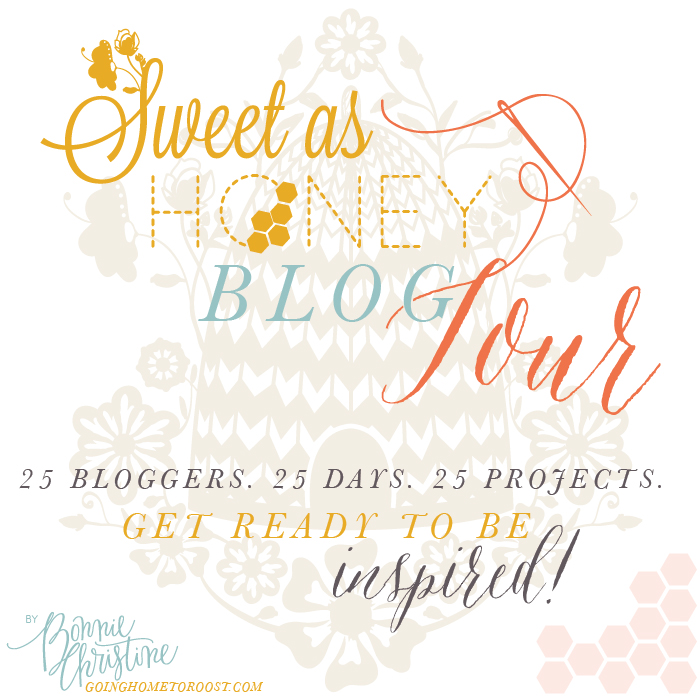 I am so excited to be taking part in the Sweet as Honey Blog Tour today!  Bonnie Christine's fabrics for Art Gallery are quickly becoming some of my favorites.  You'll remember that I used her Reminisce fabrics for this little quilt top last fall: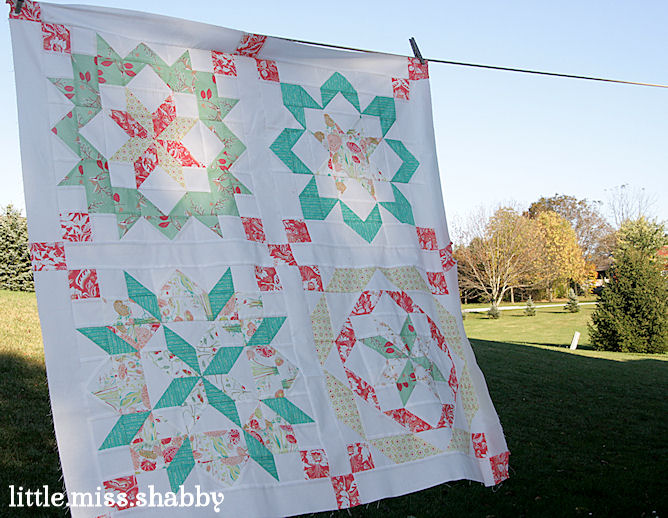 And I have been having just as much fun playing with Bonnie's 2nd line of fabric for Art Gallery, Sweet as Honey.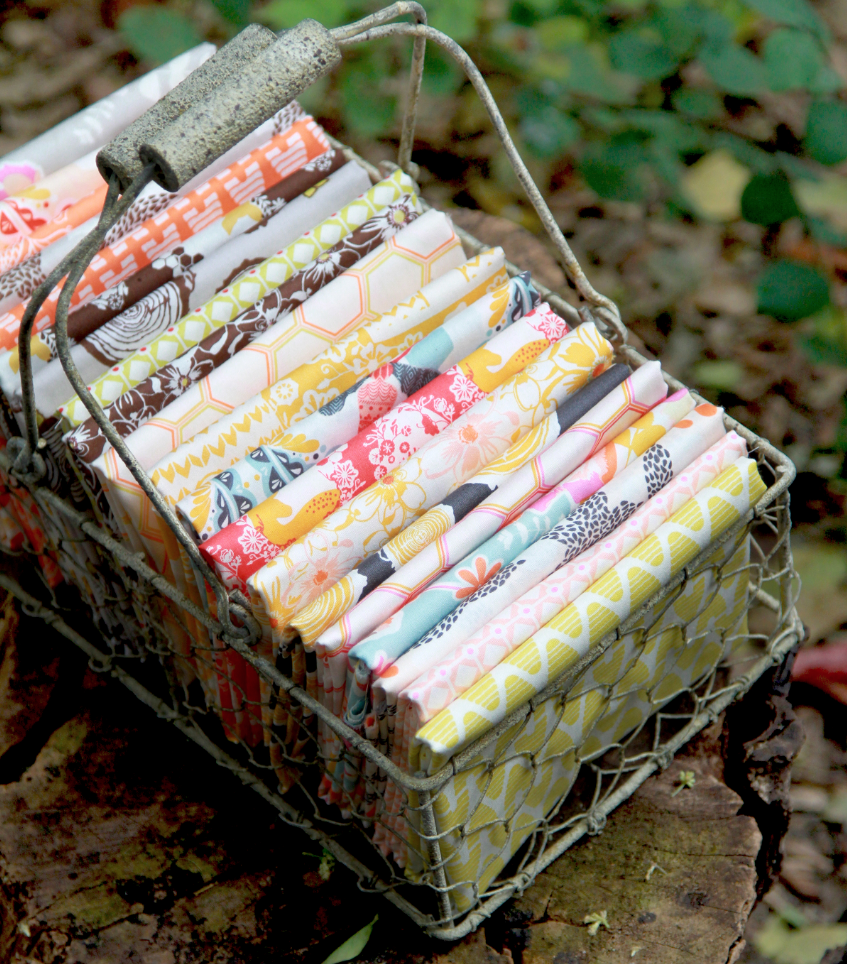 Over the last couple of weeks I have been sharing peeks of the mini hexagon pillow that I have been working on using Sweet as Honey.  I just finished stitching down the binding yesterday to complete my little spring pillow.  And it's a good thing I have a little bit of Spring going on in here today as I think we're gonna get another winter blast tomorrow…enough already!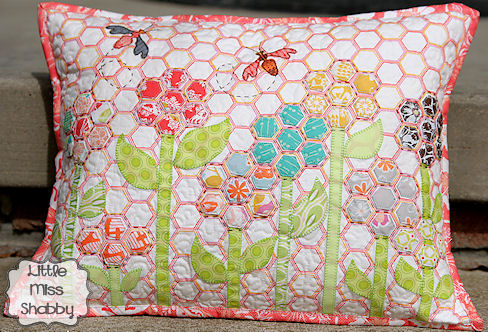 The fabrics that Bonnie sent over for me to work with were: the hexagon background fabric(I knew I "needed" that one for sure) and the fabric I used on the pillow back(I'll share that with you in just a bit).  I already had a fat quarter bundle of Sweet as Honey to pull additional fabrics from as well as Reminisce scraps left over from my SuperSized quilt.  The green stems are from various Art Gallery fabric lines.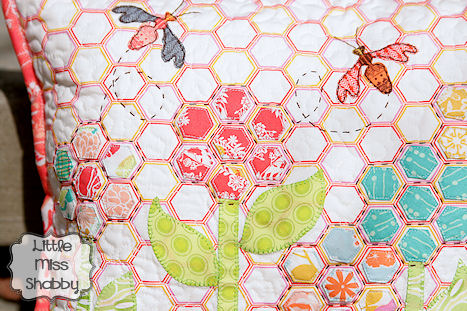 This pillow went in a completely different direction than I had originally intended.  I had planned on a Grandmother's Flower Garden type layout, filling up the whole pillow top with little 1/2″ hexagons.  However, Bonnie's description of her fabric line led me to my flower/bee themed design:
Sweet as Honey is a collection with a story.  It's a woodland themed line full of nestled deer, wildflowers and honey bees.  I was inspired to create the line after exploring nature and spending a summer growing a garden that generously allowed for freshly picked flowers.  It takes me to a most lovely place, where the sun is always shining, the birds fly free and the honey is extra sweet.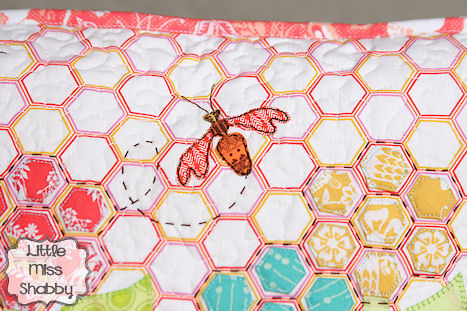 After I appliqued the stems and leaves and stitched the mini hexagons in place, I machine stippled the pillow top.  I left the applique portions of the quilt free from quilting.  I then went back in and added in the bees–and finished them with some stitchy applique.  The bees were fussy cut from one of the fabrics in the line.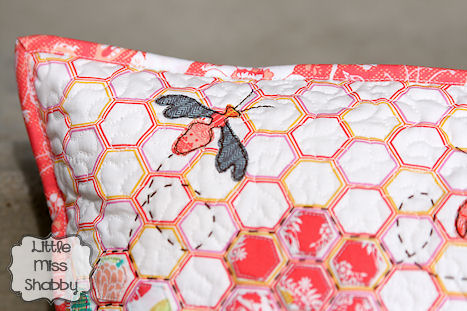 I love adding in hand quilting to many of my smaller, as well as larger!, projects.  So, I completed the pillow top with some long stitch hand quilting using an 8 wt. perle cotton thread.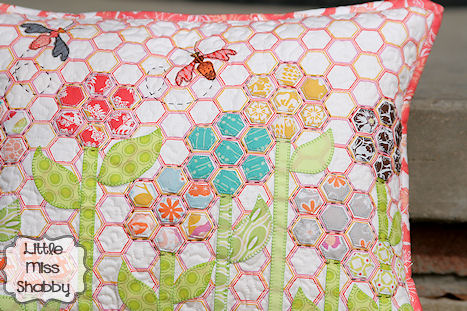 The binding is a print from Reminisce and the backing is "Orchard Blossom in Spring".  The pillow back is a simple envelope enclosure.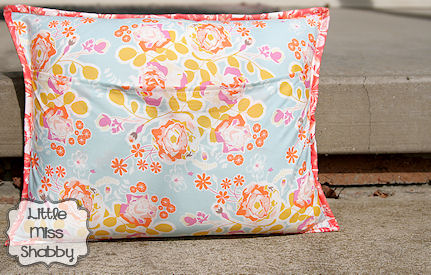 You can read more about the making of this pillow here and here.
Amy shared a wonderful project on her blog yesterday using Sweet as Honey that you can check out here.  And tomorrow, I'm excited to see what Amanda of Material Girl Quilts will be sharing!
To see the complete Sweet as Honey Blog Tour line-up pop on over to Bonnie's blog.