Quilty Stitches Block 8

We are ready for Block #8 of the Quilty Stitches Sampler.  You all probably recognize this block as a Granny Square block.  I actually did a little bit of research on this block over the weekend.  My mom had mentioned to me recently that my dad's grandma made lots of quilts using this block and she always referred to them as postage stamps.
Now, I am familiar with Postage Stamp quilts and in fact made one using all 1″ finished squares and it was different from this block in that the blocks were not set on point.
But, I figured my great-grandma probably knew her stuff and decided to look into it a bit.
Using my Encyclopedia of Pieced Quilt Patterns compiled by Barbara Brackman(by the way, this is a great resource if you don't already have it–no instructions but over 4000 block pictures, names, & dates), I looked up Postage Stamp blocks.  There were a number of options with squares set straight but I also found this one: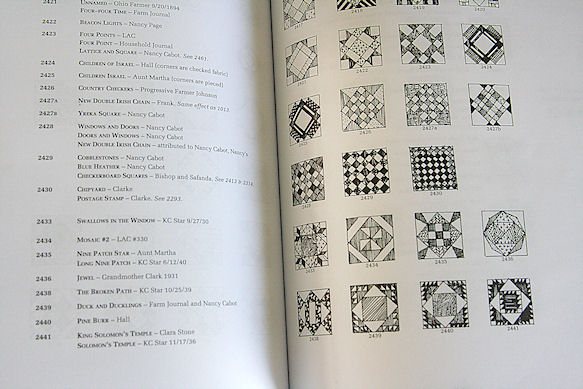 The last block in that shorter row is called a Postage Stamp–and the blocks are set on point.  And then, I paged back one page and found this: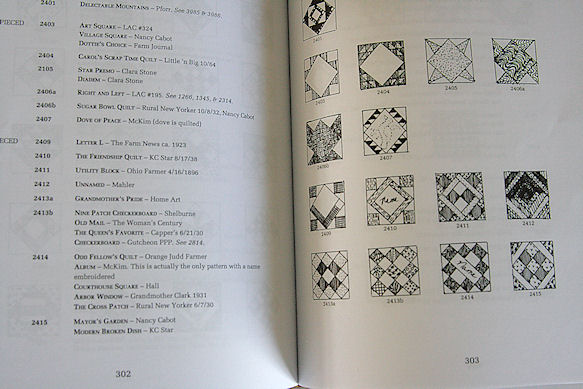 There's our Granny Square block–1st bock bottom row.  It was originally called "Grandmother's Pride".  The block right beside it, would have been a scrappy version and it was called "Nine Patch Checkerboard", "Old Mail", "The Queen's Favorite", & "Checkerboard".
Of course, our modern cutting/piecing techniques are vastly different from how things would have been done back in the 30's.  My grandma still cut's out individual squares using a template and scissors to make all of her quilts.  She told me once that my grandpa had said to her(in reference to using a rotary cutter/mat), "that would be a good way to make many mistakes, faster".  Ha!–I think we've all been there! =)
So, there's a little bit of a block history lesson for you.  And now I am sure you are ready to move onto some stitchy instructions!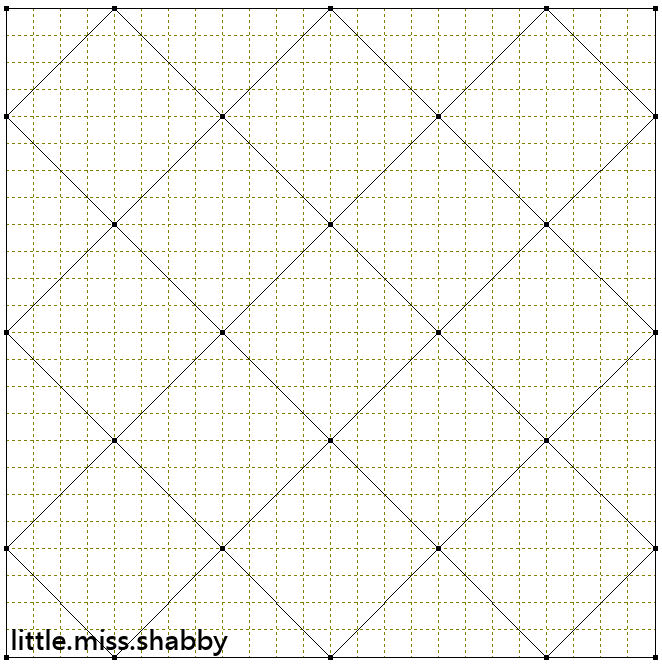 Quilty Stitches Block 8 PDF Coloring Diagram
For my Granny Square block, I used the following floss colors:
Sullivans 45105 (Green)
Sullivans 45453 (Yellow)
Sullivans 45076 (Coral)
Sullivans 45169 (Melon)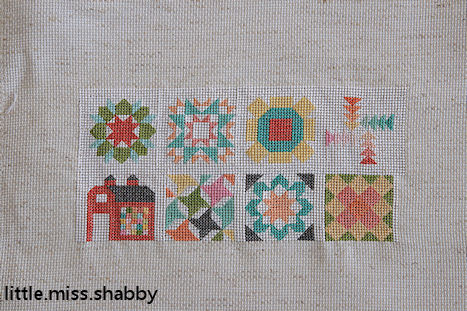 If you have been stitching along, you will be 1/2 way done after completing this block!–I managed to get caught back up on mine over the last several days.
Share your progress on Instagram using #quiltystitches or share a photo on flickr.