International Quilt Market Part 1
Hubby and I got back Saturday from a fun few days attending International Quilt Market.  Although, Ryan didn't come into the show with me, I was glad to have him chauffeuring me around as the traffic in Pittsburgh is a far cry from the Amish buggies in Berlin! =p
If you've ever been to Quilt Market before, you know how much there is to see!–The strangest part for me was knowing that I "knew" people through the blog/online world but having no idea what they looked like in person.  I did get to meet a lot of wonderful people in person that I had only known electronically prior to market–and there were so many more that I wanted to meet but never ran into(at least not that I knew!).  I tried to take plenty of pictures as I went along but I already can think of things I should have photographed that I missed. However, I'll be sharing the photos that I did take over the next few days so you can get a little taste of market. =)
One of the first sections of Quilt Market I hit was the Free Spirit booths.  I went to Sample Spree on Thursday evening and had been hoping to score some Free Spirit Fabrics–namely Up Parasol, but Free Spirit was not at Quilt Market.  So, I was excited to check out their booths right away Friday morning.
This is a shot of Amy Butler's new line Glow–beautiful as always!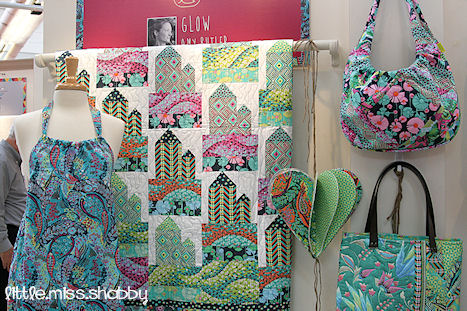 And Heather Bailey's Up Parasol–this is a line I know I'll be picking up some, or all of.  The little flower wall hanging features Up Parasol & the dress is from Heather's line Momentum which will be available in Voile & Rayon.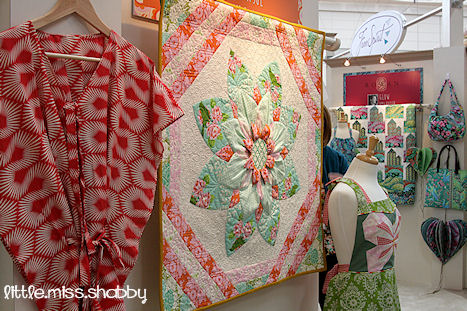 This next shot shows a bit of Moon Shine by Tula Pink on the right and Palermo by Erin McMorris on the left.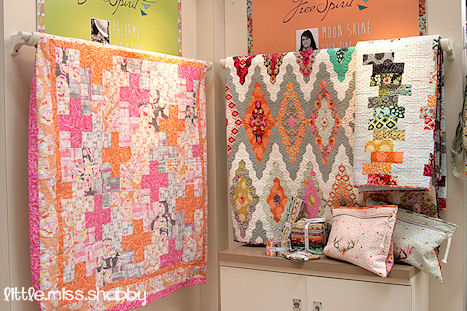 And I really liked this quilt made using Denyse Schmid'ts Modern solids.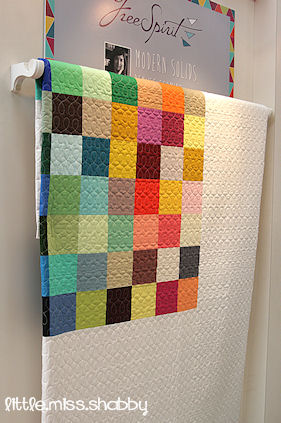 I took a little shot of this Cori Dantini scallop fabric.  You can barely make out in the photo that there is text fabric behind the scallops.  I thought it was such a pretty fabric–I've seen it online and was never drawn to it.  But in person it is stunning, a very soft beautiful print.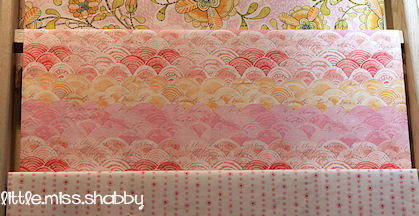 I had to take a photo of my Jelly Beans quilt hanging in the P&B Textiles booth.  This pattern will be available as a free download on the P&B website before too long.  This is the first time that I've gotten to see my quilts in person in the booths at market–so much fun!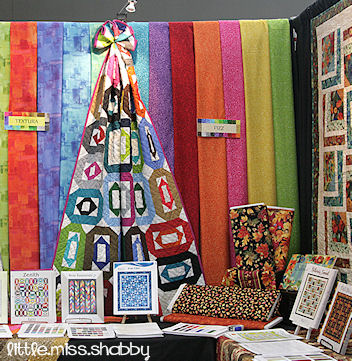 I seldom work with batiks–but every time I see Edyta Sitar's (Laundry Basket Quilts) masterpieces, I think I really need to give them a whirl.  Her applique is always so colorful & fun and adds so much to her meticulous piecing.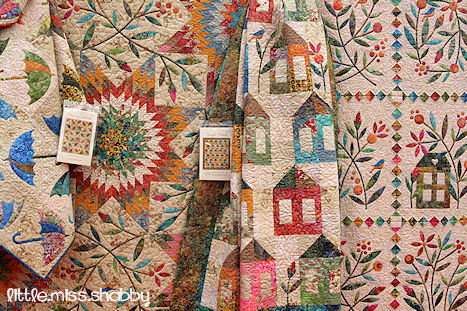 The next two photos are of April Rosenthal's new line, Best Day Ever, for Moda.  This is her first fabric line with Moda and it's a beauty!  Very colorful and fun.  The dahlia quilt on the right was beautiful in person.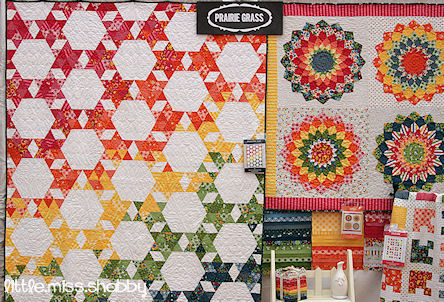 April had a lot of great new patterns showcasing her fabric.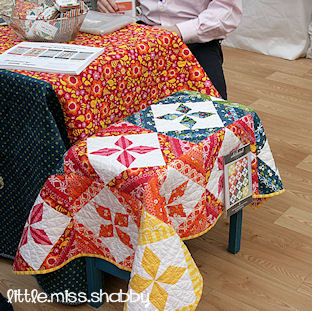 I'll be back with more market goodness later! =)