Quilty Stitches Block 13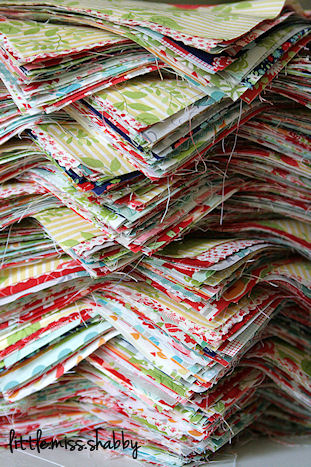 Hope you all had a wonderful weekend!  Our weather here was perfect–in the 70s all weekend long and beautifully sunny.  It was truly a perfect, weatherwise, 4th of July weekend.
I spent a little bit of time sorting my Bonnie & Camille layer cake squares.  I received the last package in the mail on Thursday and couldn't wait to start sorting all of those fun fabrics.  For those of you on the waiting list for round 2 it won't be too much longer until we will begin. =)
Onto Quilty Stitches Block 13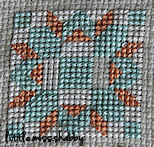 According to Barbara Brackman, this week's Quilty Stitches Block is called a Friendship Star Block.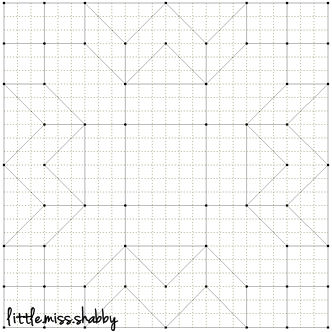 I used Sullivan's 45169 for the peachy color and DMC 964 for the aqua.
I have been mulling around different ideas for finishing off my sampler when it's finished.  The top two contenders are turning it into a framed sampler to hang on the wall–which I have done before with cross stitched items.  Or to turn it into a pillow–which I haven't done before but I think it would be pretty cute.
With the pillow idea in mind, I picked up this Keepsake Calico's fabric from Joann's.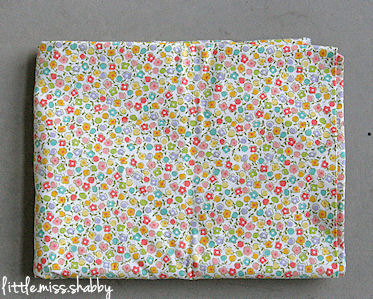 The only other fabric that I buy from Joann's are some of the fabrics from Denyse Schmidt. I just couldn't resist this one–look how perfectly it goes with the sampler: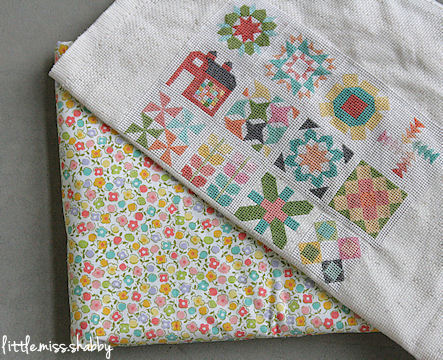 If I turn it into a pillow, this fabric is gonna happen.
I checked online to see if I could still find it available and I couldn't locate it but you still might be able to pick it up locally.
3 more Quilty stitches blocks to go!
Happy Stitching!