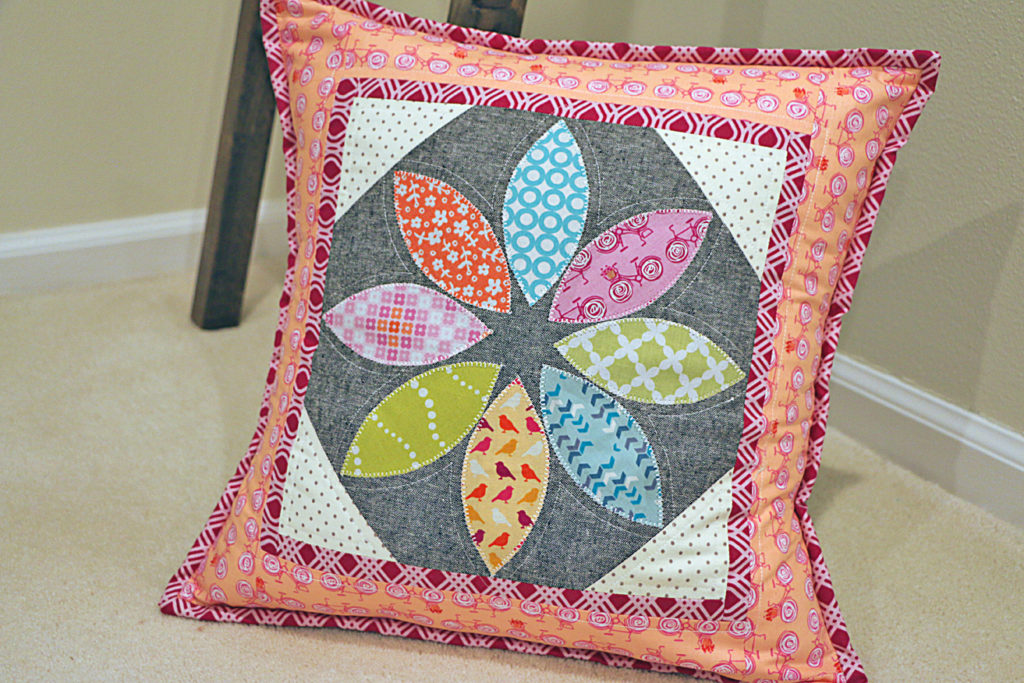 Happy Friday Everyone!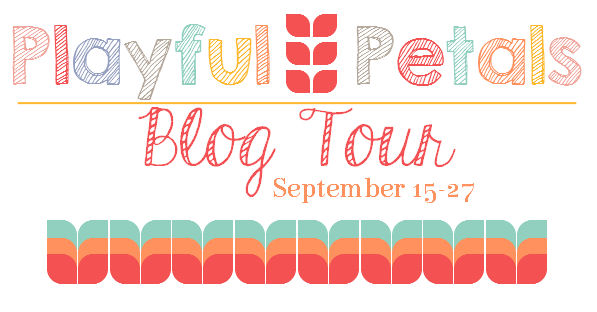 Thank you so much to all of you for following along on the Playful Petals Blog Tour!–Today is the last day of the blog tour and I hope you all have enjoyed it.  Lee is sharing her thoughts on Playful Petals along with her adorable Daisy Fields pillow(pictured above) on her blog today.  I love the yarn dyed dark linen background fabric she chose to use for her pillow.  That fabric has been wanting to make it's way into my stash for way too long!  Be sure to hop over to Lee's and check out her blog–she is always such an inspiration!!
If you have missed any of the Playful Petals Blog tour posts, here is a complete list(click the links to go right to the Playful Petals post:
These are just a couple of the beautiful projects shared as part of this tour–you'll want to make sure to visit all of the stops to see all of the pretties shared!:
They have recently added some awesome things to their site…Have you all seen the Snapshots Quilt Along yet?–seriously amazing!:
 Well, I figured why stop with one online shop?..So I reached out to another of my favorite online shops…Fabric Shack.  Fabric Shack has both a great online store and a brick and mortar store which happens to be about 25 minutes from my sister-in-law's house in Cincinnati.  So, it is a must stop for me whenever we visit.  The thing I love the most about shopping online at Fabric Shack is that they will cut 1/8 yd. cuts of fabric.  For my scrap loving self, this is perfect!  In fact, I bought 1/8 yd. cuts of the complete Up Parasol line from Fabric Shack when I was making my Tiled Blooms quilt: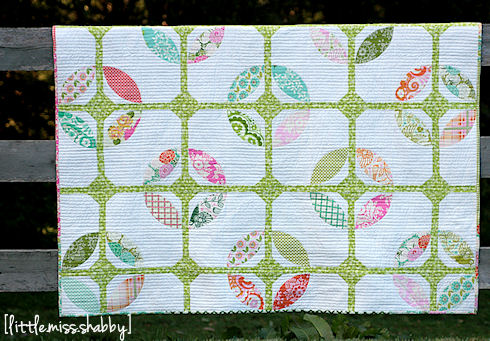 Fabric Shack donated a $25 Gift Certificate to their online shop as part of today's giveaway!
Well, since I don't do all of my fabric shopping online, I contacted my favorite local quilt shop, Miller's Dry Goods, to see if they would be interested in donating to my giveaway…and they said yes!–Now you might be thinking that you won't be able to shop here..but, they also have a wonderful online shop to which they've donated a $30 Gift Certificate.
They carry all kinds of goodies..some of my favorites:  The 8 wt. Finca Perle Cotton I am always referencing for hand quilting, Aurifil thread(which everyone in blogland is always referencing), Moda fabrics, Cotton & Steel fabrics, a great selection of solids, and the list goes on.  Plus, you will not find a more accommodating staff!
Plus, they have the prettiest quilting retreat center, The Rural Thimble,  right beside their fabric shop.  Every time I shop there, I am envious of the ladies staying over in that facility–so pretty, newly opened, and just perfect for a group of 10 ladies to get together and sew to their heart's content.
So, here's the rundown of the giveaway prizes(a value of nearly $200):
Playful Petals Book
2 Moda Layer Cakes
$50 Gift Certificate to Fat Quarter Shop
$25 Gift Certificate to Fabric Shack
$30 Gift Certificate to Miller's Dry Goods
To Enter the Giveaway: Comments are now Closed
One lucky person will win all of these goodies!  You can enter the giveaway through next Friday, October 3.  Just leave a comment for me below in the comments section with your favorite project from Playful Petals.
Happy Friday!