Happy Monday!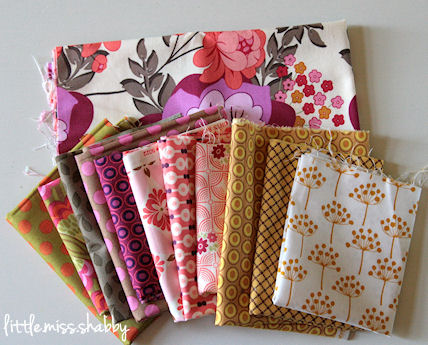 We are kicking off another week over here at the Yoder's.  After last week, I am happy to move into this week.  We had a few fun things last week, hubby's 40th birthday & our 17th wedding anniversary.  But some not so goods as well, most of which happened on Friday–our fridge quit working, our water heater quit working, and our garage door opener quit working….Friday was a little bit pricey! =p  There was some other drama thrown in there last week for good measure as well.
So needless to say, I am happy to move onto another week–and very thankful for friends(and moms) who will listen!
This morning, while I was waiting for the refrigerator repair guy to show up(btw, totally thankful that he has shown up already and I don't have to wait here for him all day!–love when they show up at the beginning of the "window" rather than the end!), I had some time to play with some fabrics and pulled some fallish purples/mustards/browns.  I always forget how much I enjoy pulling fabrics–and sharing them with you all.  It's always very intriguing to me the fabrics others choose to pair together.
I also took a little bit of time yesterday to work on a patchwork Christmas cheater print.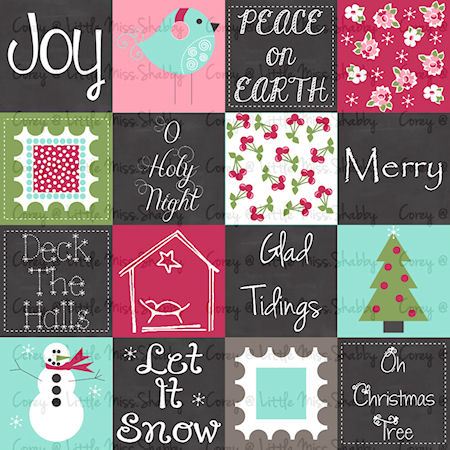 I thought it might be fun to have something cute to make some festive Christmas items–and I wanted something I could add some hand stitching to.  So, I designed this print yesterday afternoon and sent it off to Spoonflower to have it printed.  I'm excited to see how it turns out–it'll arrive in a couple weeks.  Chloe also played around and designed a fabric on Saturday–so I ordered a Fat Quarter of that as well–she's excited to see how it turns out. =)
So, that's what's going on here–hope your week is off to a great start! =)