Vintage Fancy Quilt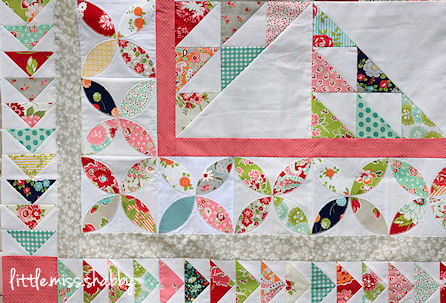 I've been working on my Vintage Fancy quilt this week.  Yesterday was spent making and attaching the grey border along with the flying geese border.  Just a couple more borders to go and I will call this one done.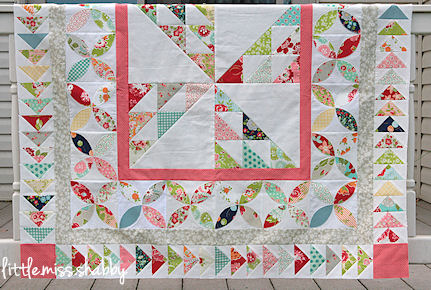 It has been a very enjoyable project!
In other news, look what showed up in my mailbox today.
A Daysail Moda scrap bag!  I love working with Moda Scrap bags and in fact have worked with a number of them over the years.  I made this strippy quilt using a Bliss Scrap Bag along with aqua and white yardage–you can read more about this quilt here.
And I made a little zippy chevron pillow using a Fig Tree scrap bag–more on that one here.  And I came across these string blocks I was working on also using a Scrap Bag–that one is a Martinique scrap bag.
If you aren't familiar with Moda's Scrap Bags, you really need to check them out.  They are made up of the strips left over from cutting fabrics for precuts(FQ bundles, Layer Cakes, F8 bundles etc.).   Usually all the strips in one bundle are from one line of fabric but occasionally they are from different lines of fabric–the strips vary in size–2″-3″ or so wide by around 30″ long.  And, if you are lucky you can snag them before precuts and yardage of the fabric come out–like I did with Daysail!  They are such a fun potluck surprise. =)
And lastly, the winners of the Make Modern Magazine Giveaway are comment #30 & #85.


Congrats Jean & Kelly!–I have sent you both an email. =)