Prairie Patterns
Well, it has been a whirlwind of a week.  I am back from Quilt Market and I think I would be happy to do it all over again next week.  What fun that was!  It was such a treat to share Prairie with all of the people attending.  I was so nervous about attending market and sharing not only my first fabric line but also launching my pattern line, Coriander Quilts.  But, I don't know what I was worried about.  My husband Ryan said, "you are going to hang out with a bunch of quilters…what could you possibly be worried about?"  And he was totally right–it was such a blast!
 And today, I am excited to share my Prairie patterns with all of you.  Warning, there are a lot of pictures!
First up is Dashing: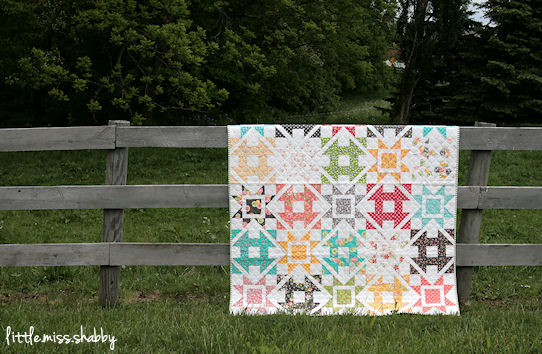 Dashing is a Fat Eighth friendly quilt with a fun spin on two traditional quilt blocks–a churn dash block and a star block.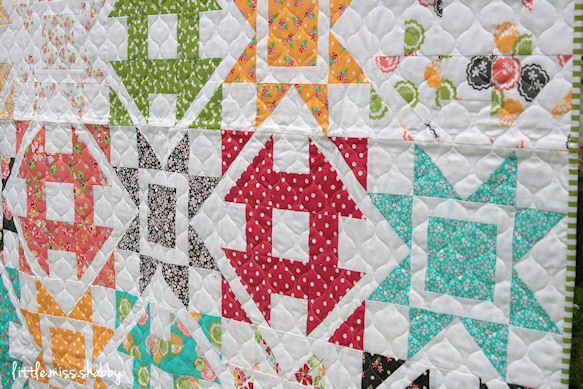 Abby of Latimer Lane Quilting quilted this quilt for me.  I love the texture it gives the quilt.  This is the 2nd time Abby has used this pattern on a quilt for me and I always love the result.
I had some visitors during my photo taking–such a pretty place to take some photos.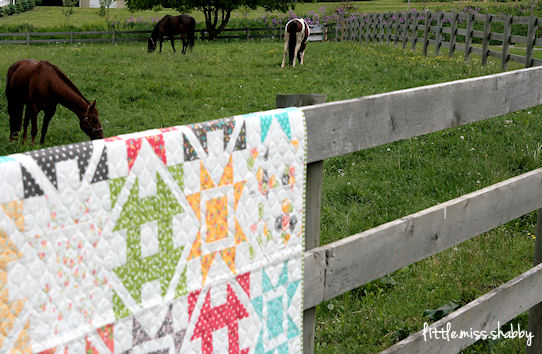 I decided to launch my pattern company under a new name–something different than Little Miss Shabby.  So, you will be seeing all of my patterns under the name "Coriander Quilts"–I thought it was too perfect not to use.  All of my patterns are full color booklet style patterns with easy to follow instructions and lots of diagrams for cutting, piecing, & pressing.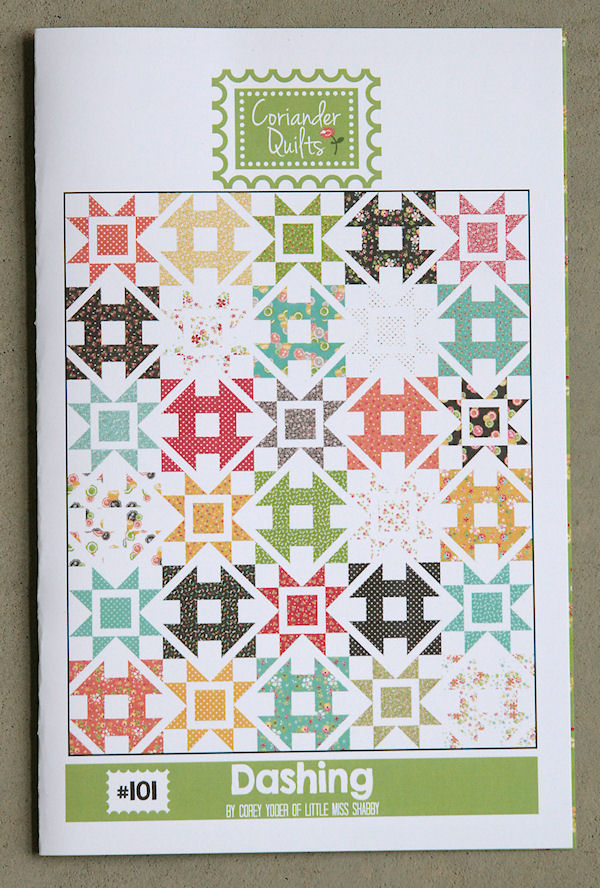 Next up is Floret.  Floret requires a layer cake plus two charm packs or six charm packs if you want to scrap it up.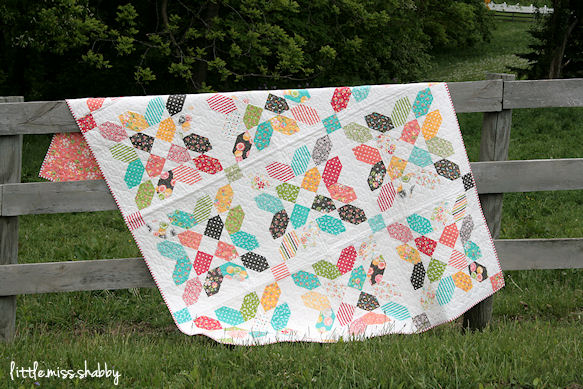 The blocks in Floret are nice, over-sized blocks and the quilt comes together quickly.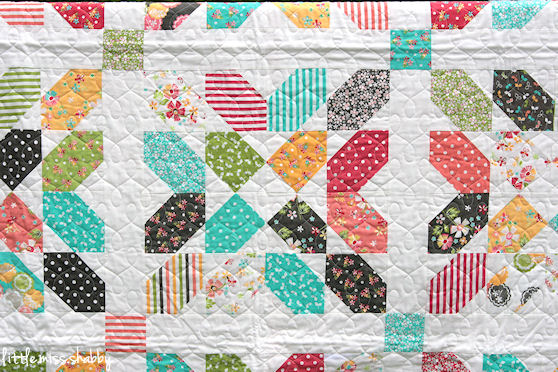 Abby quilted Floret for me as well, using a fun little loopy pattern.
Prairie includes a a variety of stripes which I love using for bindings.  In fact, I used a stripe for all of my Prairie quilt bindings except for one.  You just can't go wrong with a great striped binding.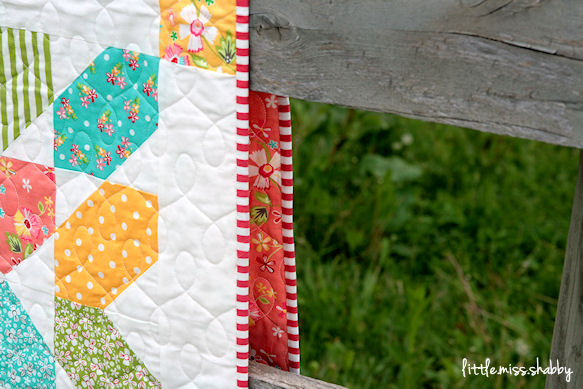 The pattern cover: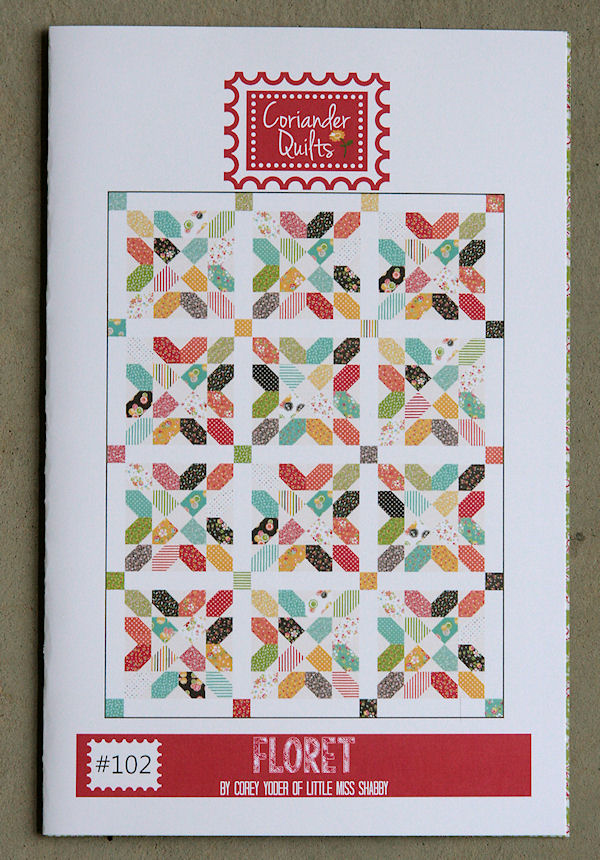 And next is Gingersnap.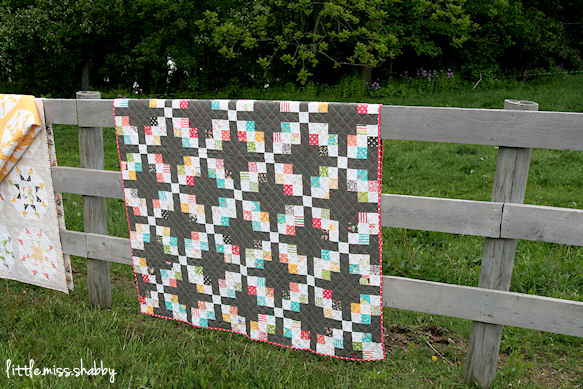 This is the quilt that many of you have been oohing and ahhing over the hand quilting that my mom did.  She banged out the hand quilting on this quilt in just a couple days.  There is no way that I would have been able to hand quilt this in time for market!  Thanks Mom! =)
The quilting is done using 8 wt. Perle Cotton (mostly Presencia Finca).  I love the texture and pop using this weight of thread always provides.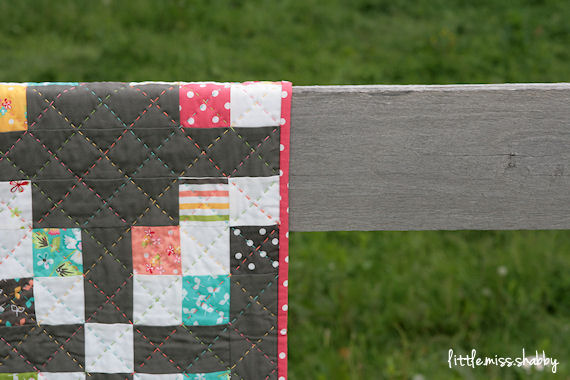 This is the only quilt without a striped binding.  You really can't go wrong with a polka dot either. =)
Gingersnap requires just 2 charm packs plus solid yardage to complete the quilt top.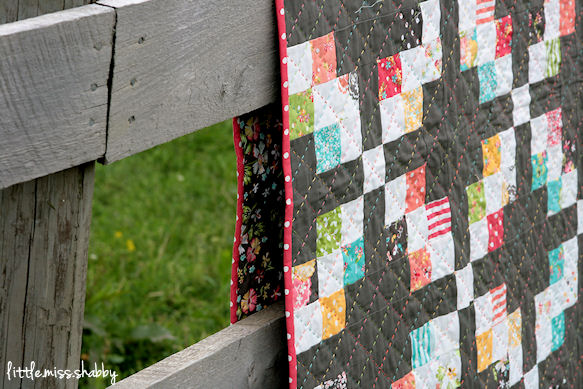 It is such a fun quilt to make!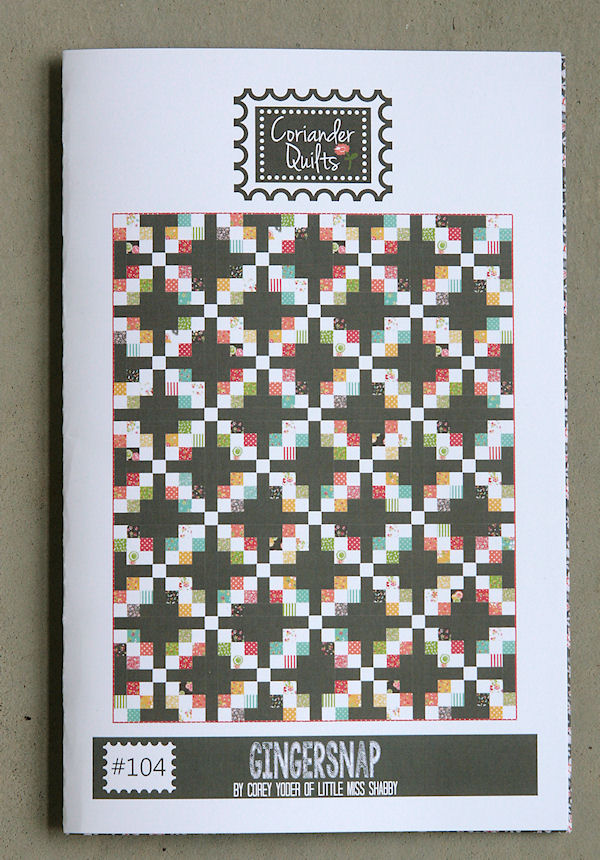 Moving onto Idyllic.  This quilt might be my favorite quilt…I think I have probably said that about all of these quilts at one time or another.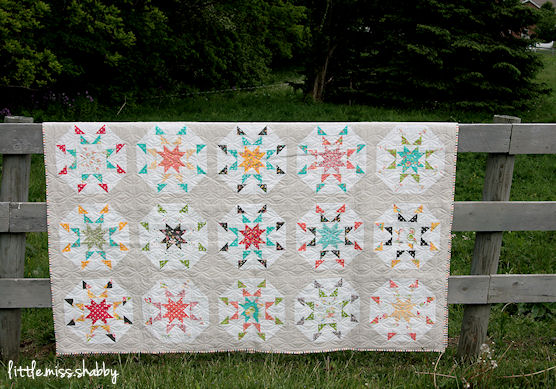 I just love this one!  Idyllic is Fat Eighth friendly and I just adore how it turned out.  This quilt is actually the most simple of all the quilts to piece.  Can you believe that!–it's always great to piece a quilt that looks trickier than it is.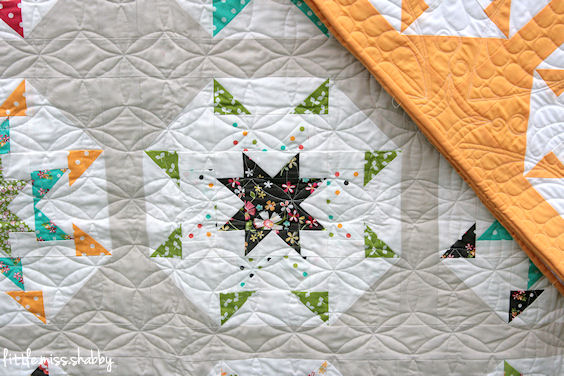 Abby quilted this one for me also.  This quilting design perfectly compliments the quilt.  Do you see that bit of yellow peeking out up there?  The Idyllic pattern features both a print and a solid version of the quilt.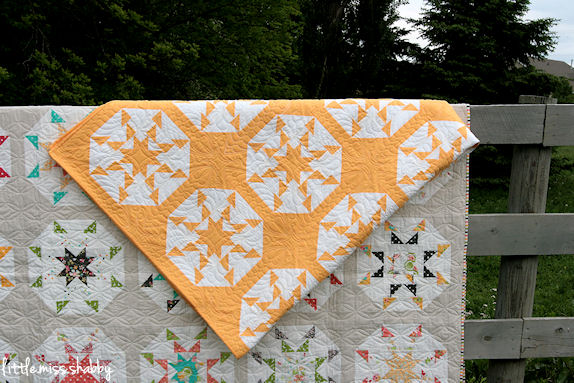 I have wanted a yellow and white quilt for so long!  I was very excited to incorporate it into this pattern so I had an excuse to make one.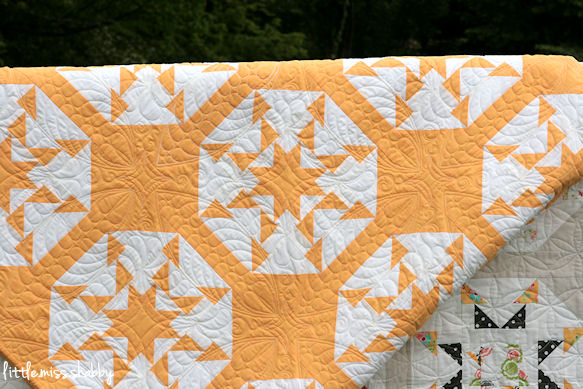 Natalia of Piece & Quilt custom quilted this quilt for me.  Didn't she do a lovely job?  I'm so excited about this quilt.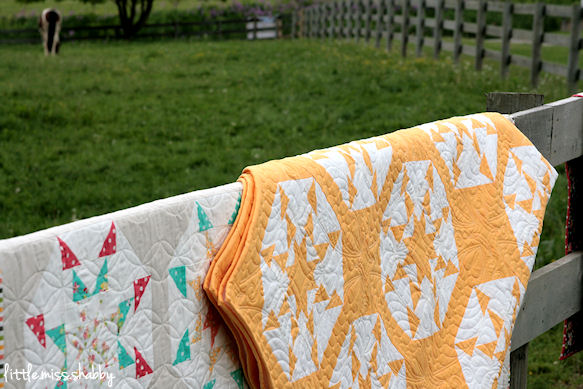 Idyllic Pattern cover: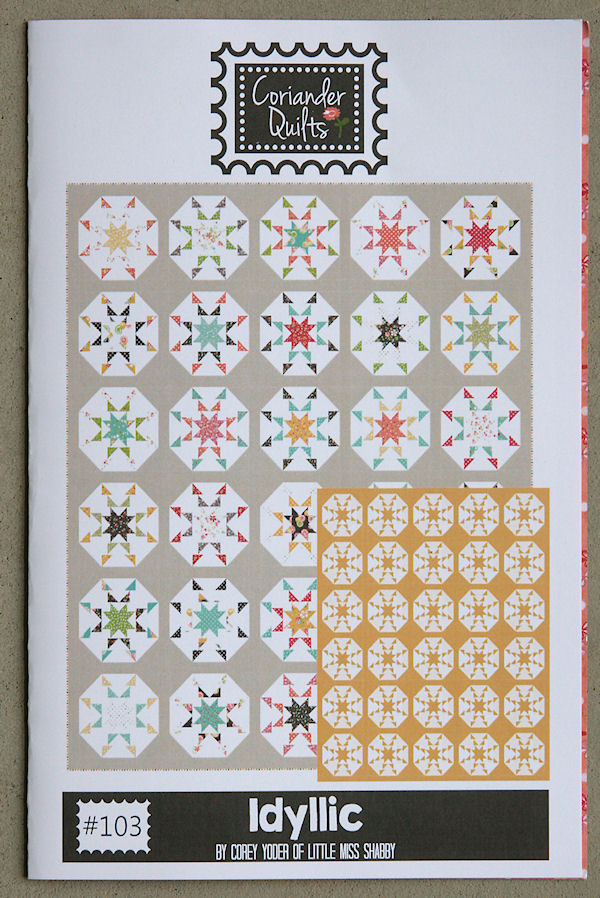 Of course there must be minis.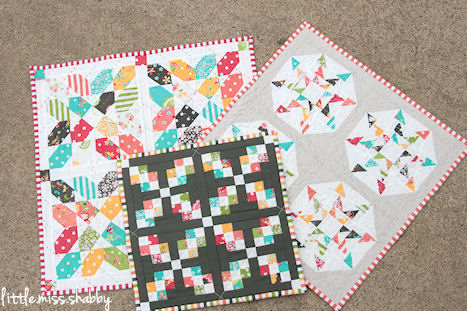 I decided to incorporate 3 mini quilts into one quilt pattern.  So all 3 of these mini quilts can be found in the Sweetness pattern.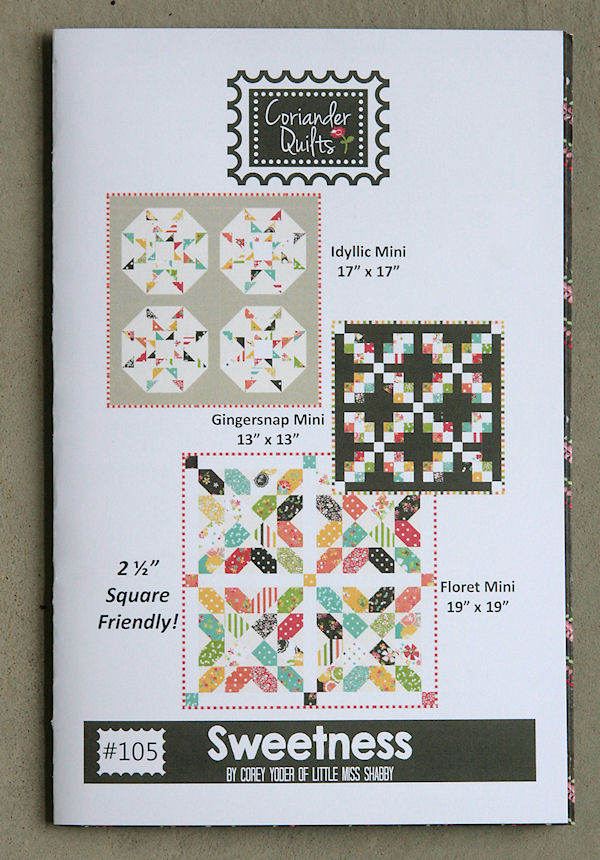 There is a Floret Mini:
I opted to hand quilt this one.  I can complete a small hand quilting project quickly!  In fact, if you are new to hand quilting, mini quilts are a great way to dip your toes in the water.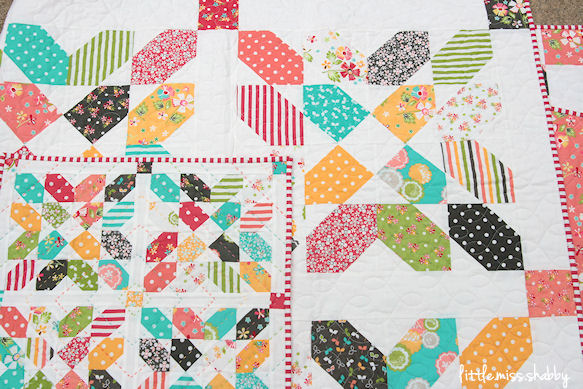 There is also a Gingersnap Mini: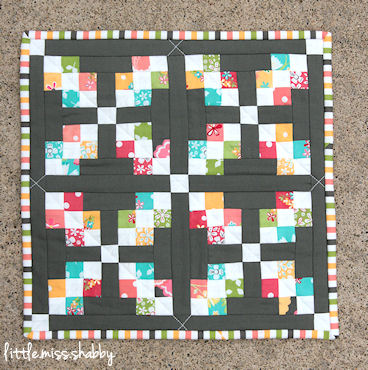 Look how cute it is!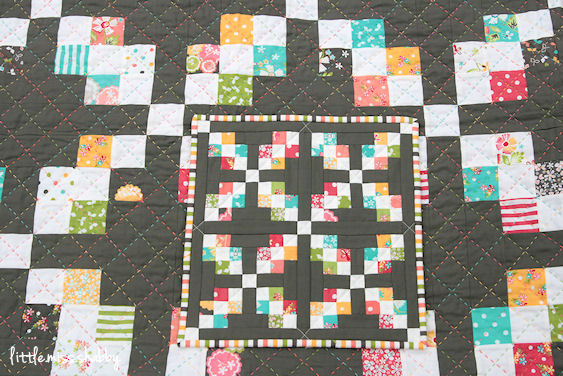 And lastly an Idyllic Mini: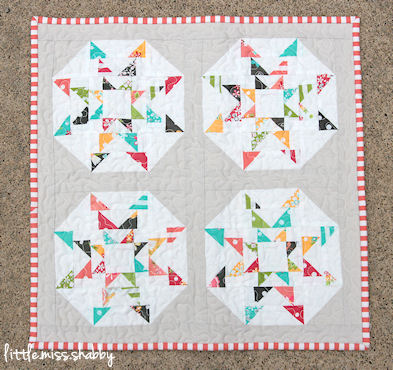 Again, this little Idyllic Mini was probably the most simple of the minis to piece.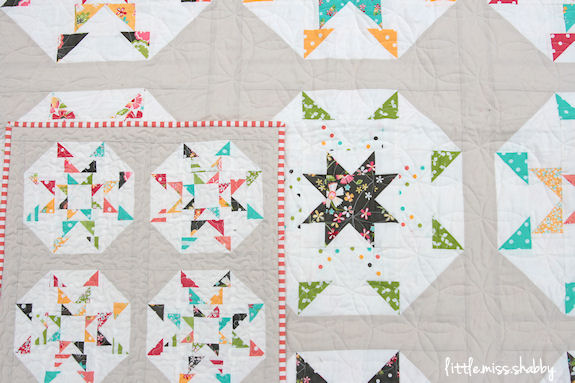 The minis all use either one or two mini charm packs (the 2.5″ mini ones) plus a bit of solid yardage.  And, the patterns for all 3 are found in the Sweetness pattern.
As of right now, PAPER copies of all of the patterns are available in my Etsy Shop.  I will also have PDF versions at some point.  I tried uploading them without success today–my Internet service in my little Amish town was just not cutting it today!  I'll get them added into my shop as soon as I can.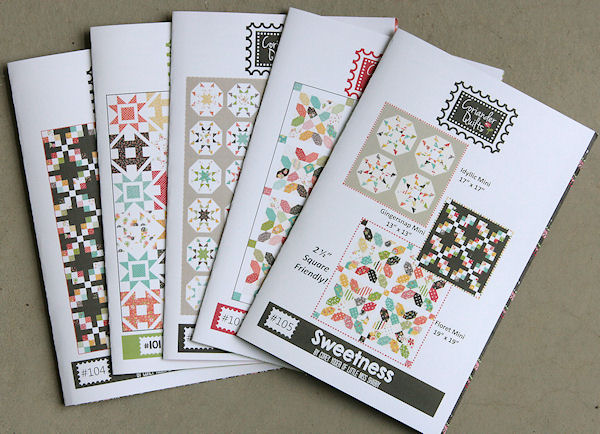 I'll be back soon with more pictures of Prairie!  Hope you all have a wonderful weekend!