Summertime
Summer is flying by–it's really about half way over in terms of when the girls head back to school.  Some days it feels like it's zipping along and other days(those days that I feel like I am a referee all day long) go a bit slower.
I thought I should pop on and share a bit about how our summer is shaping up.  I am quite intentional with how my summer days are spent.  This means that I take on less projects so that I can spend more time with my girls while they are home.  I have gotten in some sewing time as well as some fabric buying time this summer though!
Over the last couple of months, I've been working with one of my LQS's for an upcoming fall project.  This means I've been popping into the shop somewhat often this summer.   On one of my visits, I noticed some Fiesta Wovens that have since made their way home with me.  I also picked up a wonderful selection of solids and I love how everything mixes with Prairie.
You are going to notice I am snagging some of my Instagram photos–so much easier than snapping new pictures!
Another project I have been working on is a mini Lone Star Quilt.  I have  been wanting to make a mini Lone Star Quilt. I had tried making a version on my own last summer–drafting up my own pattern but, it was an epic fail. It looked pretty:
But, nothing fit together. I was so disappointed. I recently came across the book "Little Lone Star Quilts". It features a paper pieced method to making mini lone star blocks. I decided to give it a whirl just a few weeks ago. So, I pulled new fabrics:
Started cutting little squares and using the paper pieced method to make my Lone Star Diamonds.
And let me tell you, this method while time consuming, is ingenious.
This block will finish at 8″. It's adorable. Because the block took so many hours to make, I now need to decide if I want to turn this block into a pillow or mini instead of turning it into a quilt. I still have visions of making at least 9-12 of these little guys–actually more if I have the patience and turning them all into a beautiful quilt.
Another book that I recently looked through was Amy Gibson's book, "For Keeps".  Amy and I have chatted back and forth online so when I heard she was writing a book, I was excited to see it.  I love reading her blog and knew if she wrote a book it would be beautiful.  And it is.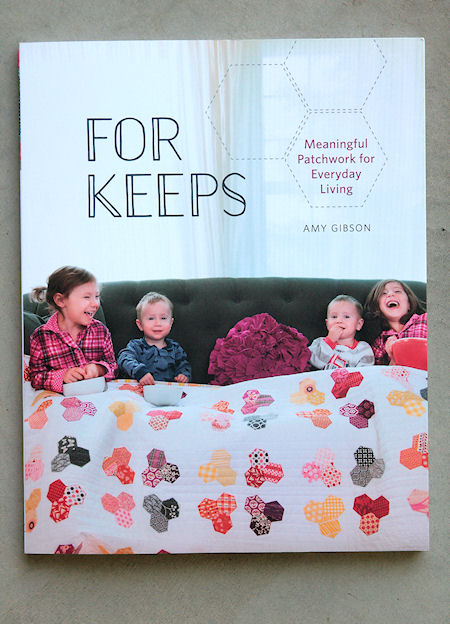 The photography throughout the book is beautiful.  Lots of color.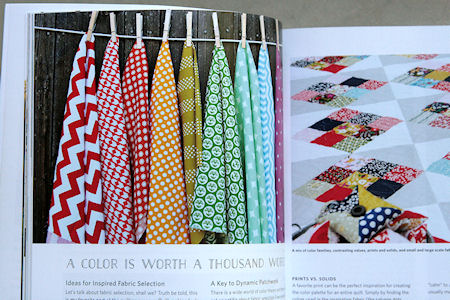 And, I picked up some tips I know I will be utilizing.  My favorite might be this glue basting tip: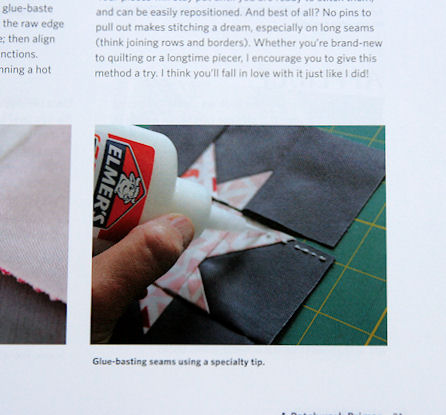 My daughter, Elonie, received some fabric last week and she is determined to make herself a quilt.  She has two layer cakes and she wants to make a larger quilt.  She was very eager to dive in but after sewing together just two squares she became a little bit overwhelmed once she realized how much time she would be spending making this quilt.  I think if we utilize glue basting to hold the squares in place it will make the project easier for her.  I have stumbled across glue basting before but I have never tried it myself–I am excited to have Elonie try it out.
The premise of Amy's book, being intentional about quilting making, really struck a chord with me.  It is very easy for me to get caught up in the making of the quilts and forget a bit about the enjoying of quilts.  With that thought in mind, Amy has created the "For Keeps" pledge: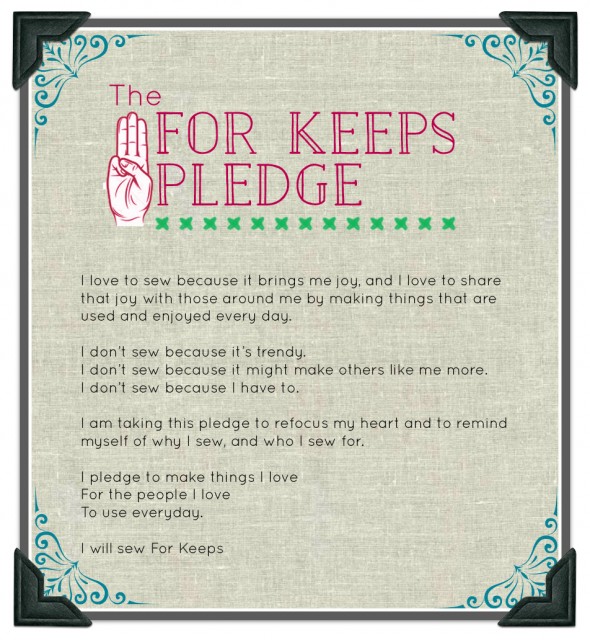 Don't you love that?!  You can take the "For Keeps" pledge here.  Then, if you'd like you can print it out for your sewing room.  Amy is also giving away a free quilt block pattern for those taking the pledge.
Speaking of being intentional with our sewing, I have been wanting to pick up a sewing machine for Chloe & Elonie.  Either one to share or one for each of them.  Do you have a favorite beginner friendly machine?–Maybe one you use yourself or one you've purchased for a child?  I admit, that I get caught up in the cuteness factor–I've been eyeing these little guys and I love that the girls could each pick a cool color of their own: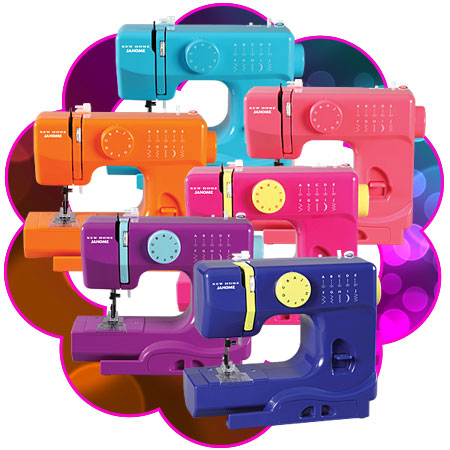 They are the Janome Fast Lane machines.  But, I worry that they might be a little bit less of a machine than I would want for them–no room to grow into them.
And then of course, being a Bernina gal, there is this adorable Simply Red machine.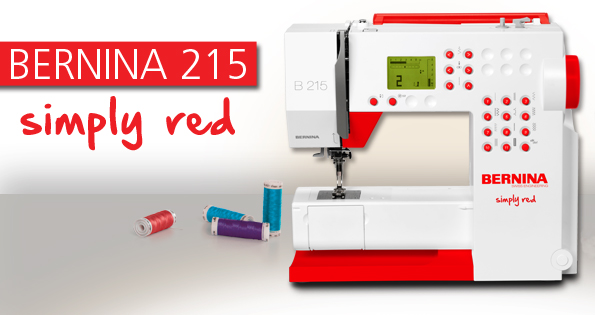 This one, they would need to share–and I think I am once again being sucked in by the cuteness factor.  So, if any of you have any suggestions, I would love to hear them!
Hope you are all having great summers!