Summer Happenings
Hello, hello!  I hope all of you have had a wonderful summer!  My girls have been back in school for a week now, and I am enjoying a new schedule.  I always forget how much can be accomplished without little ones at home.
Over the last few summers, I have enjoyed taking some time off blogging.  Blog silence doesn't mean project silence though! =)  I thought I'd share some of the photos I have posted to Instagram over the last several weeks.
Are any of you working on Lori Holt, of Bee in my Bonnet, blocks from Farm Girl Vintage?  Next week, I get to share as part of Lori's "Farm Girl Fridays" blog hop she has been hosting.  So, I got to making some blocks.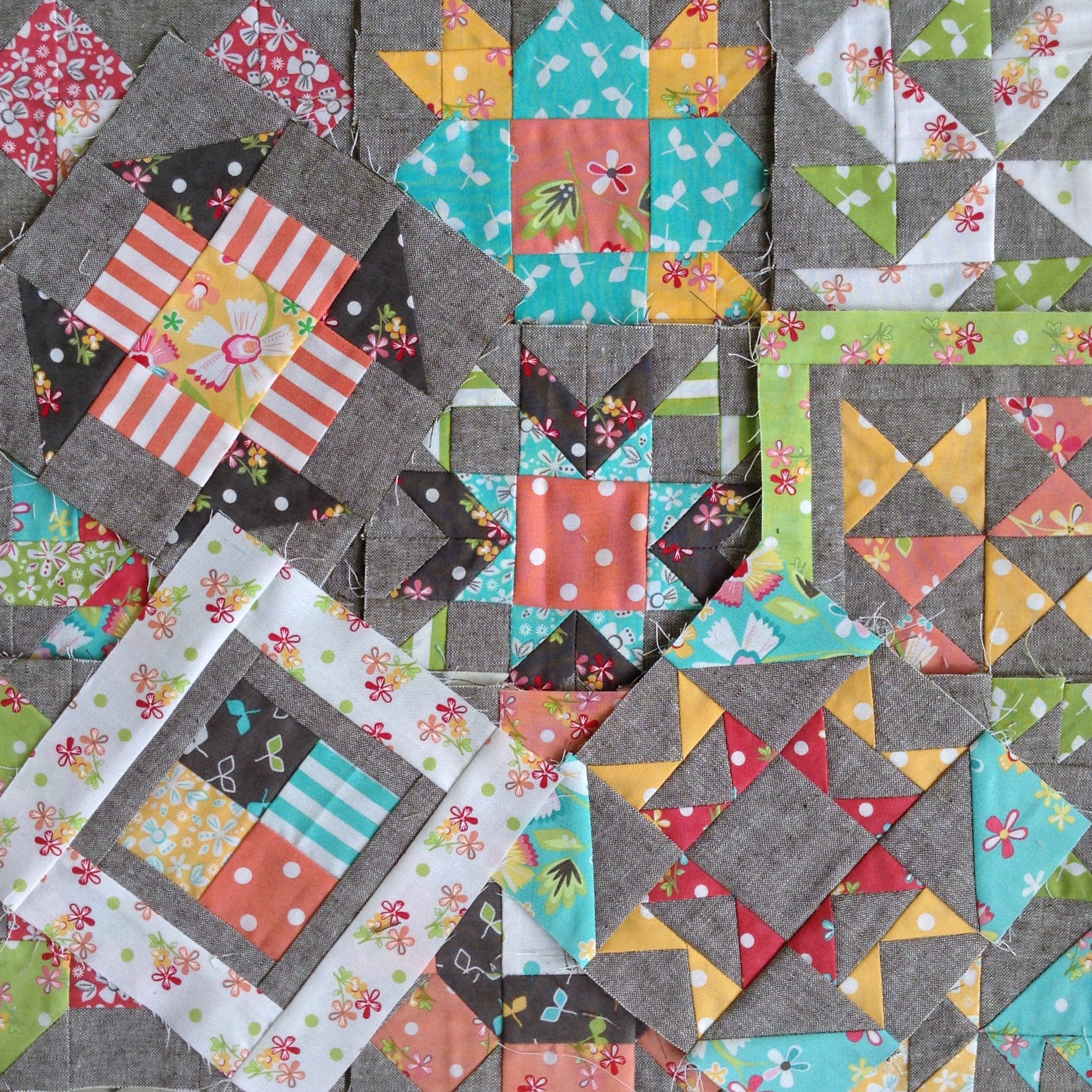 Let me tell you, these blocks are so addictive!  I am making the 6″ size and using a mix of Prairie fabrics (which by the way, yardage is coming soon–October!) and Essex yarn dyed linen in Olive(that's my background fabric).
I made 12 of these little blocks and my plan is to sash them and quilt them into a cute little mini.  You'll see the finished project next week.
I have also been working on getting caught up with the Fig Tree Mystery Block of the Month.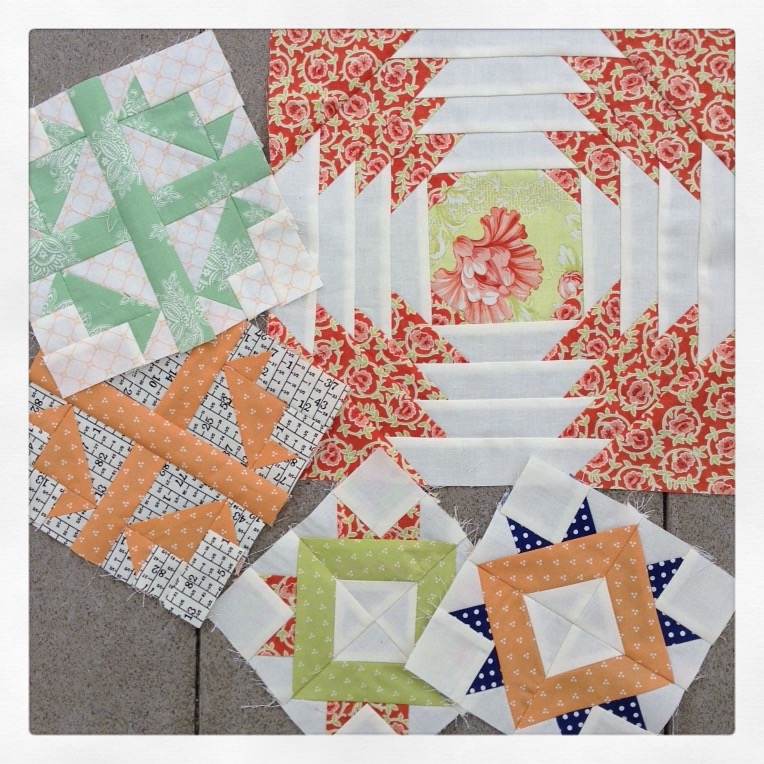 I just received the month 10 shipment over the weekend and I am currently caught up to Month 4.  So, needless to say, I need to get cracking!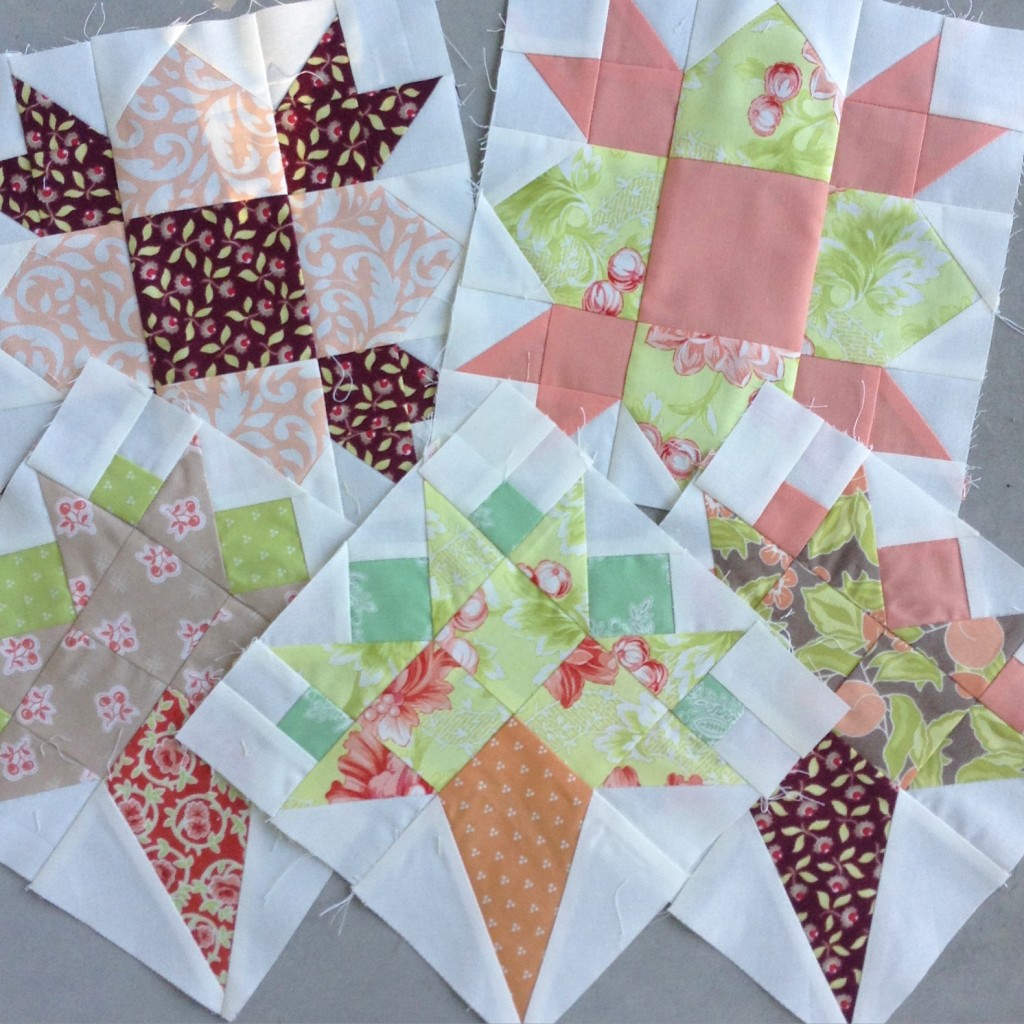 These blocks are a mix of Fig Tree fabric lines and patterns.  They are quite fun to work on!
And a completely new project I have started working on–crochet.  I am working on a Sunburst Granny square afghan.  These are the yarns that I have chosen to work with–a wonderful mix of Prairie colors.  And I have really been enjoying working on these little squares when I have some down time.  I always recommend having a hand project to work on especially as we start getting into the cooler months of Fall and Winter.
I'll share more about this project soon.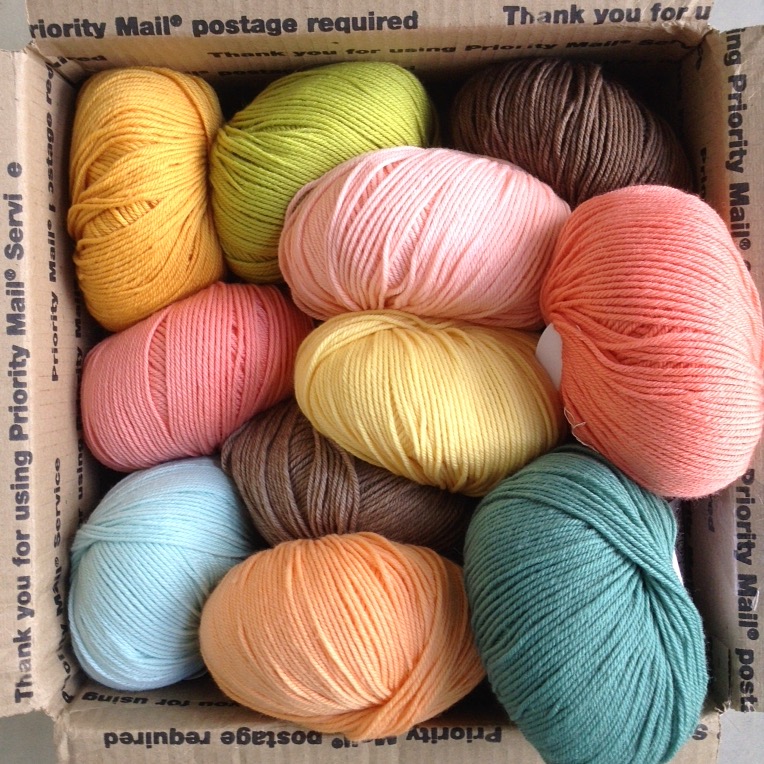 And of course, I am working on some new patterns.  Have you guys seen the peeks of Bonnie & Camille's new Vintage Picnic line?  It mixes wonderfully with Gooseberry and Hello Darling.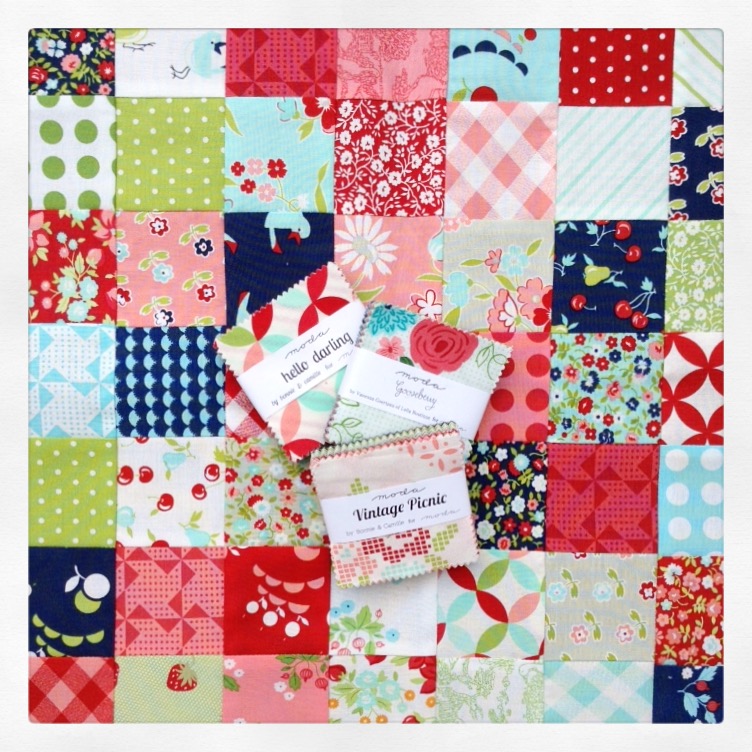 I know some of you have been waiting on the pattern for my In Stitches & Spool Time patterns.  Well, they are finally available and I'll be sharing those with you soon as well.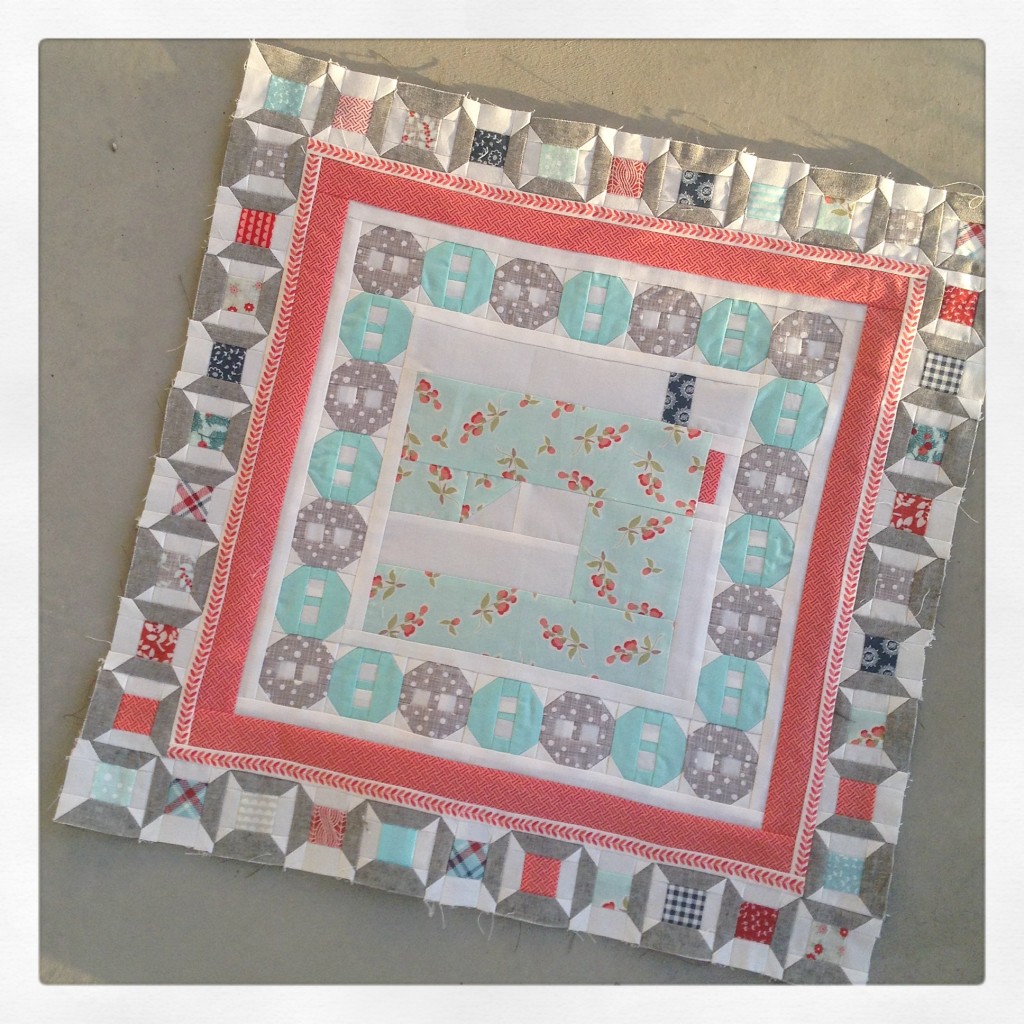 I'll be back later this week with a project that I just finished up over the weekend.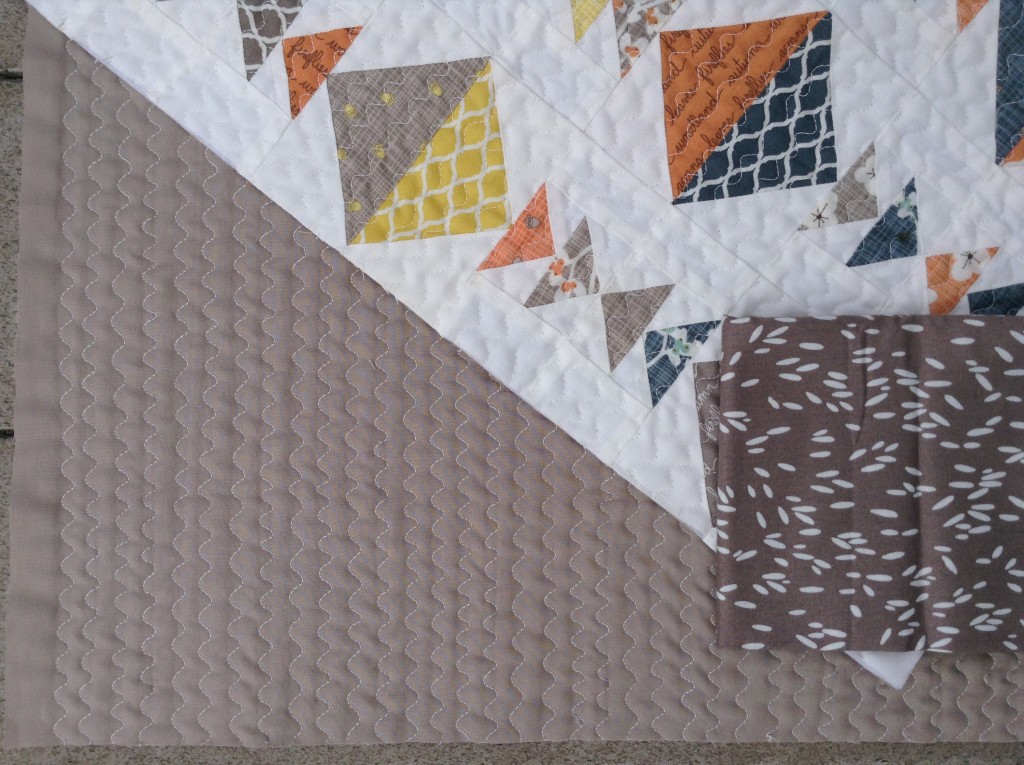 Talk to you soon.
Corey