Precut Primer 4th Grade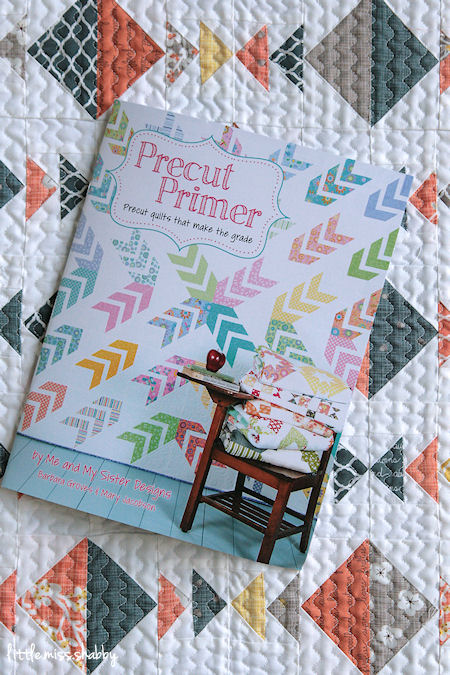 Happy Thursday!–Today is my day on the Precut Primer blog hop hosted by Fat Quarter Shop & Barb & Mary over at Me and My Sister Designs.  I am always very impressed with the books that Fat Quarter Shop publishes.  With Barb & Mary on board, Precut Primer is really, quite top notch.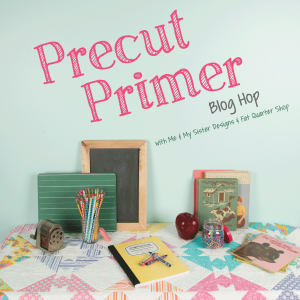 I am quite excited about this book.  There are very few quilting books that I would be interested in making more than one or two quilts from the book.  In this book, however, there are a lot of quilts I would love to make.
I have to share this funny little story.  When, Precut Primer arrived on my doorstep, I was browsing through and deciding which project I wanted to make first.  I asked my 6 year old, Elonie, which was her favorite.
She asked me if she could use clothespins to mark her favorites.  I said, sure–that'd be great.  And, here are the results: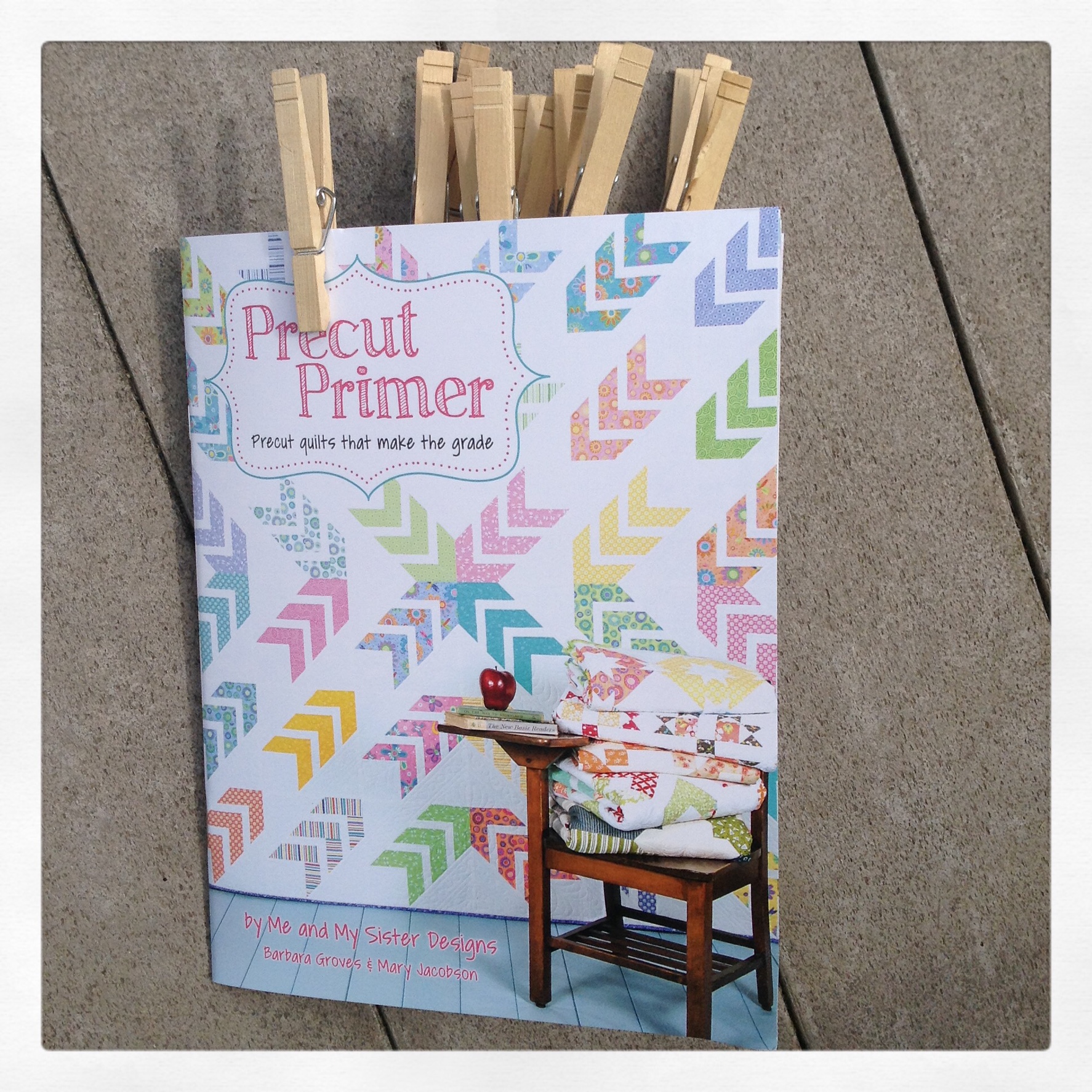 She had so many favorites!–I'm inclined to agree.  My most favorite quilt from the book is the 11th grade quilt: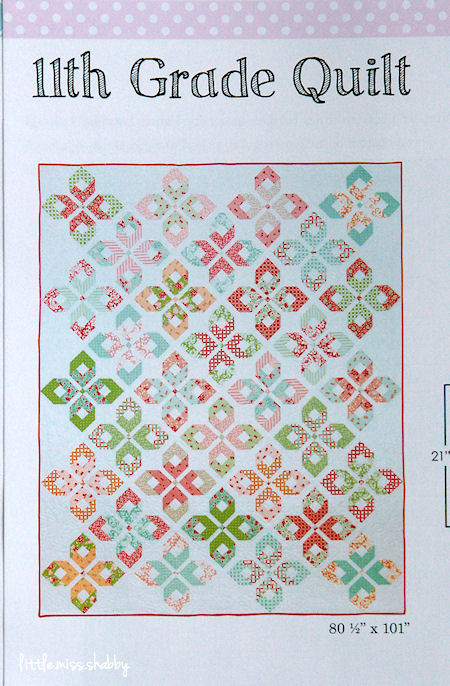 I think this quilt might have to be made sooner rather than later.  I think it would be stellar using my vintage sheet collection.  I already have the strips cut and just need to get sewing.
The great thing about this book is that all of the projects are precut friendly(you probably already had this figured out).  There are projects for mini charm packs all the way up to fat quarter bundles.  Using precuts sure cuts down on the amount of time spent prepping a project for sewing.
These are another of the two quilts that really caught my eye.  The 8th grade quilt is looking pretty fancy in Prairie fabrics!  And that 9th grade quilt is just too pretty.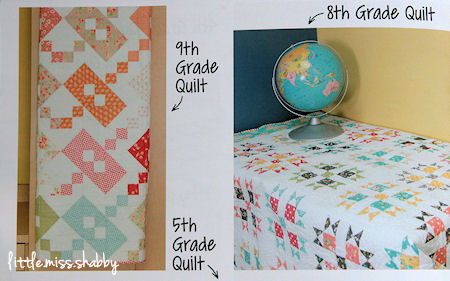 So, I ended up choosing the 4th grade quilt to make first.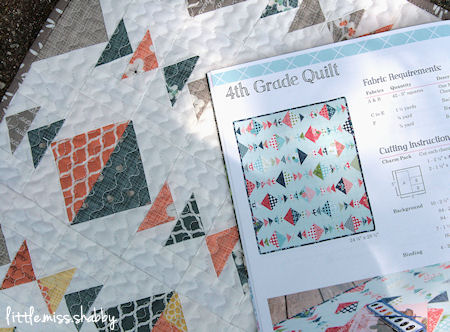 It's a perfect little wall hanging size made in some of my favorite Kate & Birdie fabrics, Autumn Woods.  I had a charm pack just waiting to be used for this project.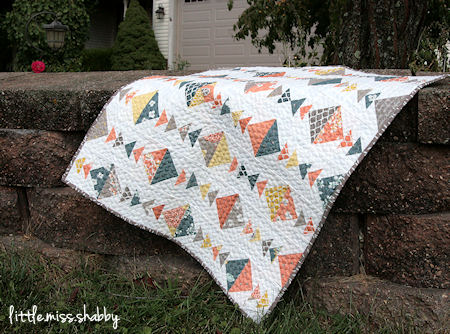 It quilted up quickly using an easy wavy line stitch.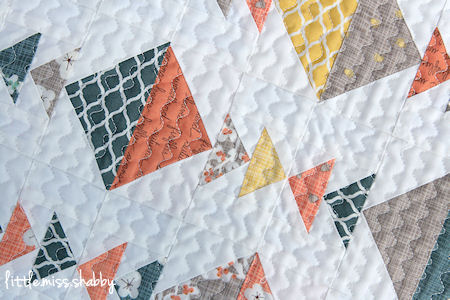 All in all, a fun perfect for fall project.
You will want to check out the remaining stops on the blog hop and any you may have missed earlier this week.  I hear there may be prizes…
September 2, 2015
Me and My Sister Designs
Moda Fabrics
Pat Sloan
April Rosenthal
September 3, 2015
Corey Yoder of Little Miss Shabby  You Are Here
September 4, 2015
Amy Ellis of Amy's Creative Side
September 7, 2015
Jane Davidson of Quilt Jane
Heidi Grohs of Buttons & Butterflies
September 8, 2015
Sherri McConnell of A Quilting Life
September 9, 2015
Melissa Corry of Happy Quilting 
Lissa Alexander of Moda Fabrics
Thanks so much for stopping by!
Corey