Sundrops Fabric & New Patterns
Happy June everyone!  It has been awhile since I have shared here on my blog & I have so much to share with lots of pictures galore.   I have found that popping quick pictures up on Instagram is so much faster and a great way to keep up on day to day happenings.  Plus, I have upgraded my computer and my camera memory card no longer works which makes transferring photos from my camera to a blog post much more time consuming!
But, I realized I had never stopped in to share my new fabric line, Sundrops, with you or all of my new patterns.  And, that really needed to be remedied!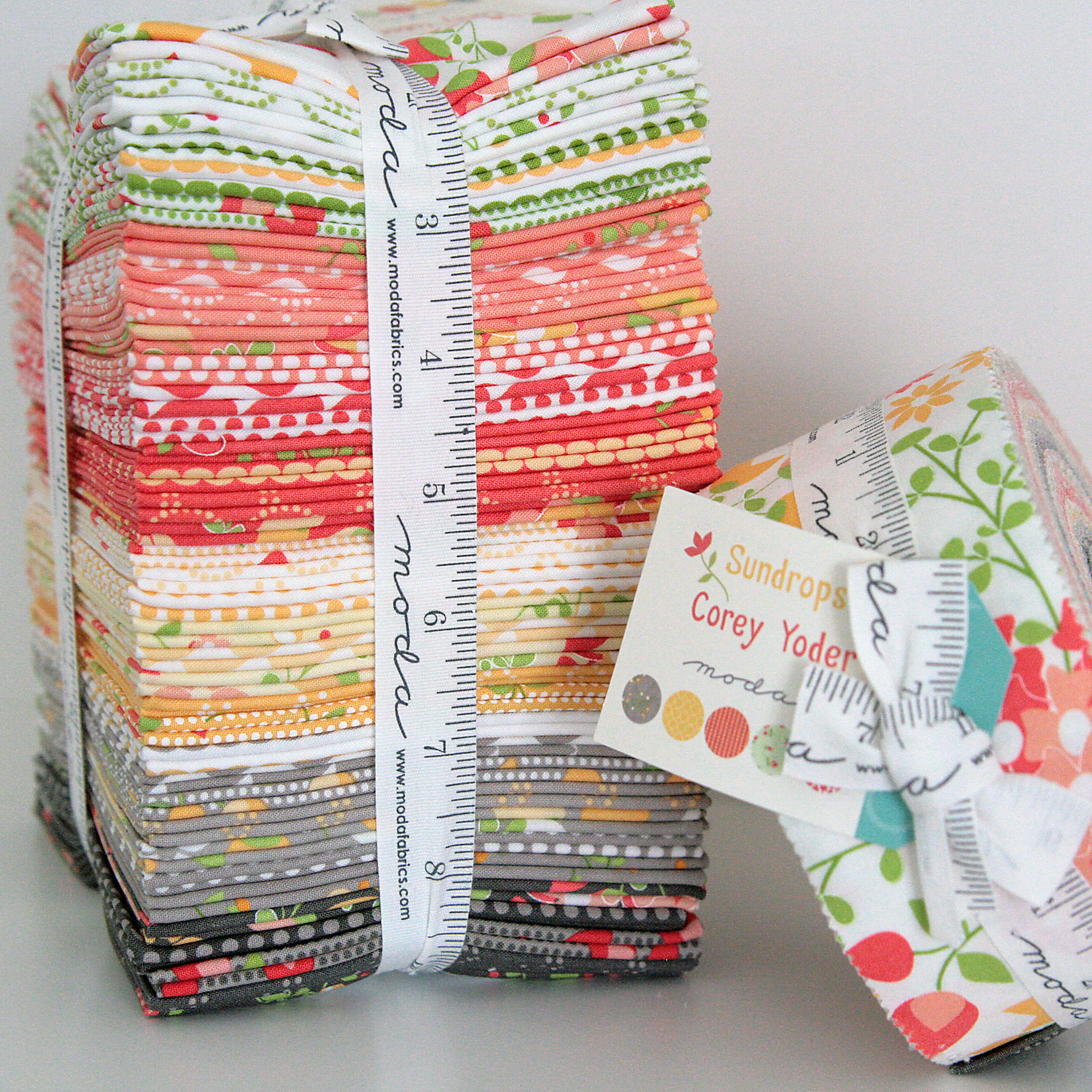 So, this is Sundrops!  It will be shipping later this summer, sometime in August.  It is full of all my favorite colors.  Those warm corals, both a light shade and a dark shade, that buttery yellow I always love.  The yellow is also in a lighter shade and a darker shade.  I've added in a lighter grey that mixes beautifully with the yellows in this line.  If you are a yellow/grey fan, you will love the combos in Sundrops.  I love this line so much!–it's my new favorite.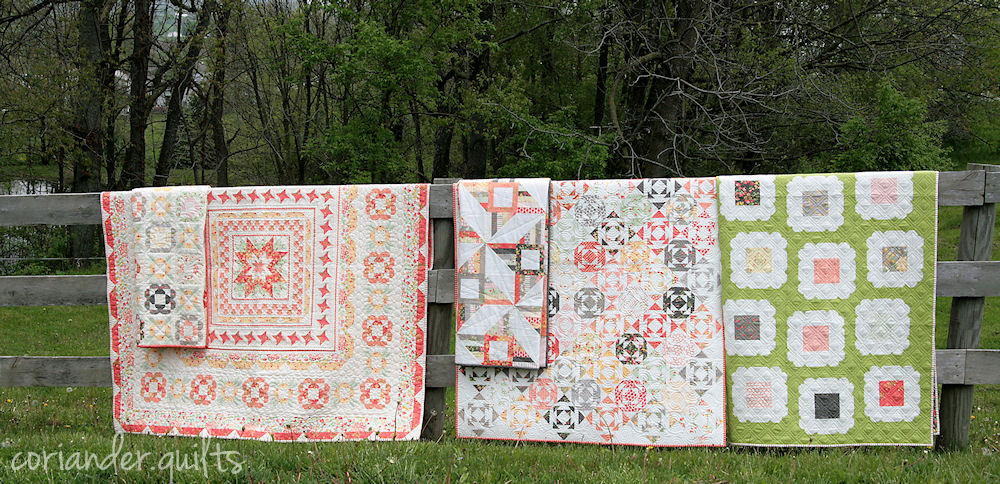 I released 4 new patterns with this fabric line–with a total of 5 new quilts.  All of the patterns are available as paper patterns or PDF patterns in my Etsy shop.
First up is Medley: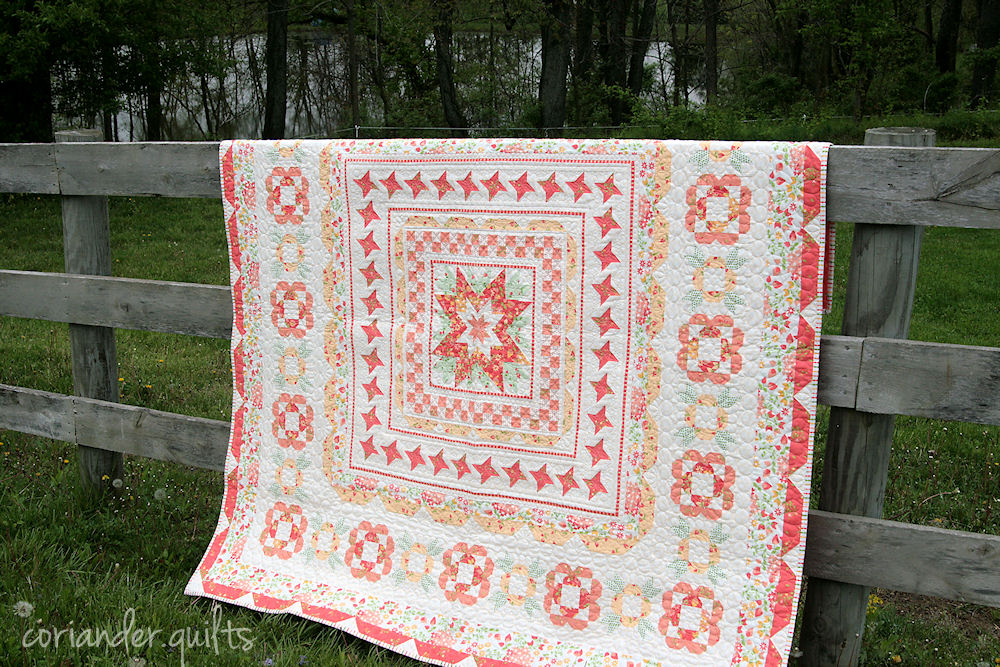 This pattern features two quilts; Medley Medallion & Medley Bouquet.  The medallion quilt, Medley Medallion, is a yardage based quilt and such a fun design with all of those scalloped borders.  I've got something fun planned for this quilt next month so keep an eye out.  Oh, and another fun thing, Moda is kitting Medley Medallion–and you know how cute their kits are!  Fat Quarter Shop will have them available when they start shipping in August.
The 2nd quilt in this pattern is Medley Bouquet.  It is a layer cake friendly quilt and so cute!  The blocks in this quilt are just 6″, cute little things.  I realized I hadn't taken a photo of the Bouquet quilt–but, you can see it pictured here on the pattern cover.  It finishes at 48″ x 60″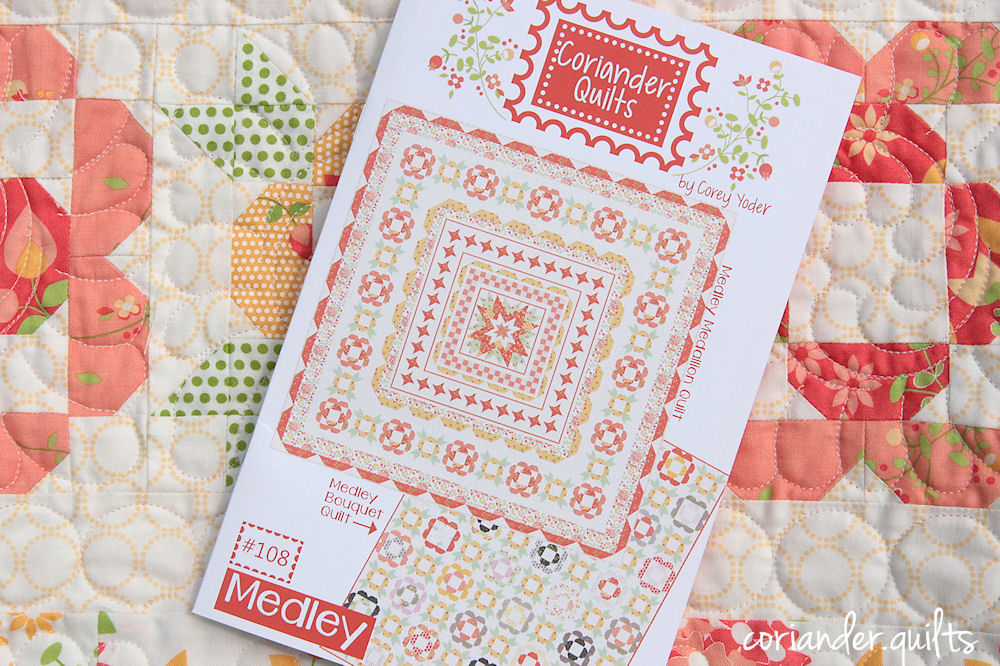 The Medley pattern is a 16 page, full color booklet type pattern with lots of illustrations.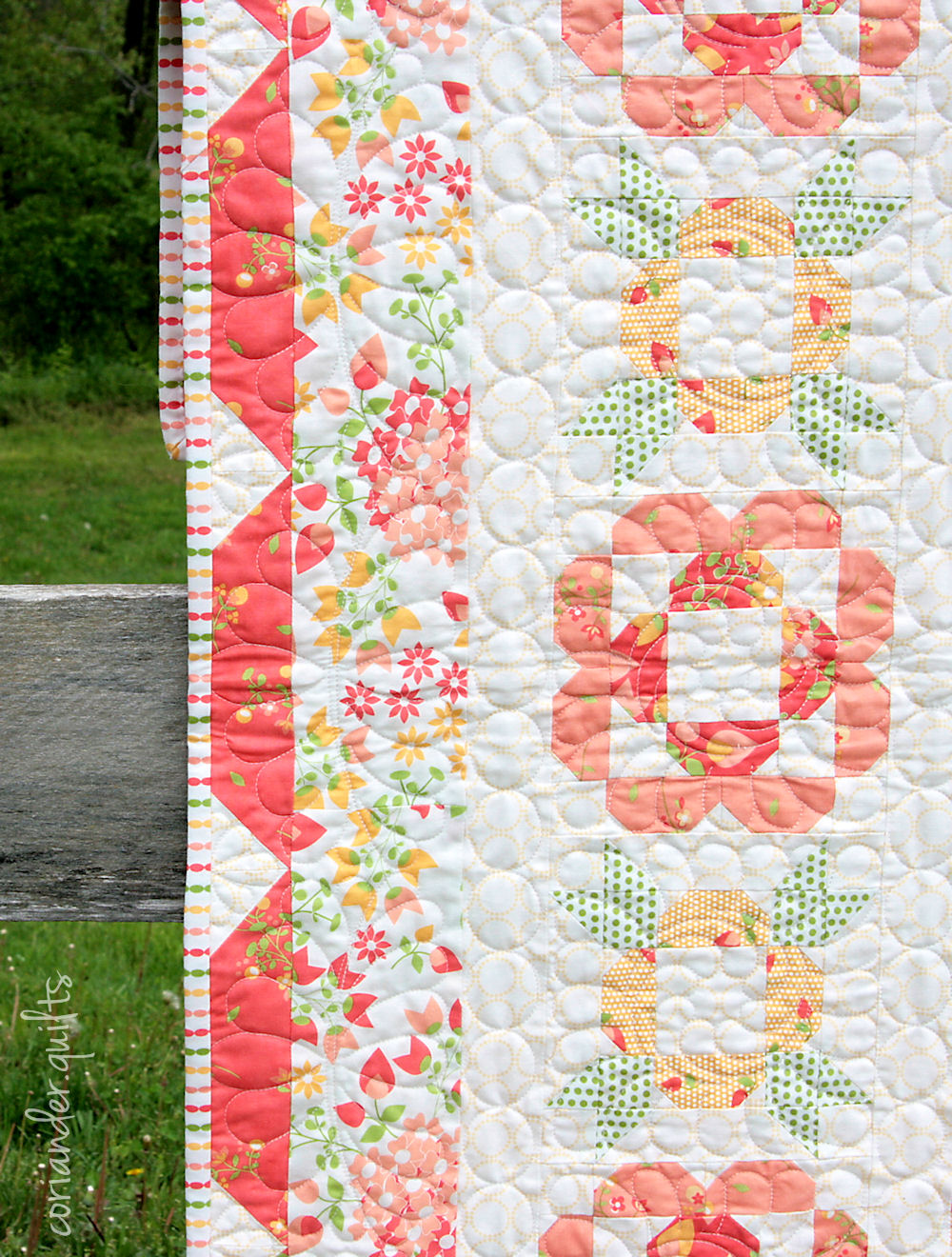 Sundrops has a wonderful low volume dotted circle print that I used for the background in both Medley Medallion and Medley Bouquet.  If you like using low volume prints in your quilts, it is one to keep an eye out for.
Of course, you know that I had to use a "stripe" for my binding.  This collection has several great stripes as well. =)
Next up is Kindred.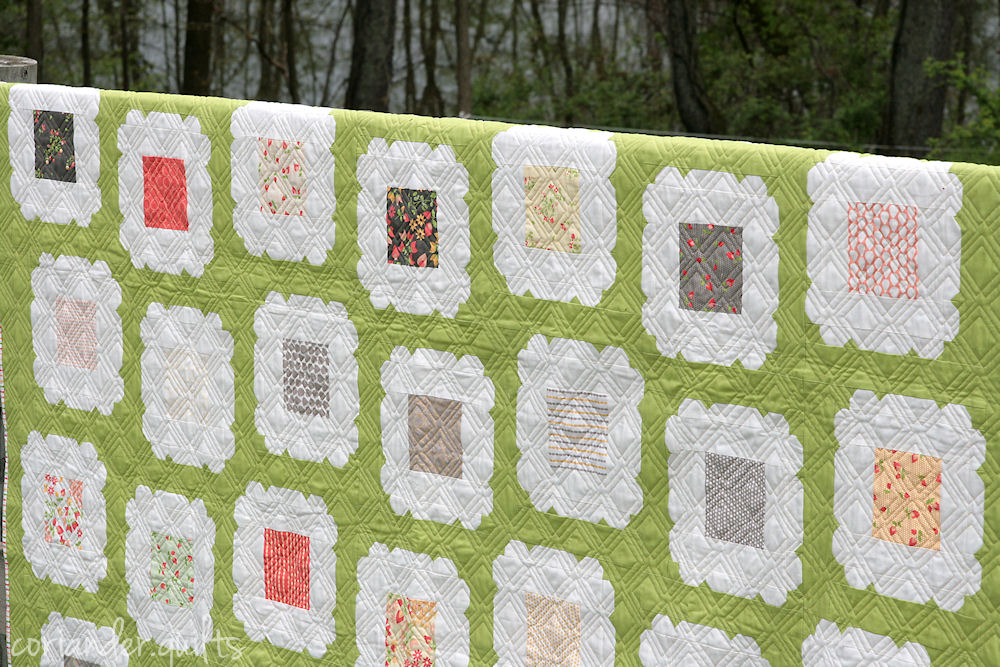 Kindred is a charm pack quilt.  Can you believe it?–just one charm pack plus green yardage and white yardage will have you all set to make this quilt.  It finishes at 76″ x 88″.  Kaylene Parry quilted this one for me, don't you love the texture that design gives the quilt!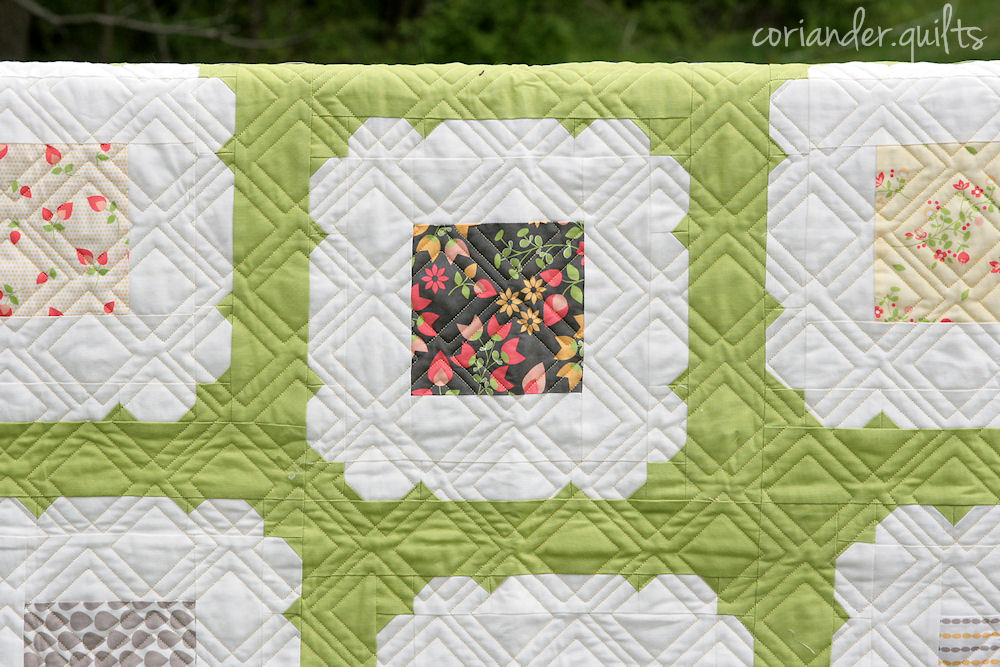 When, I set out designing this pattern, I started off wanting something to use that wonderful Bella solid in Pistachio.  It has such a fun vintage yet modern feel to it and I liked the vibe it was giving me.  I couldn't be happier with the end result.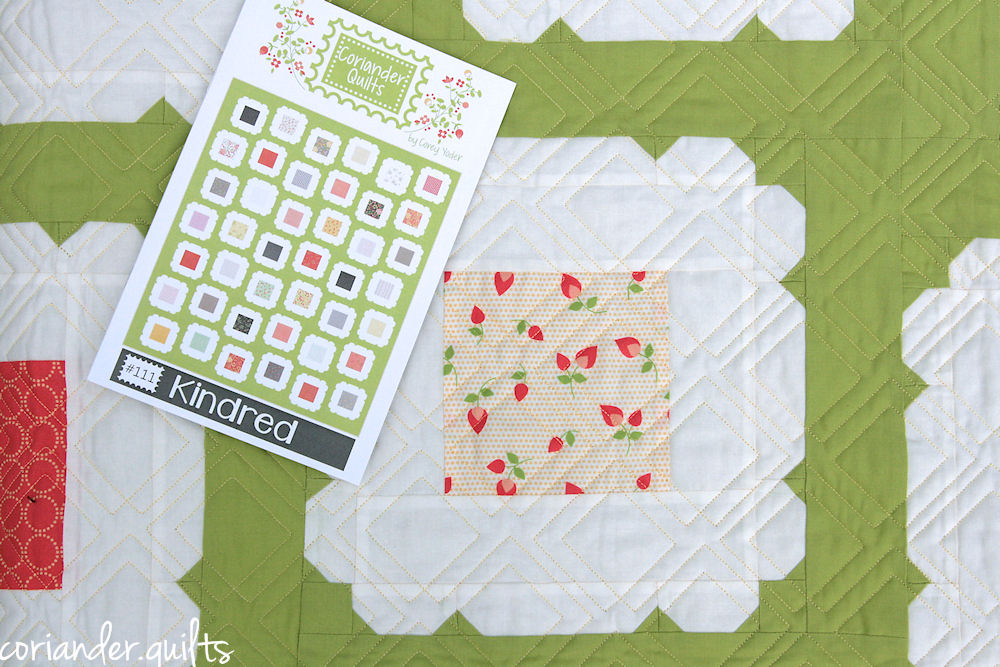 You can purchase Kindred in my shop in either PDF or Paper formats.
The 3rd quilt is Persimmon.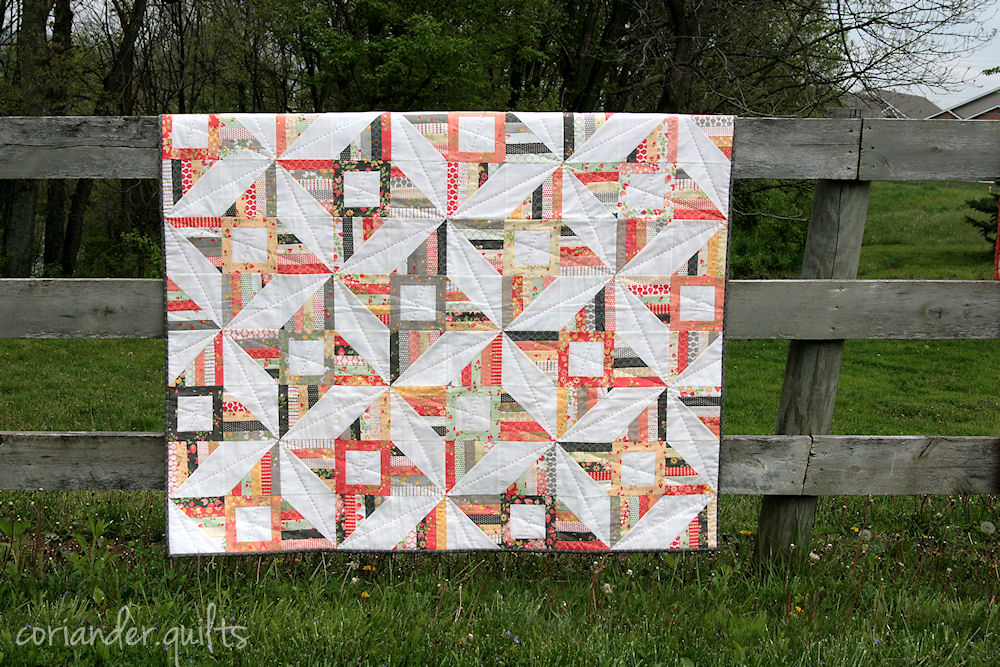 When Sundrops comes out in August, it will have honey buns available.  So fun!  For those of you unfamiliar with honey buns, they are just like jelly rolls, only smaller.  They are 1 1/2″ strips instead of 2 1/2″ strips like the jelly rolls are.  They aren't available that often with a line so, when you see them, snatch them up!  They are perfect for log cabin blocks, or for my Persimmon quilt. =)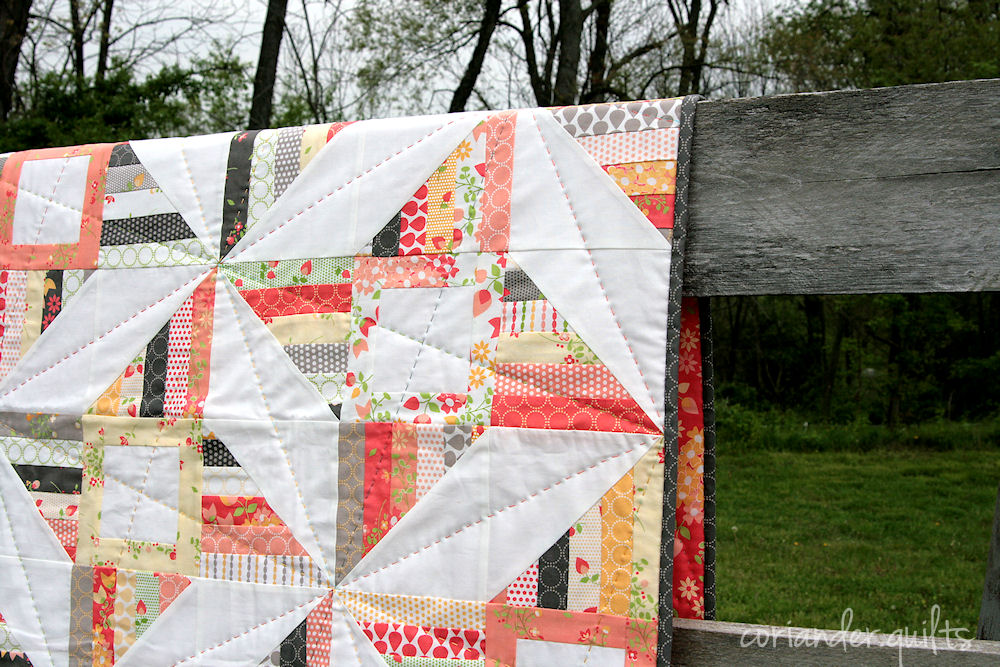 This quilt comes together very quickly and finishes at 55″ x 66″.  And you know me and my love of hand quilting–this quilt is perfect for hand quilting.  The pattern includes a hand quilting diagram and some quilting tips.  Isn't it so fun using those colorful threads!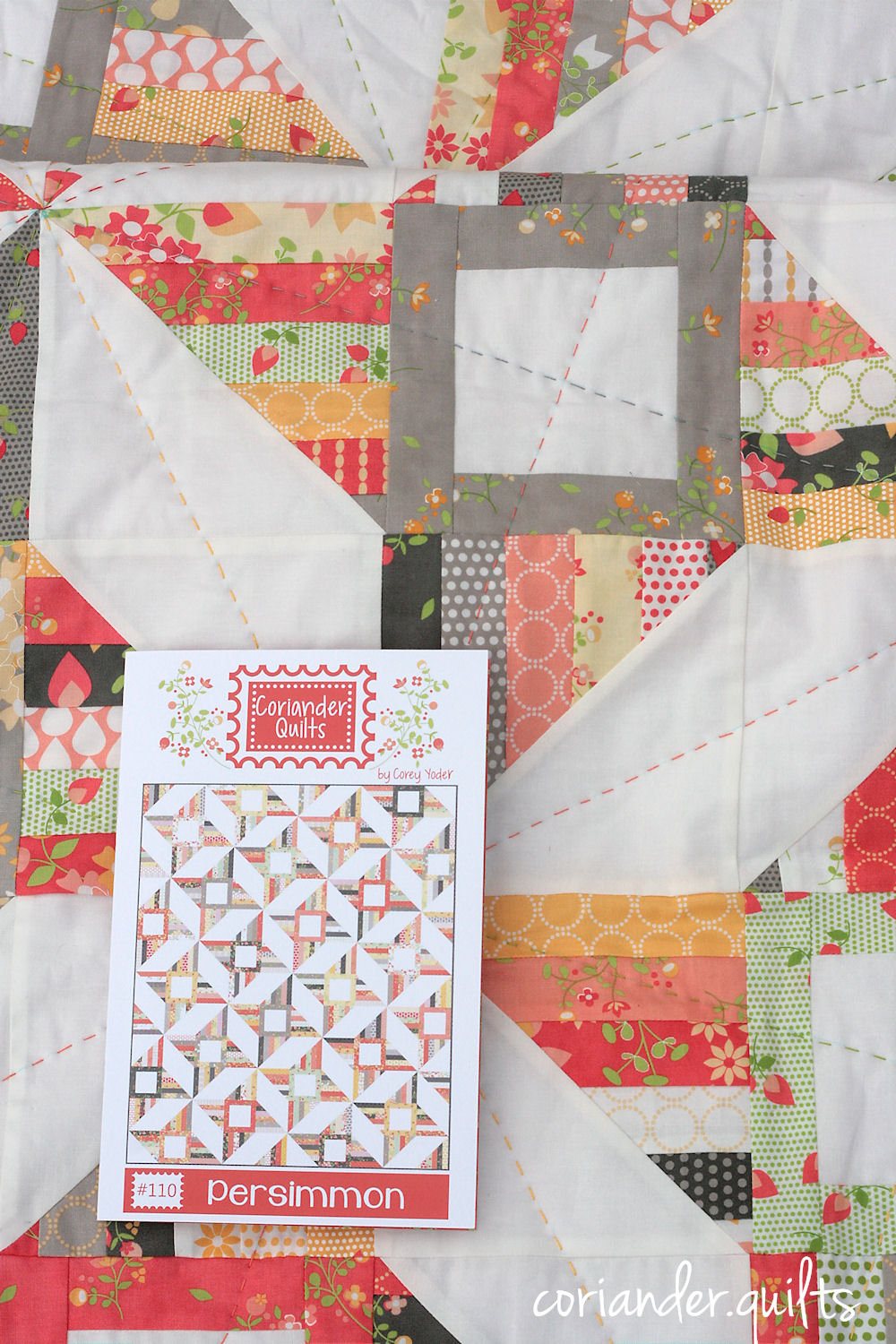 Persimmon is available in my shop in PDF or Paper format as well.
And the last pattern, I designed for this collection is Droplets.  This quilt is amazing and is a great scrappy quilt.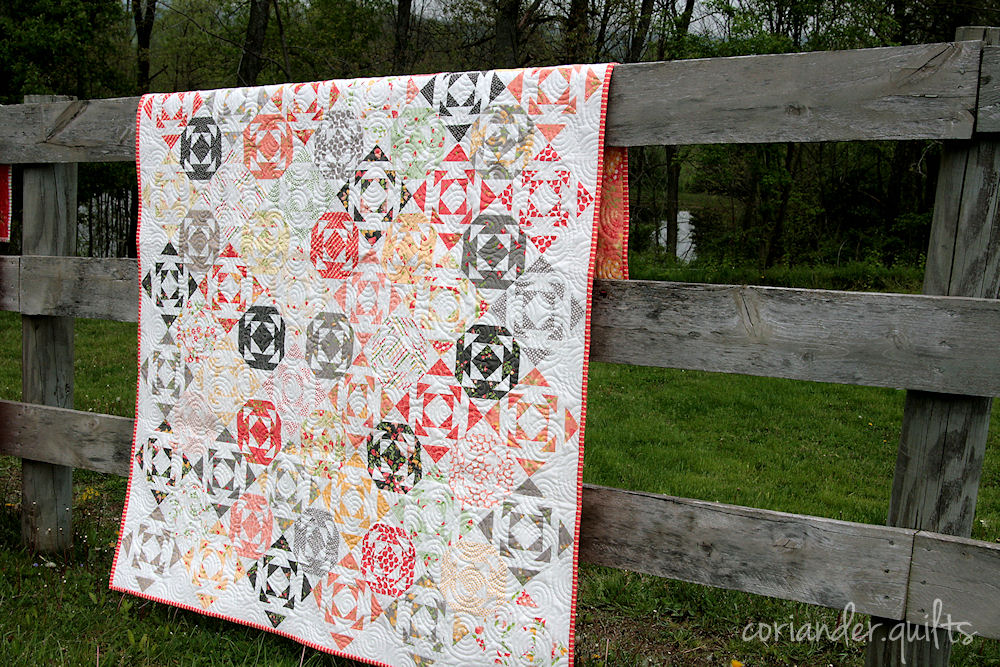 Droplets finishes at 51″ x 68″ and is a fat eighth friendly quilt.  These blocks are 6″ blocks and are set on point which gives so much movement and visual interest to this quilt.
The quilting, by Abby Latimer, is also amazing.  I knew as soon as I completed the quilt top which quilting pattern was going to work well for this quilt.  The whole quilt reminds me so much of water droplets hitting a water puddle.  It's such a fun quilt pattern!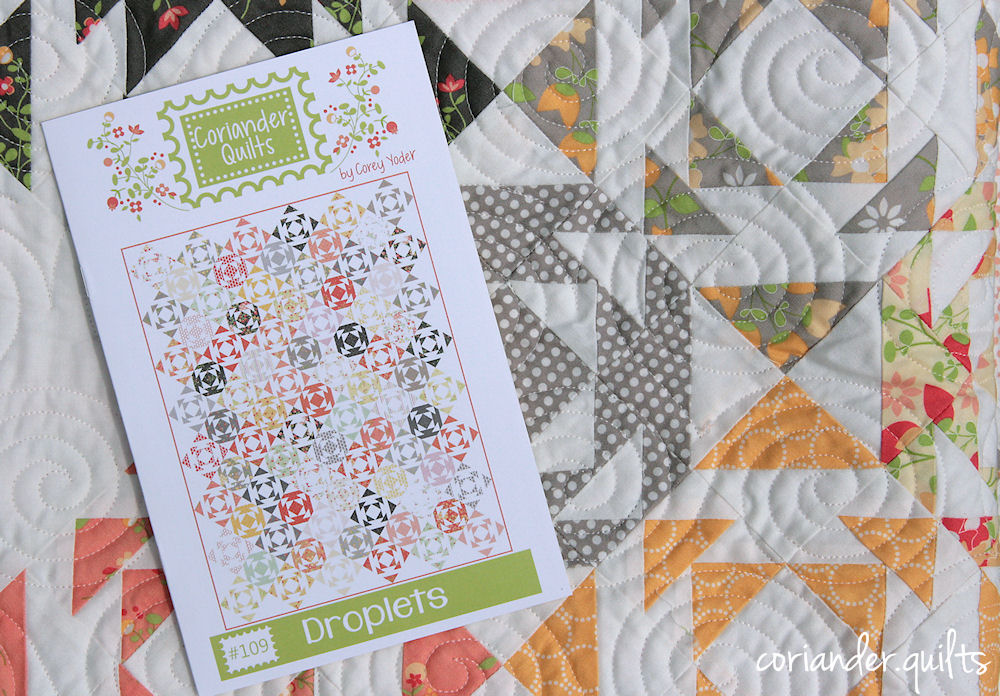 Here's another one of those great striped bindings.  I use a stripe on my quilt bindings so often–I love the way they set off the quilt.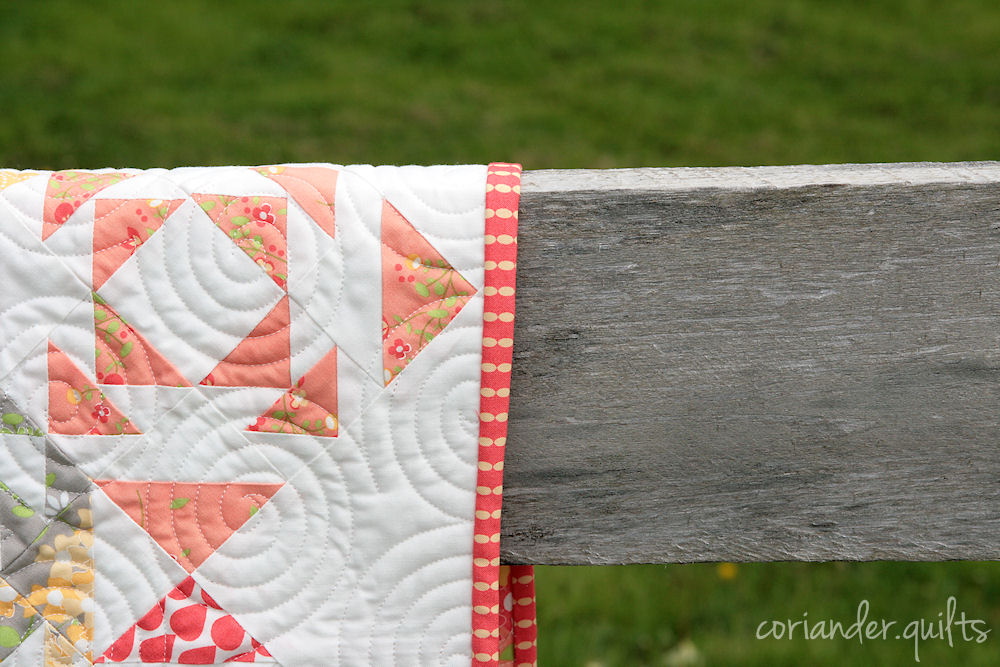 And this one's ready to go in my shop as a PDF or Paper pattern as well. =)
So, there they are–all of my new patterns & a look at Sundrops.  All of the patterns are available in my shop for your summer sewing pleasure!  To keep up with my day to day sewing, follow me on Instagram @corianderquilts =)