All in a Row Blog Hop & Giveaway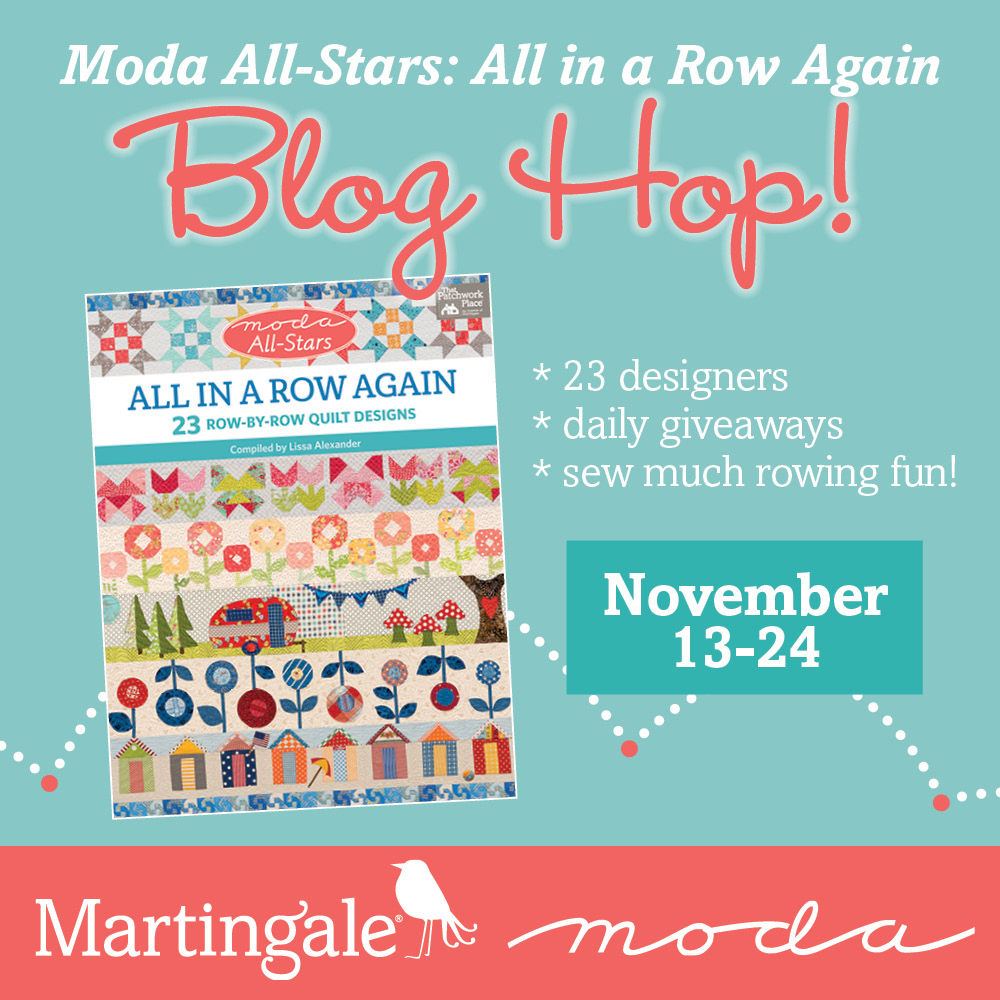 First of all, thank you all so much for all of your wonderful comments on my blog post last week!  I appreciated so many of you taking the time to share your thoughts.  I responded to each one of you and it was such fun.
I was not surprised to hear that many of you enjoy reading blogs, especially on Friday evenings or over morning coffee.  What did surprise me was how many of us are not on Instagram, Facebook or other social media spots.  It's understandable as we only have so many hours during the day and we need to be careful where we spend our time!
With that being said, I am excited to once again be blogging in this space.  I have so many things that I want to share: my new sewing space, new fabric lines,  new patterns…so many new things.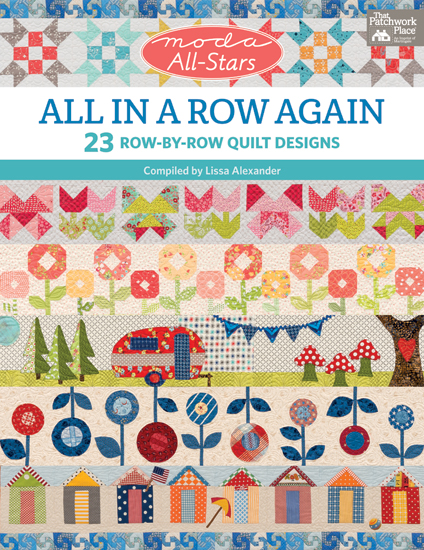 Today, I want to talk a little bit about the All in a Row Again book that was just released this fall.  You might remember the first All in a Row Book…you can read more about that book here if you're interested.   Well, this is the follow up book–so you now have double the rows to mix and match to your heart's content.  Each row finishes at the same length but they vary in width(height) so you can really customize your quilt by picking your favorite rows.  All of the rows are designed by Moda fabric designers or familiar faces.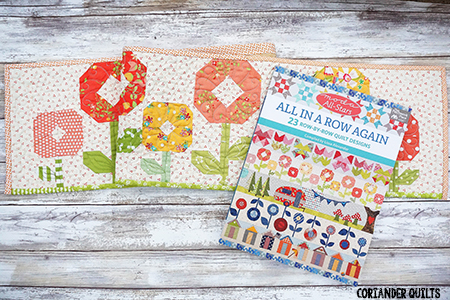 I was excited to see my Springtime row featured front and center on the cover.  We never know what the cover will look like until the book is printed so it's always fun to see the reveal.  Martingale ran a contest and allowed readers to vote on the cover for this book & I was excited when this cover was chosen.  Here's a peek at the other option: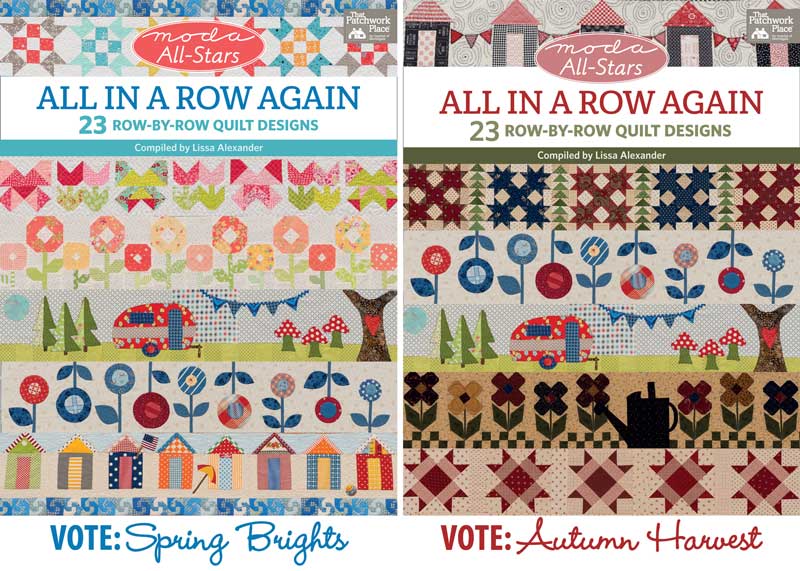 There are so many great rows in this book–here are a couple of my favorites:
This one by Brenda Riddle is so cute!
This one is by Sherri McConnell.  I always enjoy her quilt designs–and oh my goodness, have you guys seen her upcoming Moda Fabrics line?  If not, you need to check out here.  I really like how well Sherri & Chelsi's lines of fabric play with mine so I'm always excited to see what they have coming up.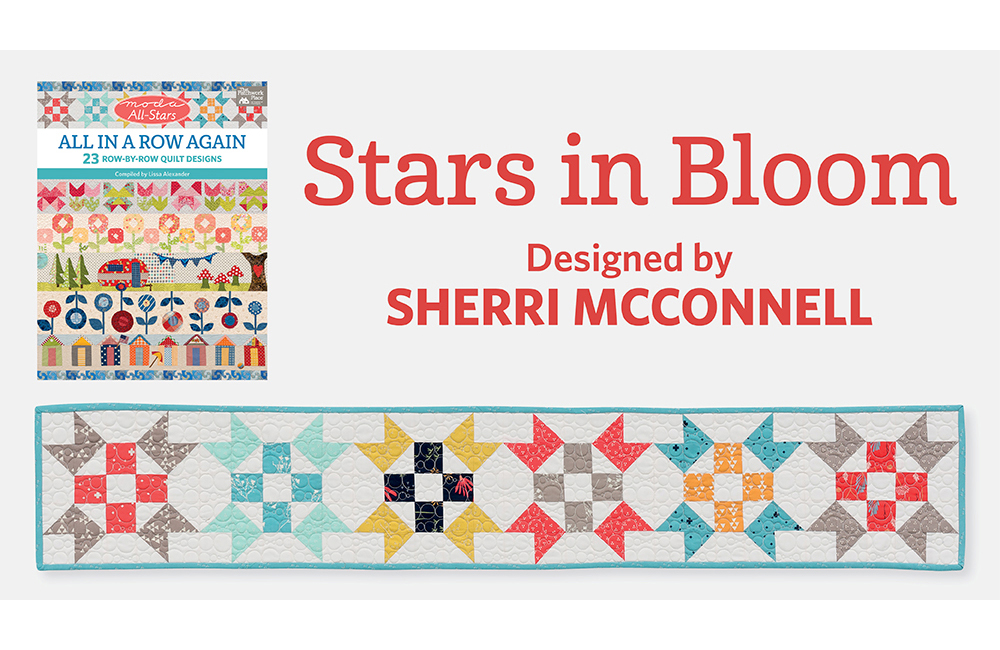 And this last row is by Jo Morton.  Jo & I had wonderful conversations at Quilt Market last month.  She is a wealth of information about hand quilting and you all know I love some hand quilting.  We had a very in depth discussion about batting–every hand quilter needs to have a good batting!  I love the design of Jo's row: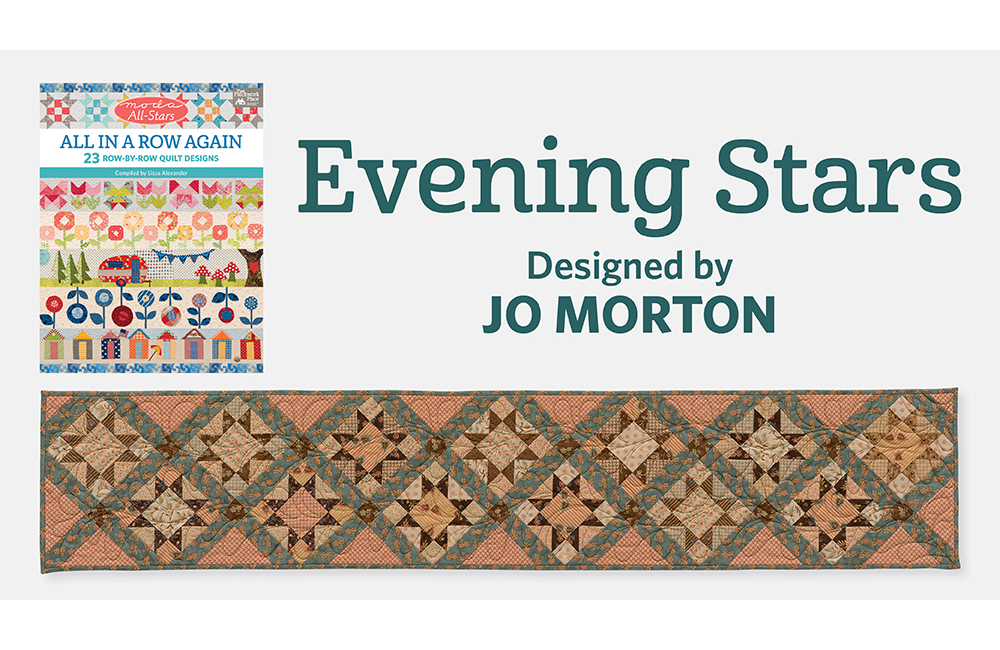 On to the giveaway part! (this was another thing I missed about blogging–sharing these fun giveaways with you!):  Martingale is providing one of my readers with a free E-book version of All in a Row Again.  To enter, just leave a comment below with what you really enjoy reading about on a blog.  Is it behind the scenes, quilt alongs, helpful tips, fabric information….what do you love to read about?  I'll draw a winner next week.
Also, be sure to visit Pat Sloan & Janet Clare as they share about their rows today.  And for more giveaways follow the All in a Row Facebook page.
I plan to be back next week talking about all things Flower Mill—the fabrics, the patterns, my favorite prints from the collection, which prints I bought bolts of.  You won't want to miss it!
Have a beautiful week!
~Comments are now closed.~