It's Pattern Time!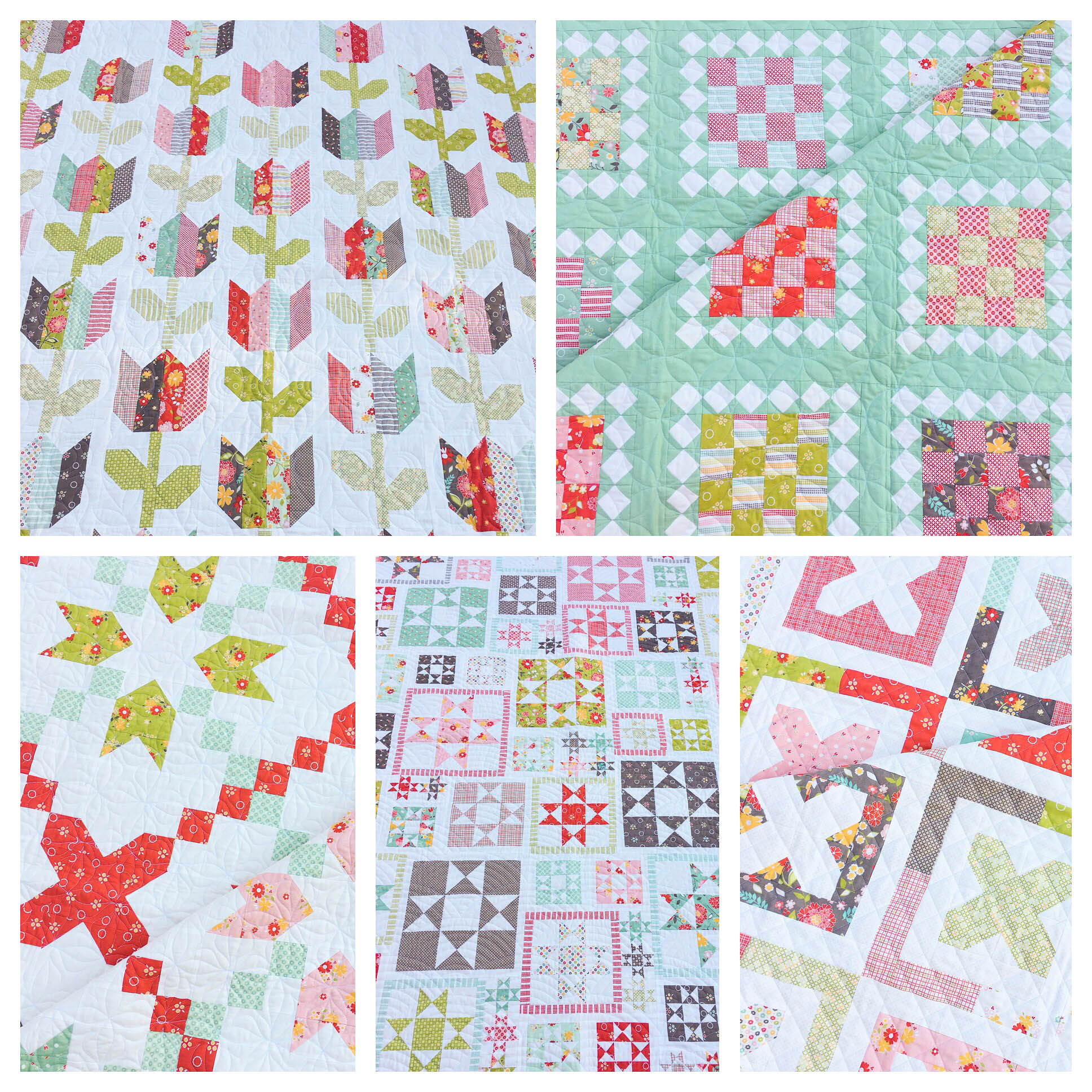 I released so many new fun patterns with Flower Mill and today I'm giving you a brief overview of each of them.  These are all available in my Etsy Shop in either Paper or PDF versions.
I'll start with Tulip Market–this has been a favorite pattern in this release for sure.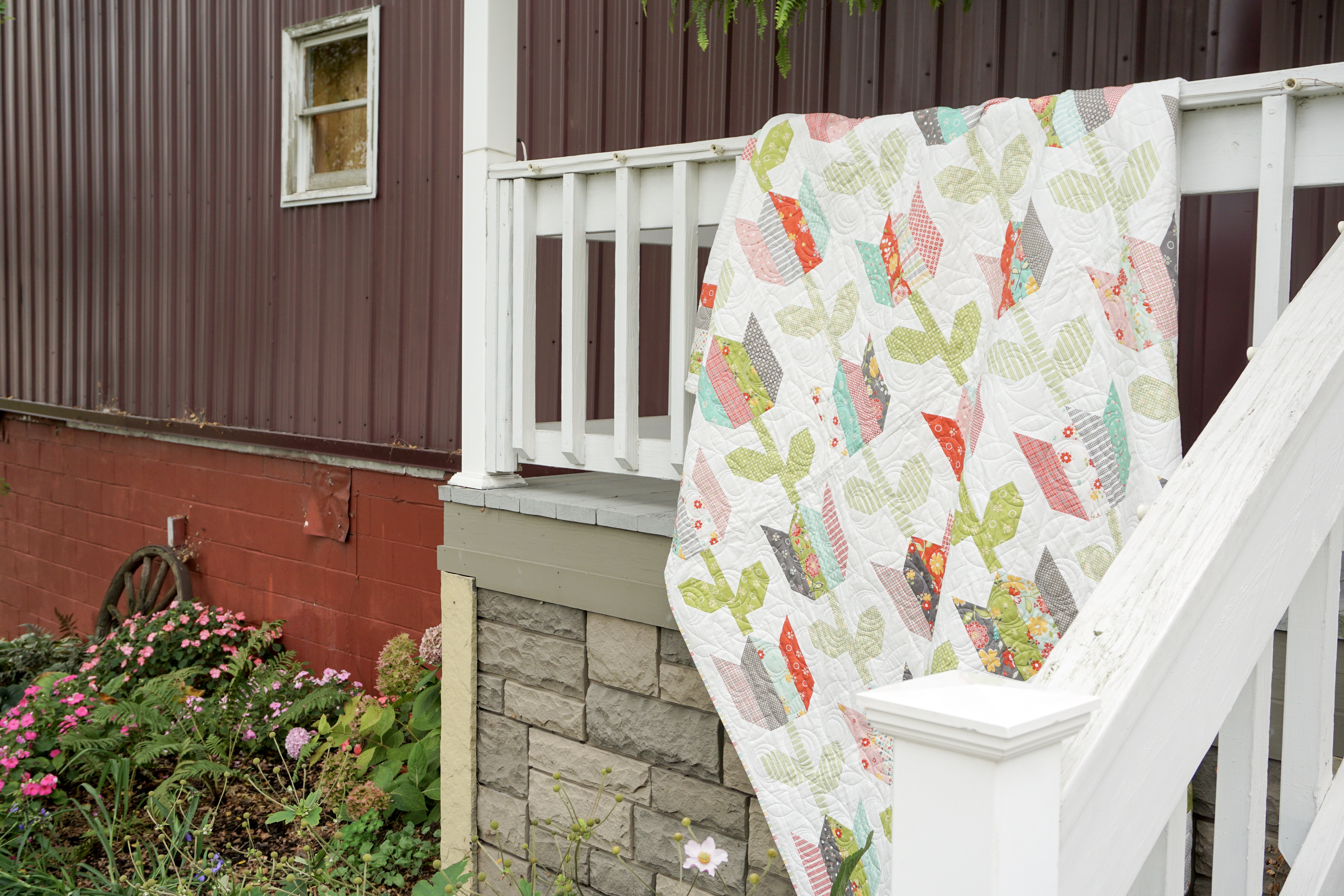 Tulip Market is a Jelly Roll friendly quilt and it measures 68″ x 83″.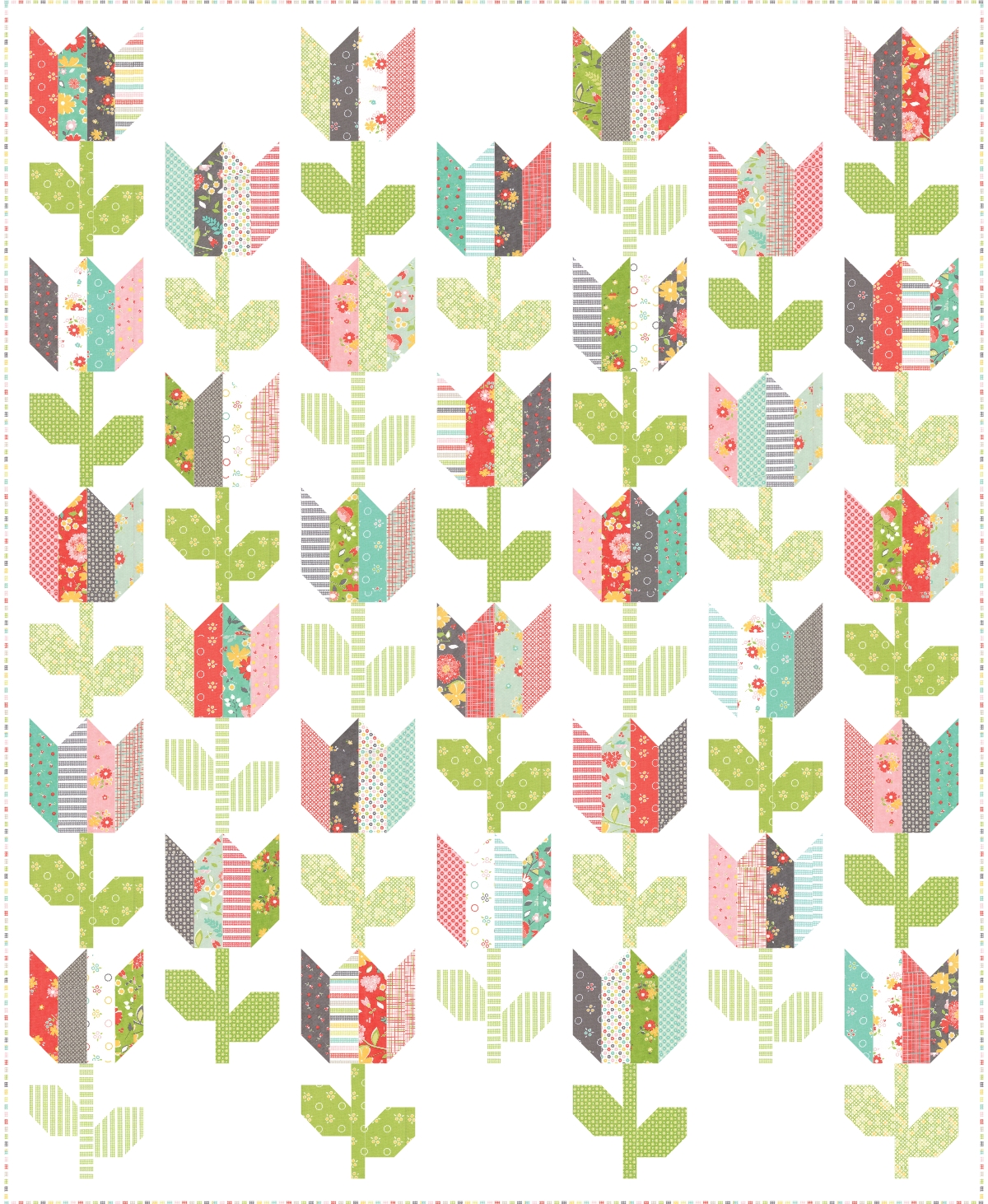 Next up is Line Dried–this one is probably my most favorite quilt from this pattern release.  This Ohio girl loves an Ohio star!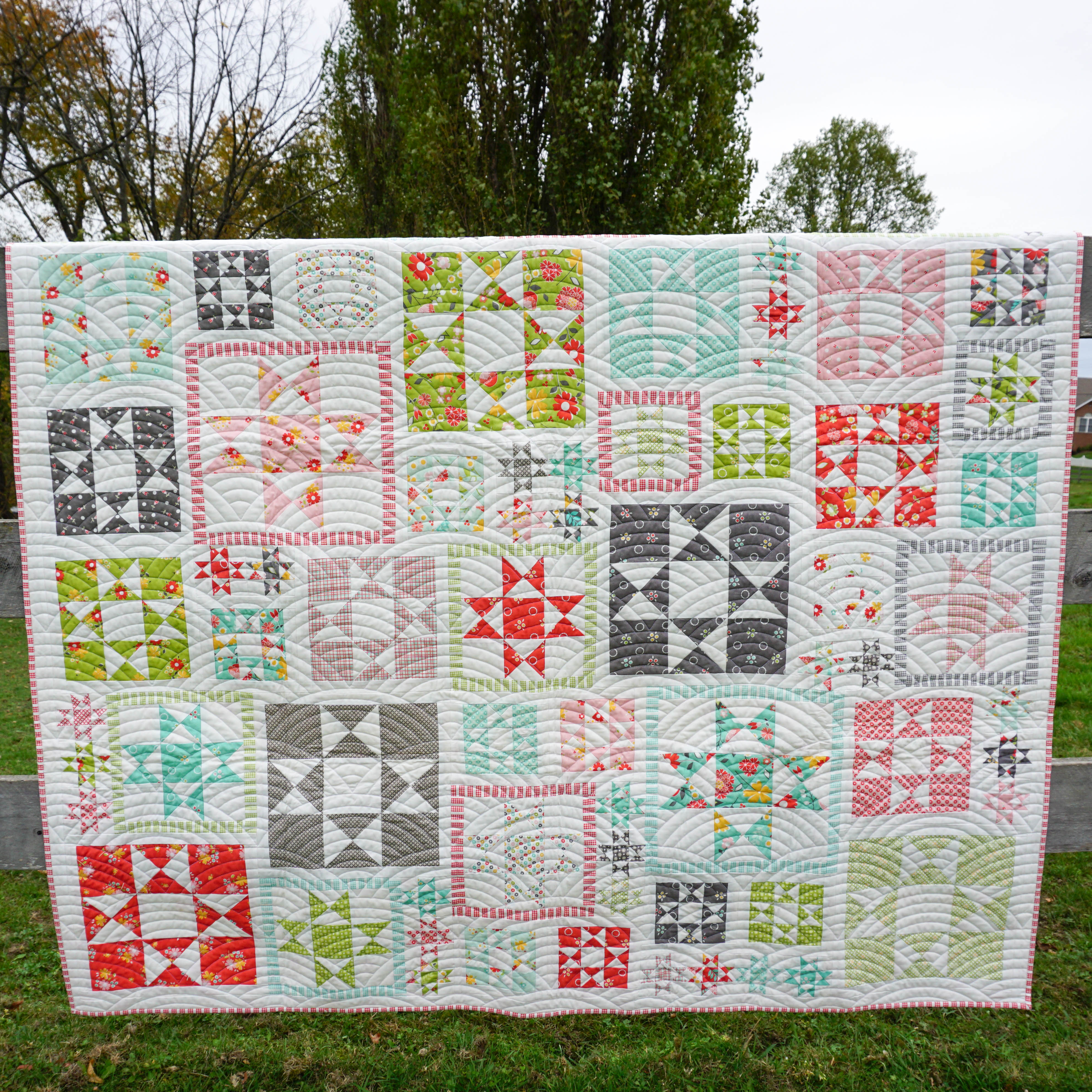 Line Dried measures 62″ x 74″ and uses fat eighths.  This quilt has a lot of blocks…104 to be exact.  I told my mom after I was done piecing this quilt that if I had known it had that many blocks (I didn't count before I started) I wouldn't have wanted to dive into it quite as quickly.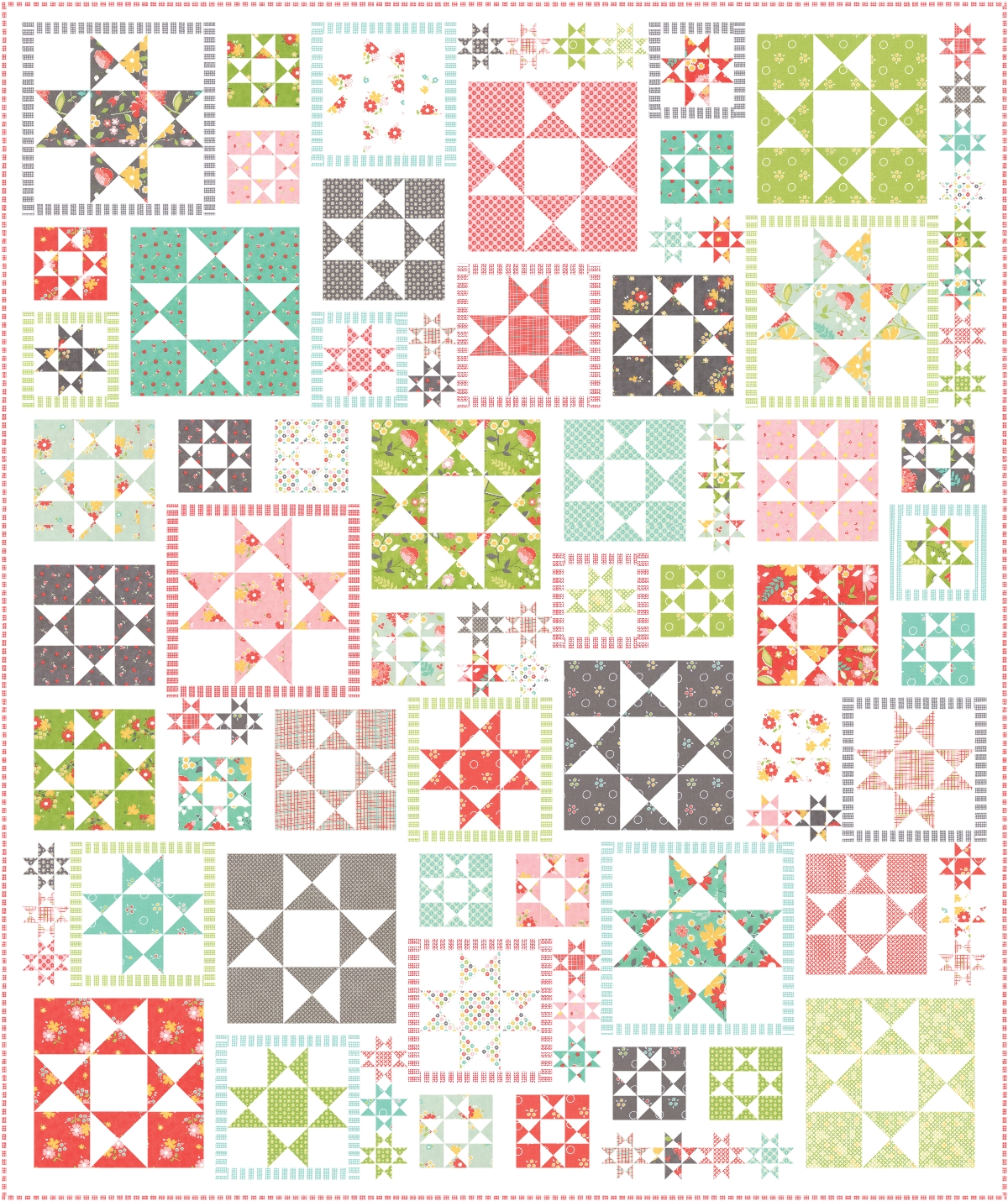 But I love this quilt so much!–There is a quilt along for Line Dried going on over on Instagram.  So, if you hang out over there use #linedriedqal to see some of the pretty blocks and quilts being made.  Now if only I could find time to make this quilt in solids–I've wanted to make this since I mocked it up to use inside the pattern: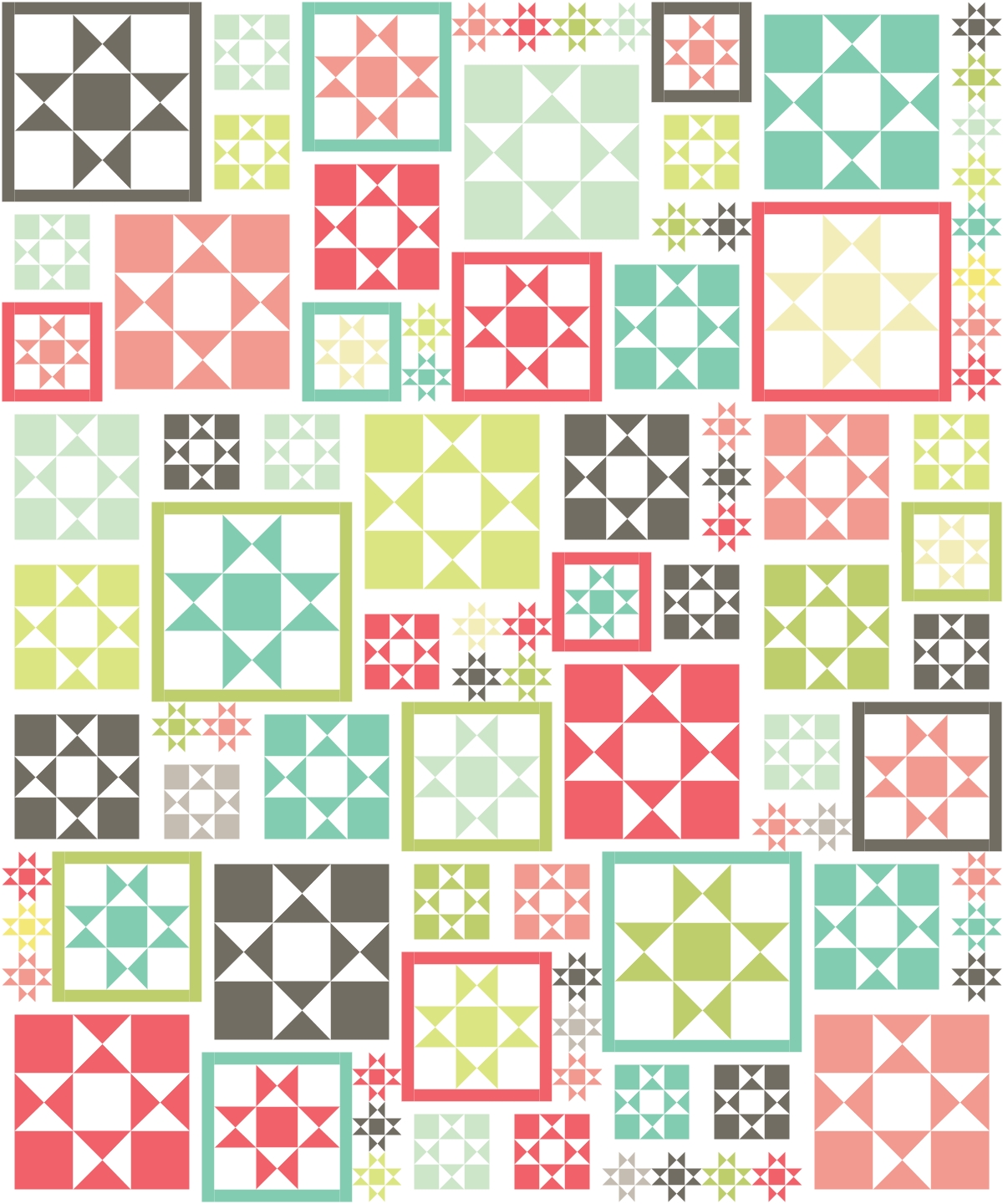 We will move onto Rummage Sale.  When I was designing this quilt, I wanted to design something that felt like you could have picked it up at a flea market or…a Rummage Sale.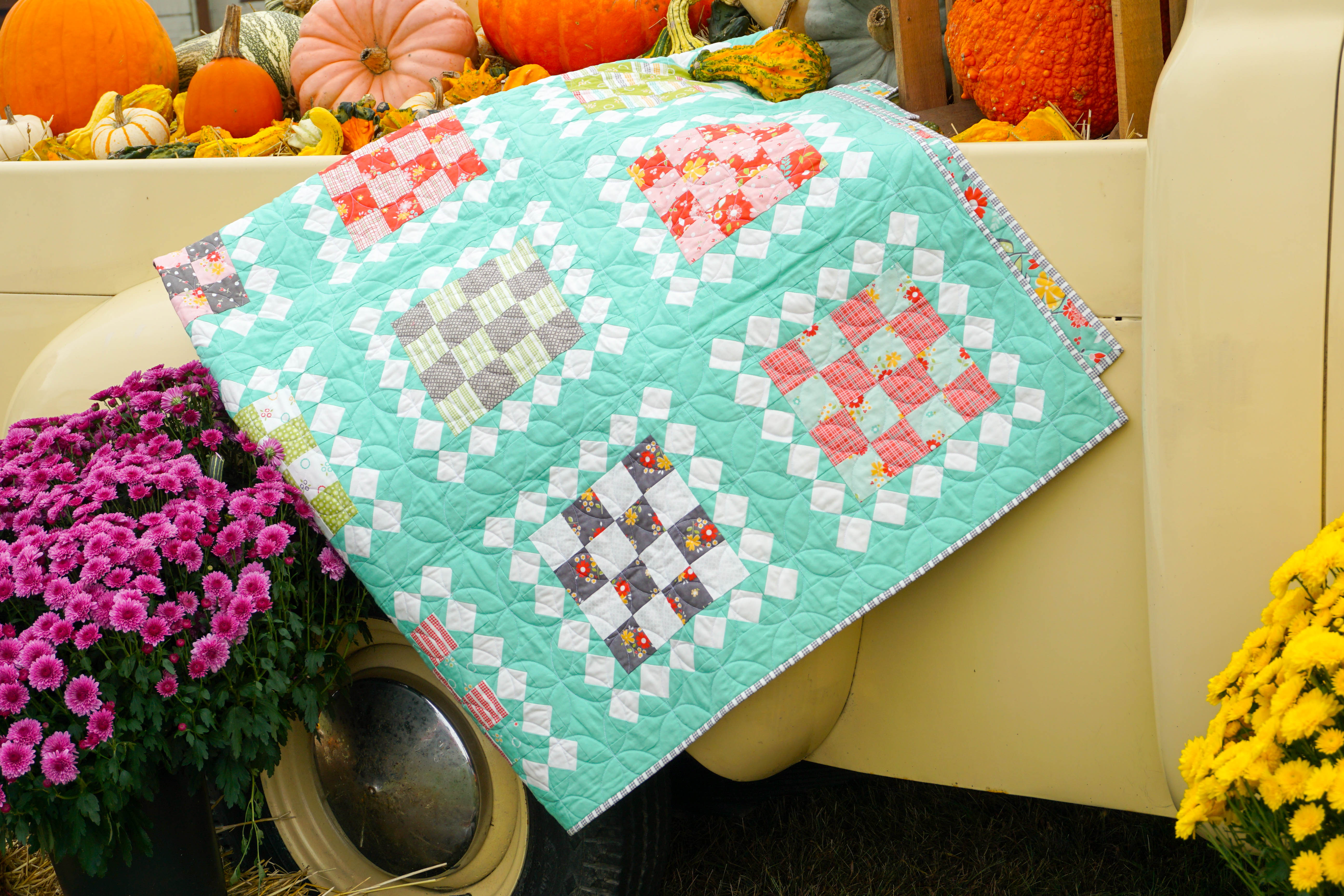 And, I love the way it turned out.  This is a layer cake friendly quilt that finishes at 58″ x 72″.  And that background color…don't you love it..it is Moda Bella solid in the color Green.  It is the prettiest shade of aqua–one of my favorites.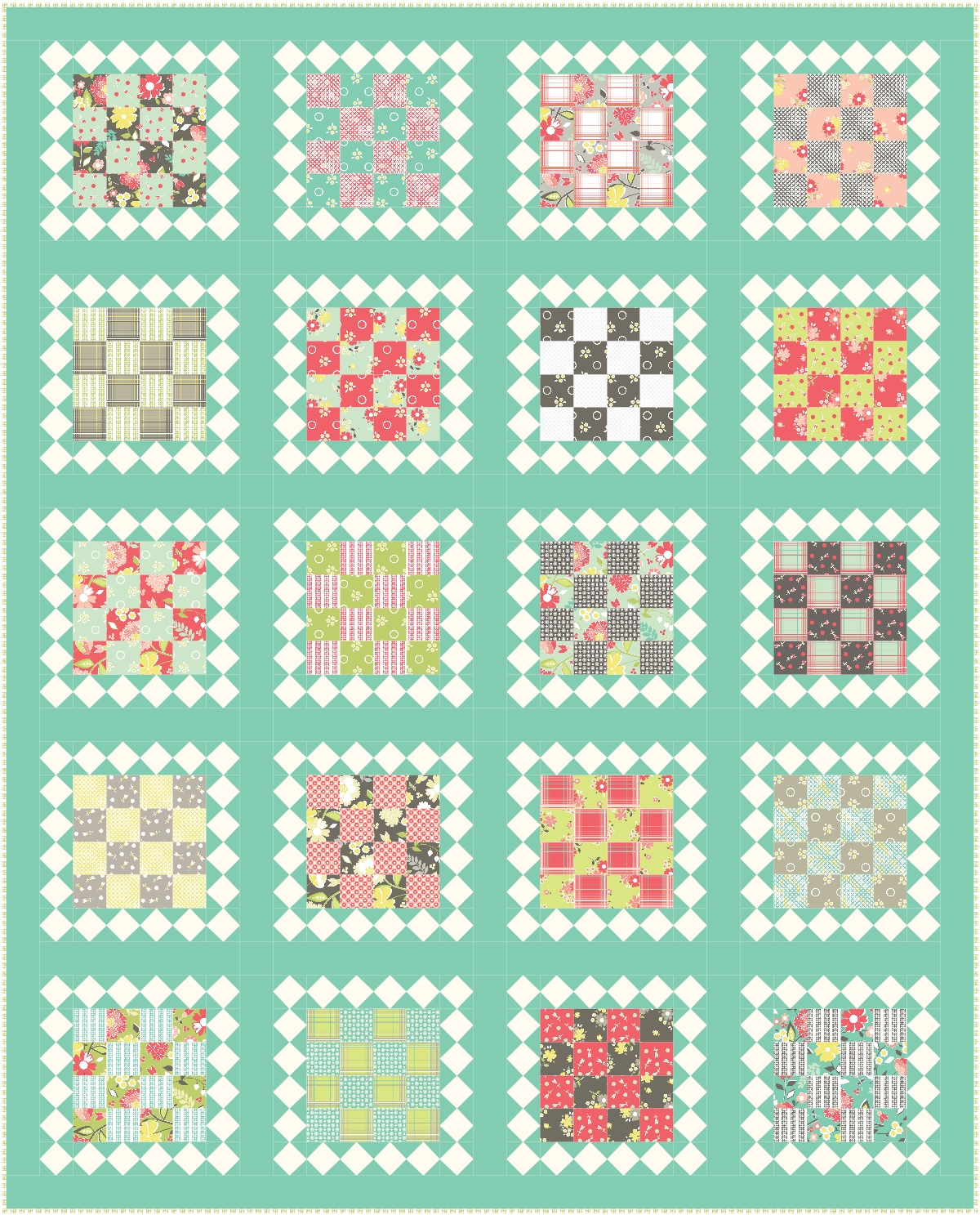 Now, if you look at the above photo carefully, you'll get a little peek at some of the fabrics from Flower Mill that didn't make the cut.  Flower Mill started out with both a Dark Grey and a Light Grey color way.  But I decided to cut out the light grey color way because I knew that Pepper & Flax (my line that comes out in April) was going to have a lot of yellow & grey.
This next quilt is Cross Stitch.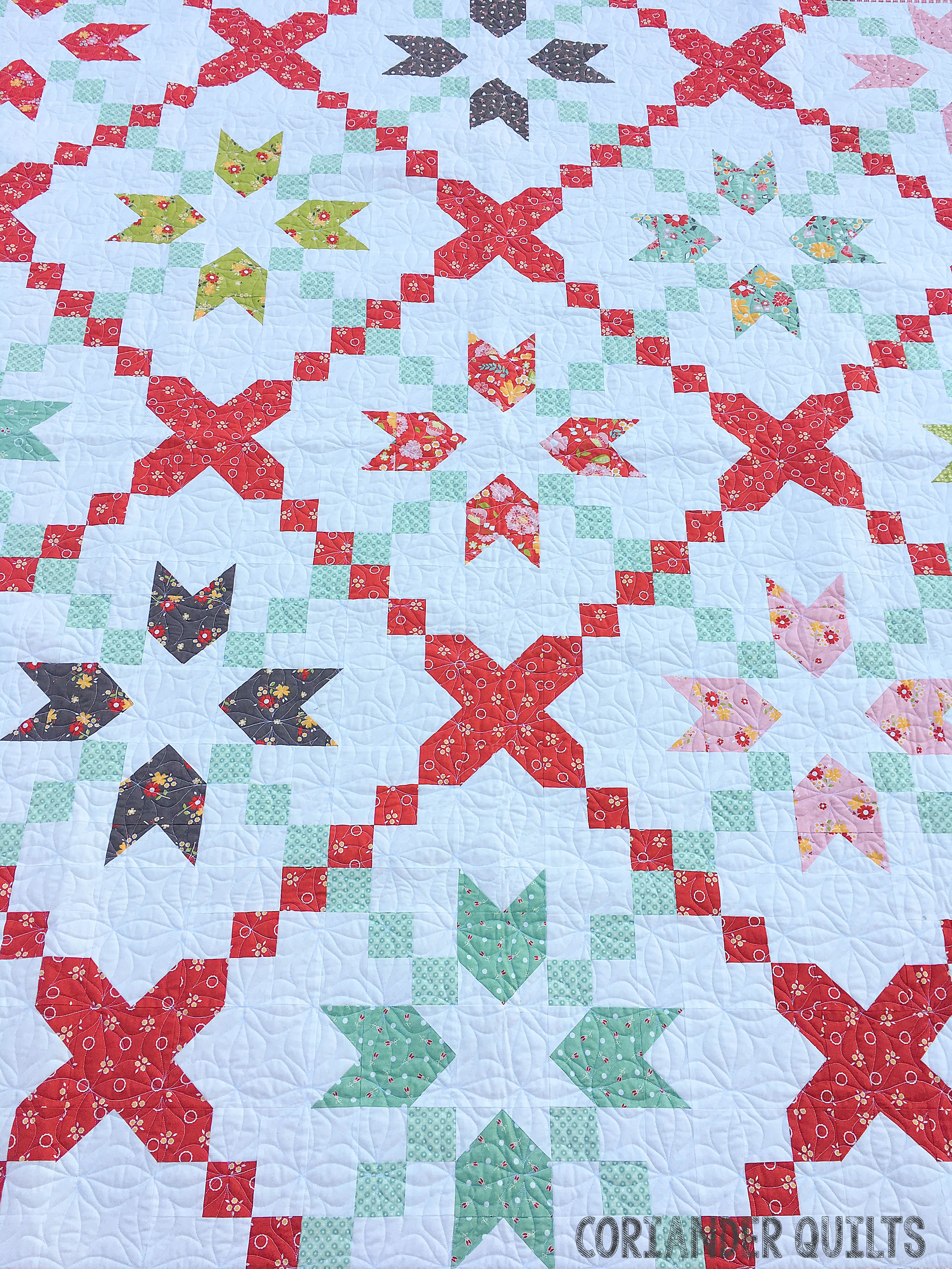 If this quilt feels familiar to you, you may remember seeing it originally in American Patchwork & Quilting magazine.  I designed this quilt using Prairie for the magazine and have now released it as an individual pattern.
Cross Stitch uses yardage and finishes at 80″ square.  Next up is Tansy which is a fat eighth quilt and finishes at 60″ x 72″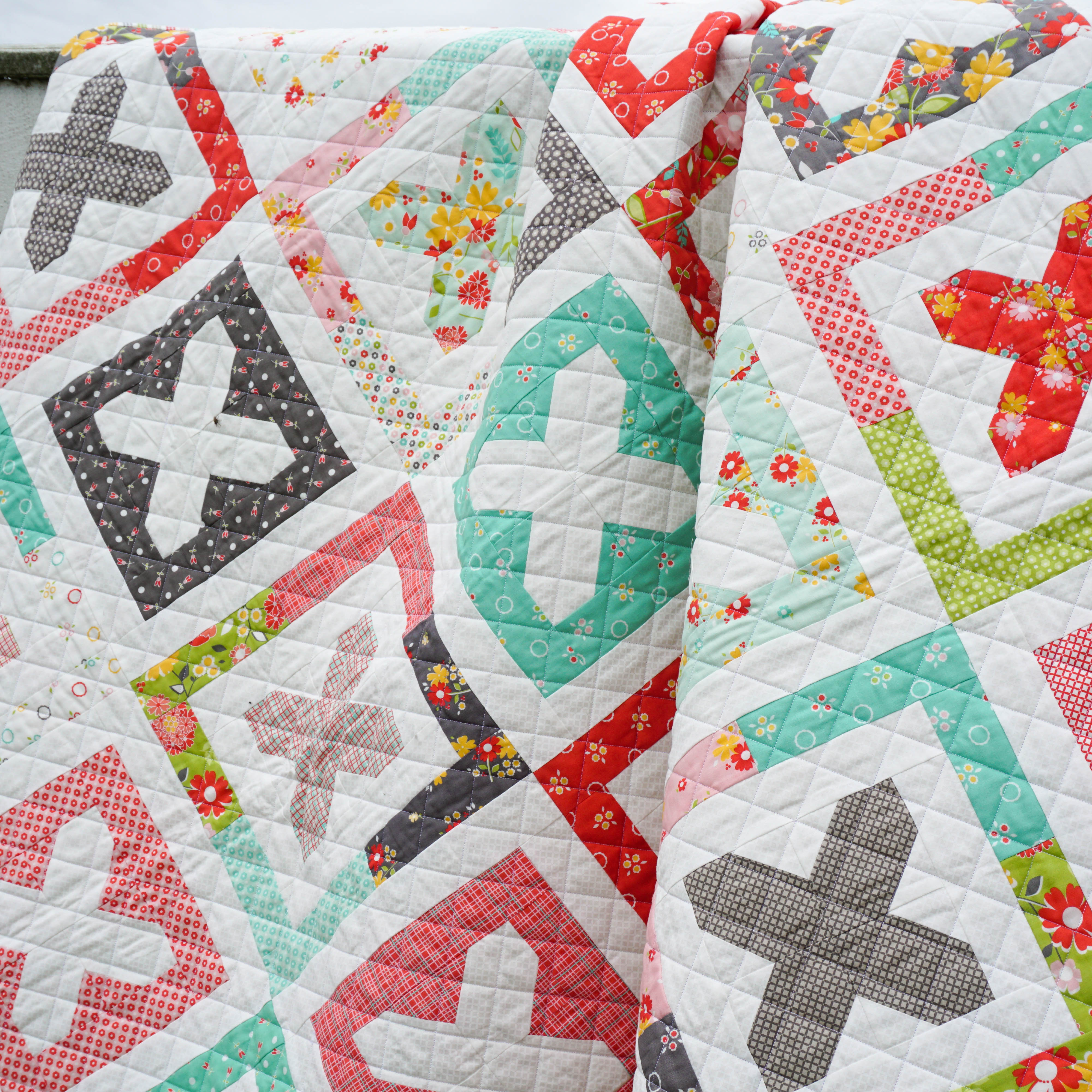 The Flower Mill line of fabric has a white tone on tone little "x" print and it is just perfection in this quilt.  You probably can't make out the print in the photos so you'll just have to take my word for it!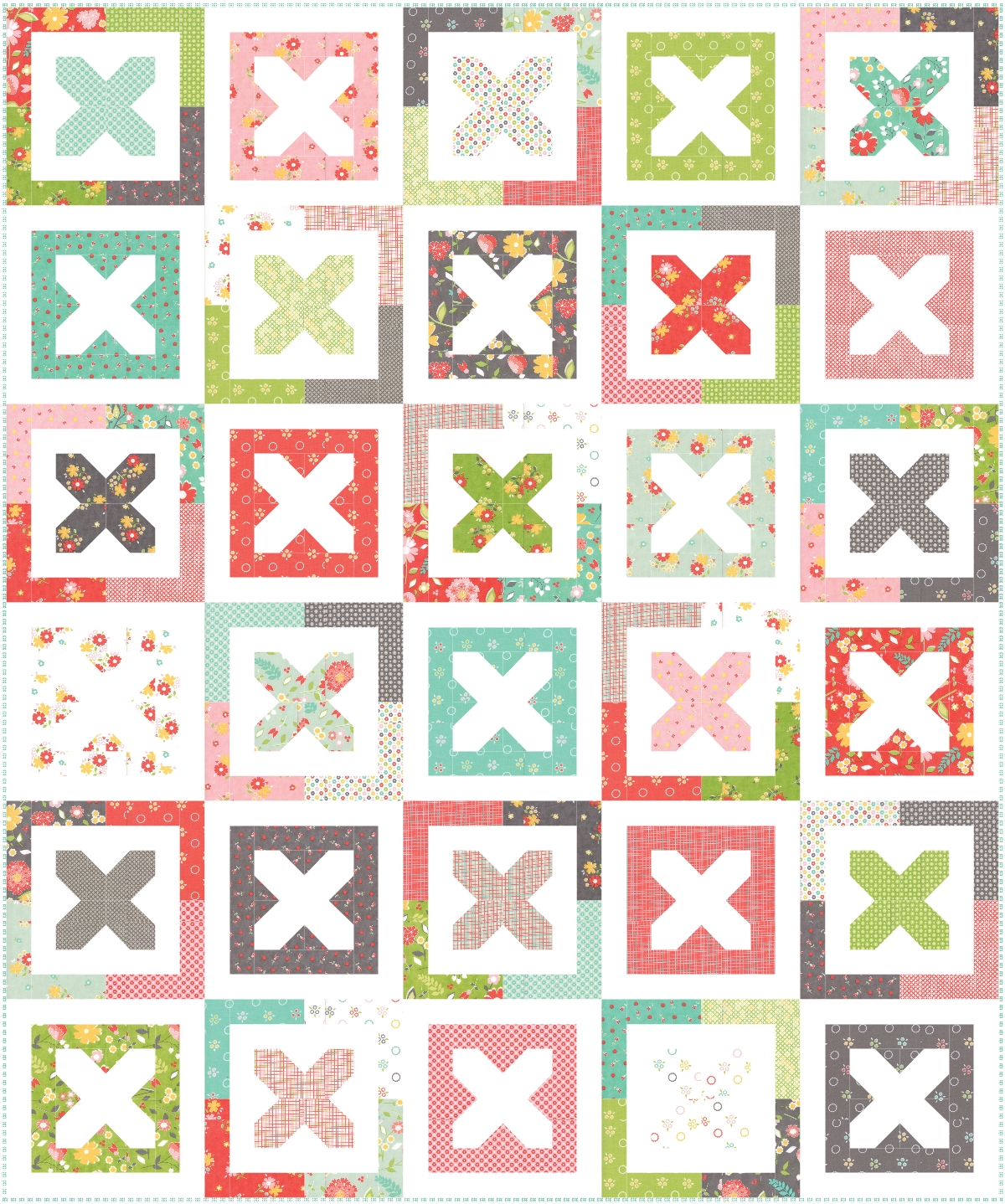 I decided to release mini quilt patterns with this release.  So, we have a mini Tulip Market, a mini Dashing, and a mini Neighborhood.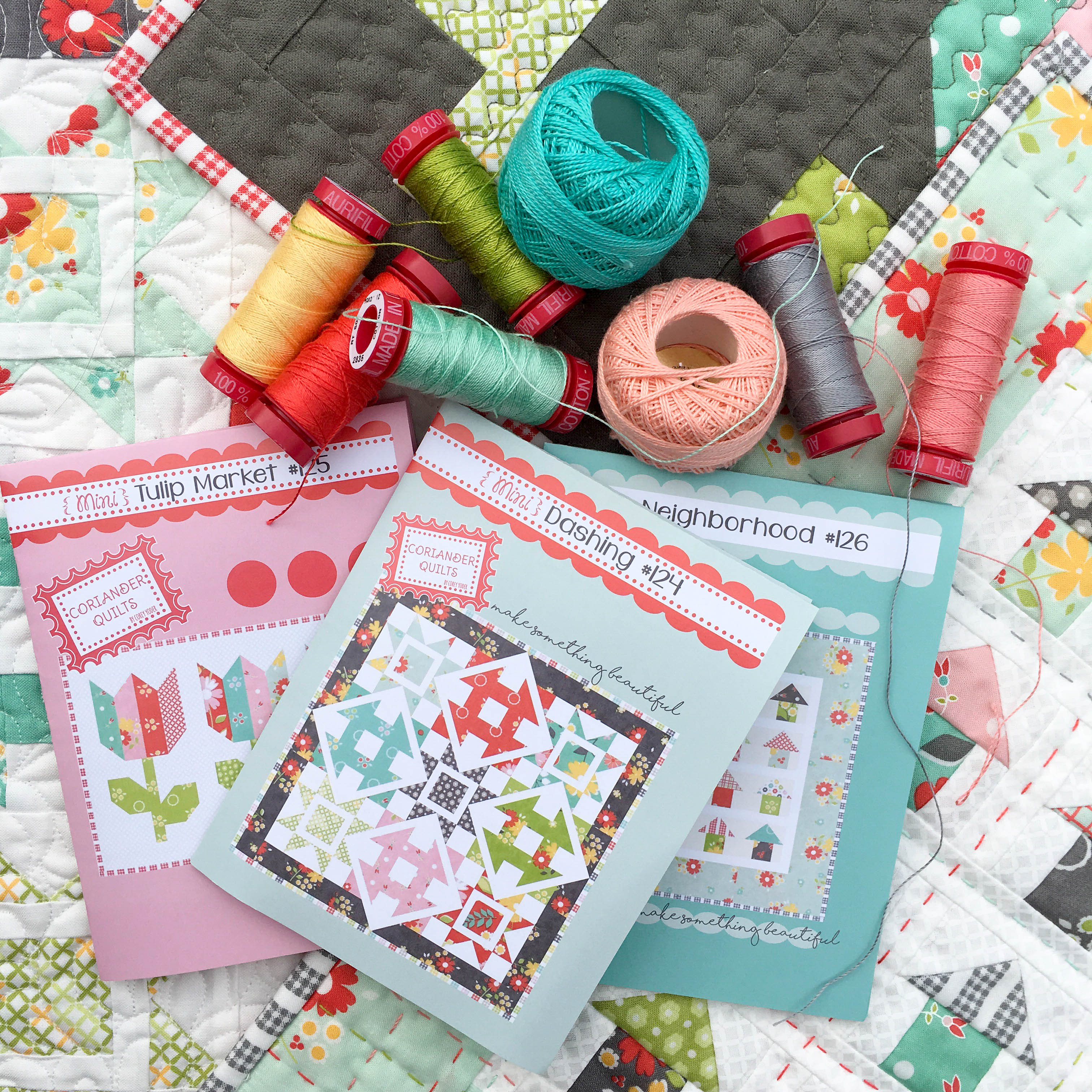 Tulip Market we saw above as a large quilt.   Here it is in mini version: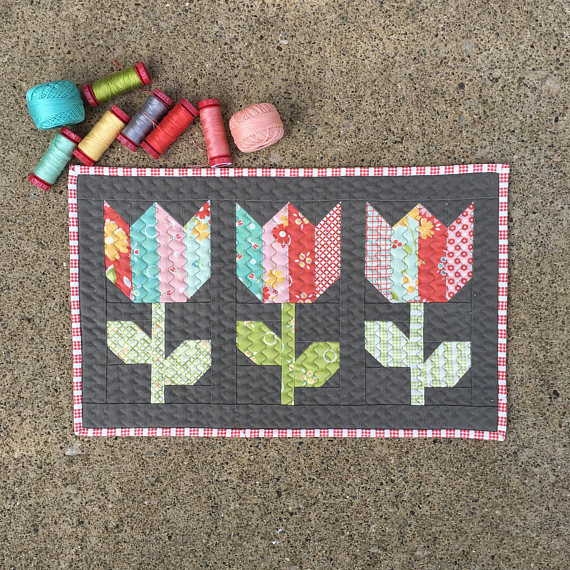 My mini Dashing quilt is the mini version of my large Dashing quilt which came out with Prairie: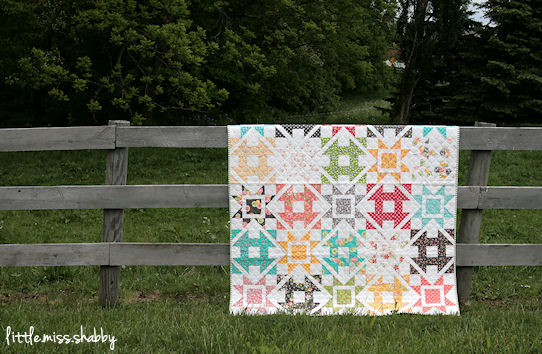 This quilt actually traveled over to France this summer and was photographed for Quilt Mania magazine.  Some of you may have noticed this quilt on the cover.  I joked with my husband that my quilt is more traveled than I am. =)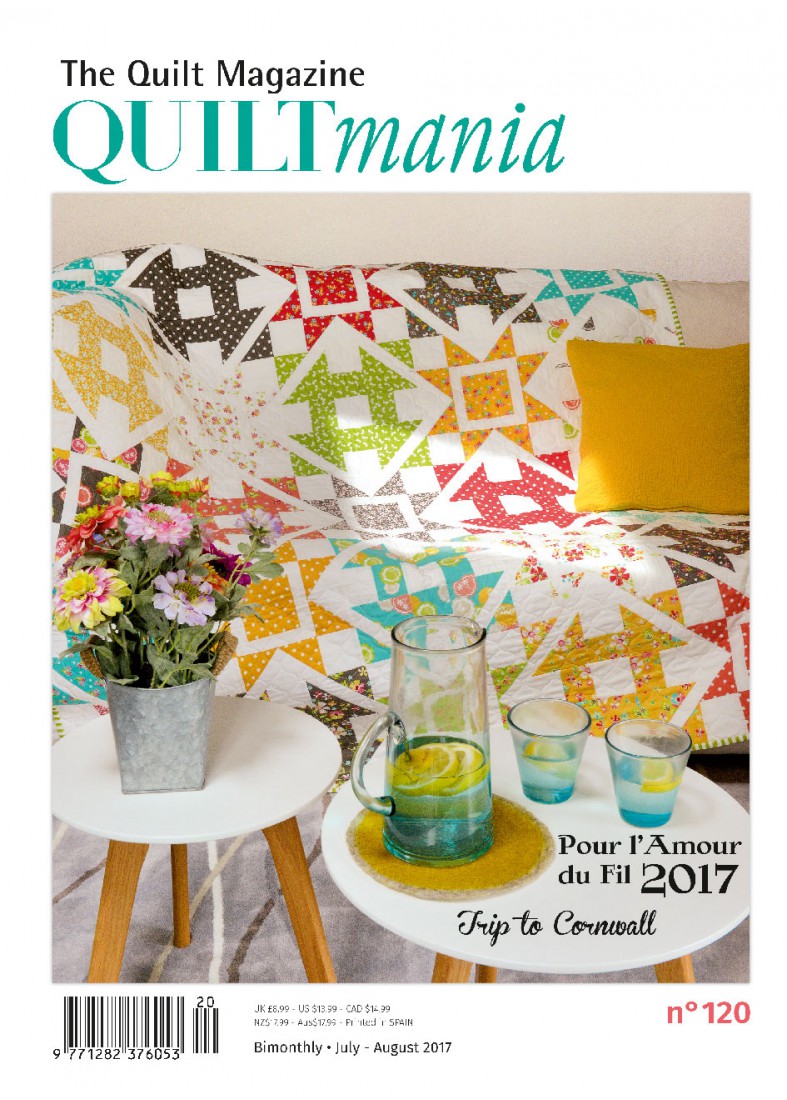 Mini Neighborhood is the last of the three mini patterns.
Aren't those little houses the cutest?–they finish at 2″ square.  It is the cutest little mini quilt.  And of course you knew there was going to be hand quilting.  I have exciting news on that front too.  Too much to share in this post.
The mini neighborhood quilt uses the house block from my new Magnetic pattern.  This is the last of the Flower Mill patterns.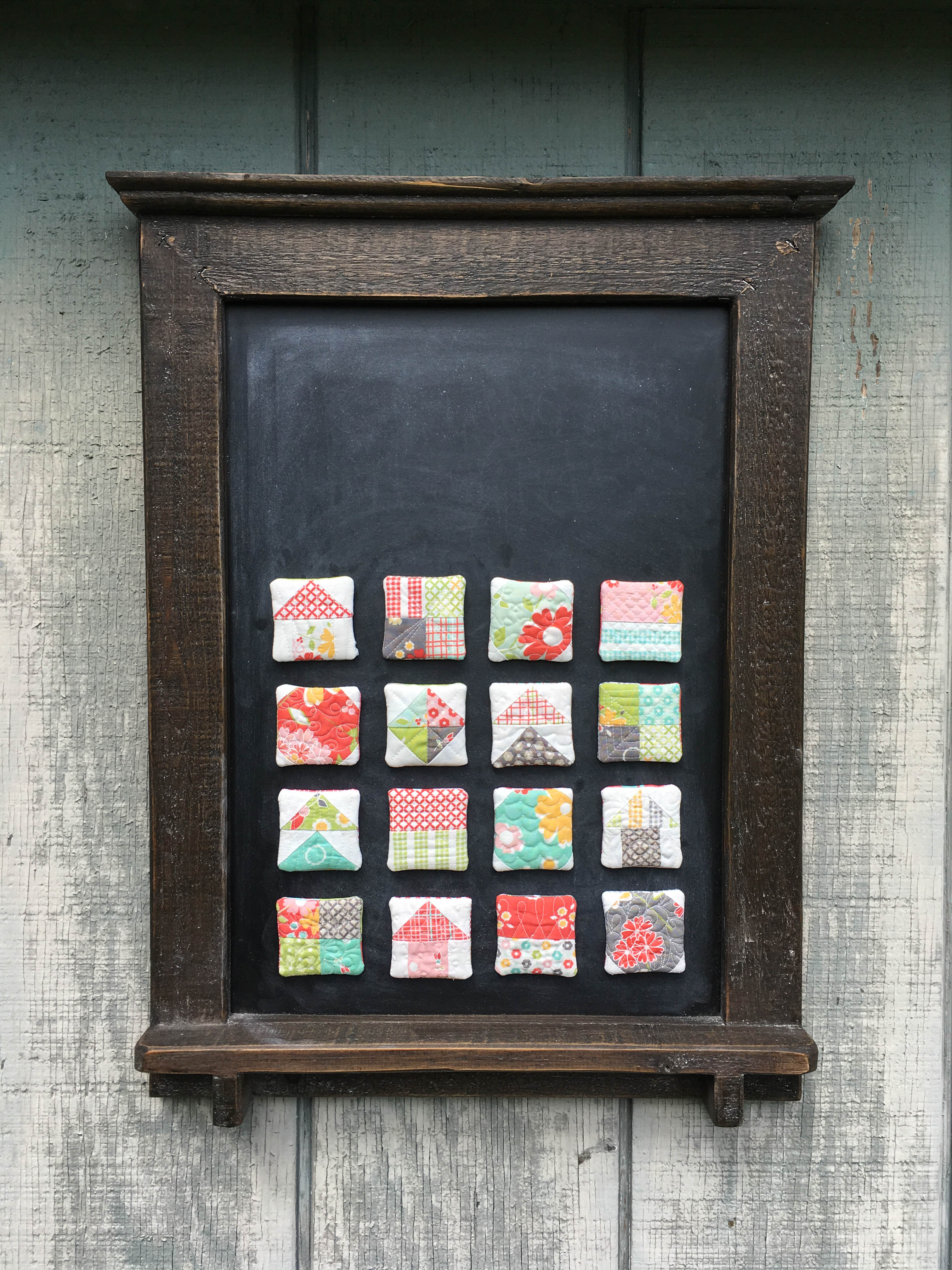 Magnetic is a pattern for 2″ patchwork refrigerator magnets.  I had so much fun designing these little guys.  And, what I really like about this pattern is that the magnet is fully enclosed inside.  If you have mini charms and aren't sure how to put them to good use–I suggest patchwork magnets.
And that sums up the new patterns.  As I mentioned, they are all available in my shop as either a Paper pattern or PDF pattern.  I also offer pattern bundles if you are interested in a whole Flower Mill Release set.  So be sure to check those out if you are interested in purchasing several patterns from this release.  They are listed as large pattern bundles as well as mini pattern bundles.
I wish all of you a wonderful holiday week and for those of you across the pond a delightful week as well.
Corey
PS:  For those of you waiting for Pepper & Flax patterns, I've just added them to my shop as well. =)