New Fabric & New Fun
Hello, Hello!–Is any one else as excited as I am for Thanksgiving week?  I feel like it just kicks off the holiday season and we can just keep on partying with family and friends for the next month.  The girls have 2 1/2 days of school this week and then don't go back until next Tuesday.  We had our first Thanksgiving get together last night, we have one on Thanksgiving and then another next Sunday.  We really enjoy all of our family time during this wonderful season!  I hope all of you get to enjoy a wonderful week whether it's time spent with family or low key days at home….both are such a blessing. =)
Thank you all so much for all of your wonderful comments on my post last week.  It gave me so many ideas about what you guys are interested in hearing about and some things that you might not care for–it is all so helpful!  And the winner of the E-book giveaway is Anita who I have already emailed.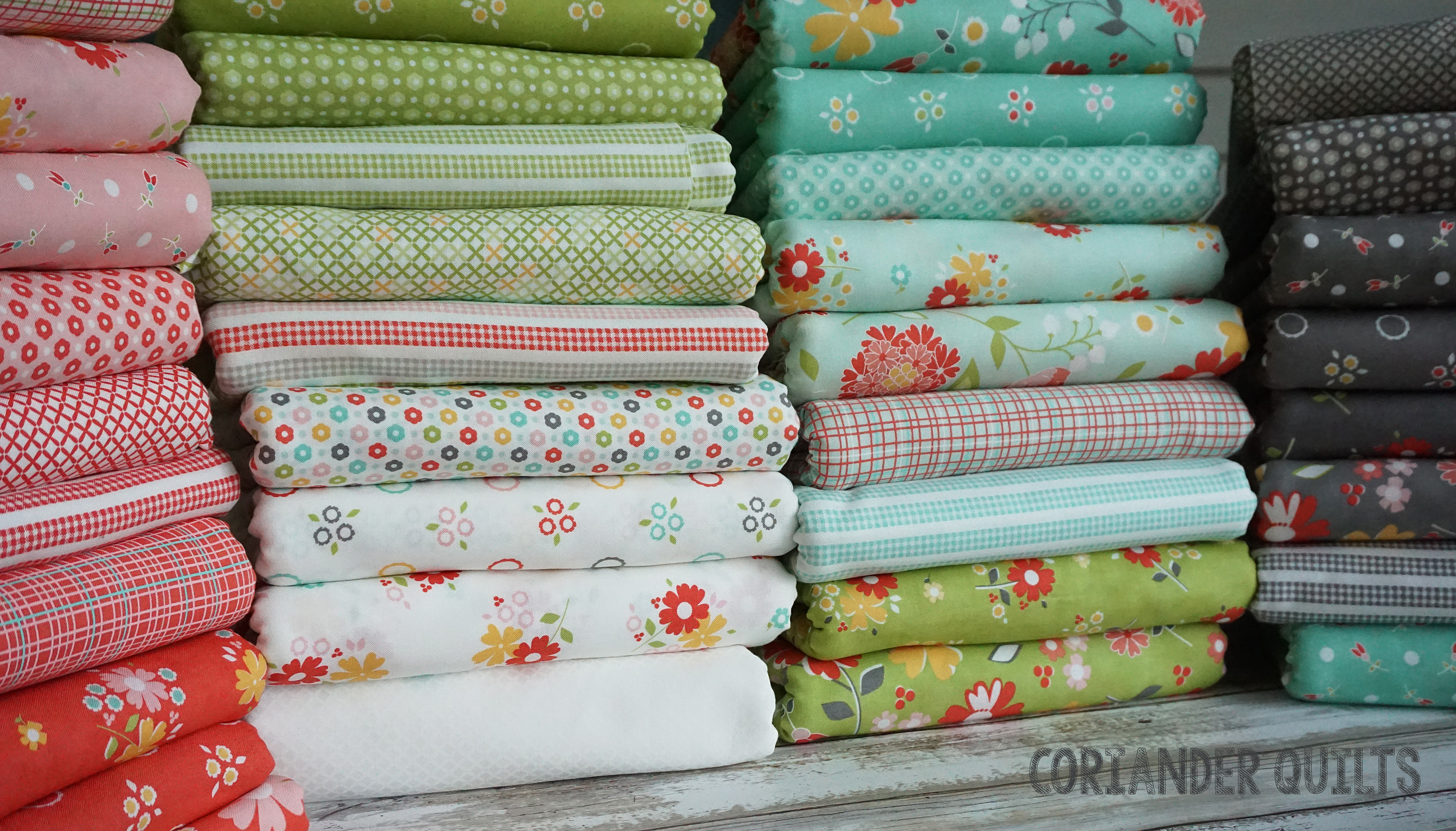 Today, the topic is all things Flower Mill.  Flower Mill is my newest line of fabric for Moda and it is just hitting shops this month.  If you have enjoyed the sunny palette of my last three lines, Flower Mill mixes beautifully with all of them.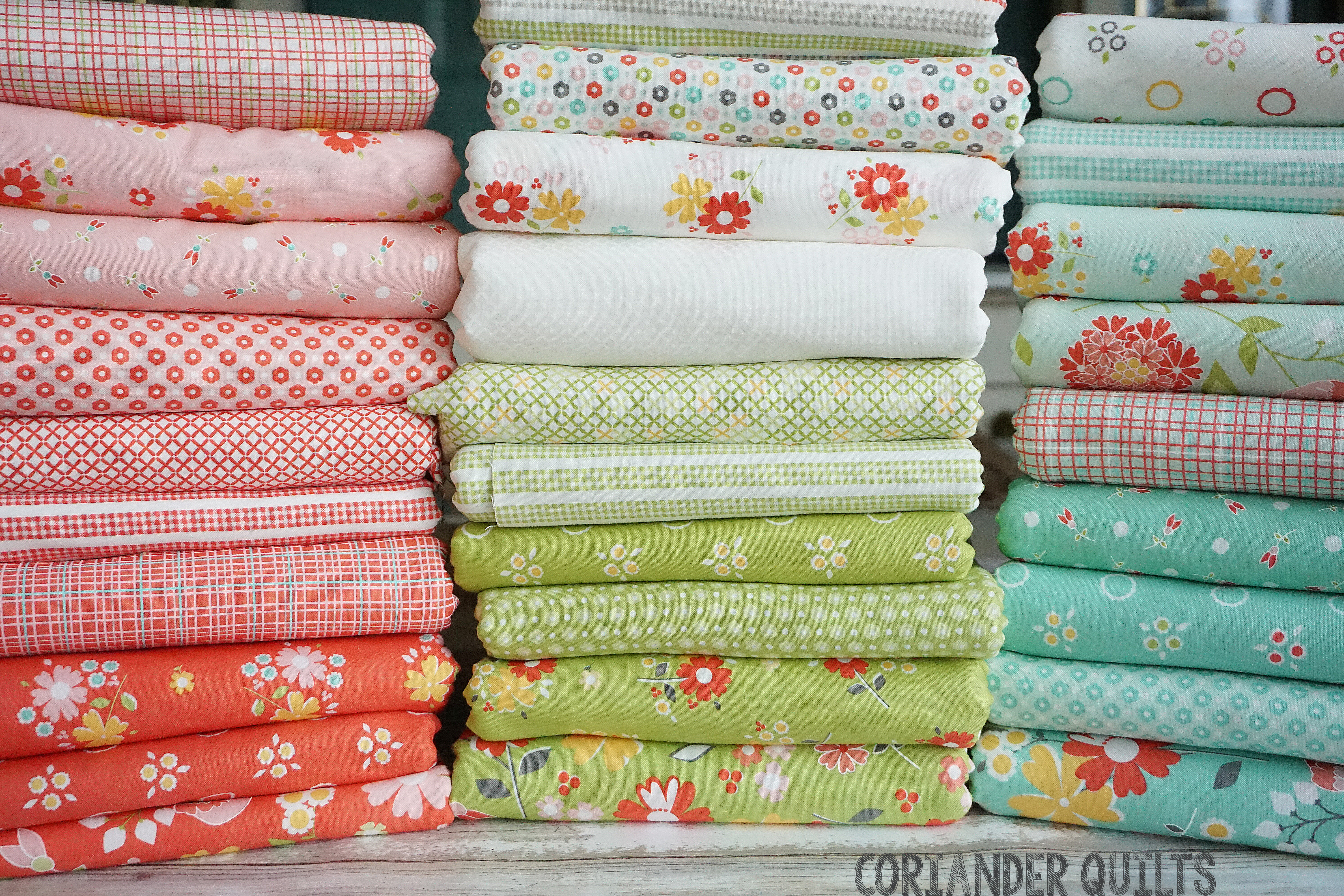 If you are looking for a fun Christmas palette, I recently used the reds & greens to make a beautiful Christmas quilt–I can't quite share that finish with you yet–but it is a wonderful quilt.
And of course, I couldn't make a fabric line without adding in the greys.  If anyone asks me what color a quilt should have in it or a go to color of mine–grey is at the top of the list–and always a warm grey.  If you are looking for a solid in a wonderful warm grey, my go to Bella Solids for grey are Etchings Charcoal & Etchings Slate–love these shades so much!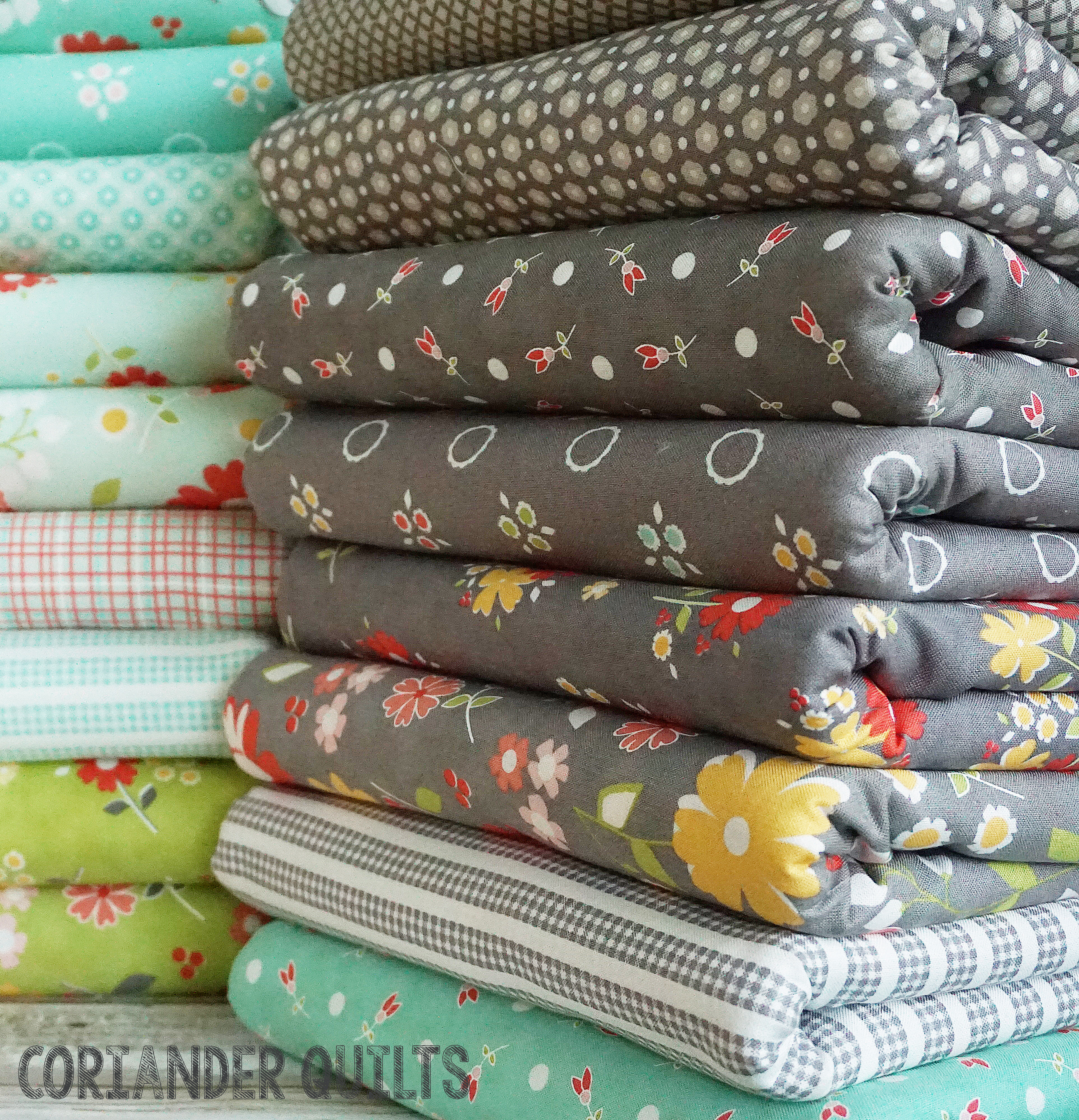 Oh, and the fabrics that I bought bolts of for this line?….the gingham stripe: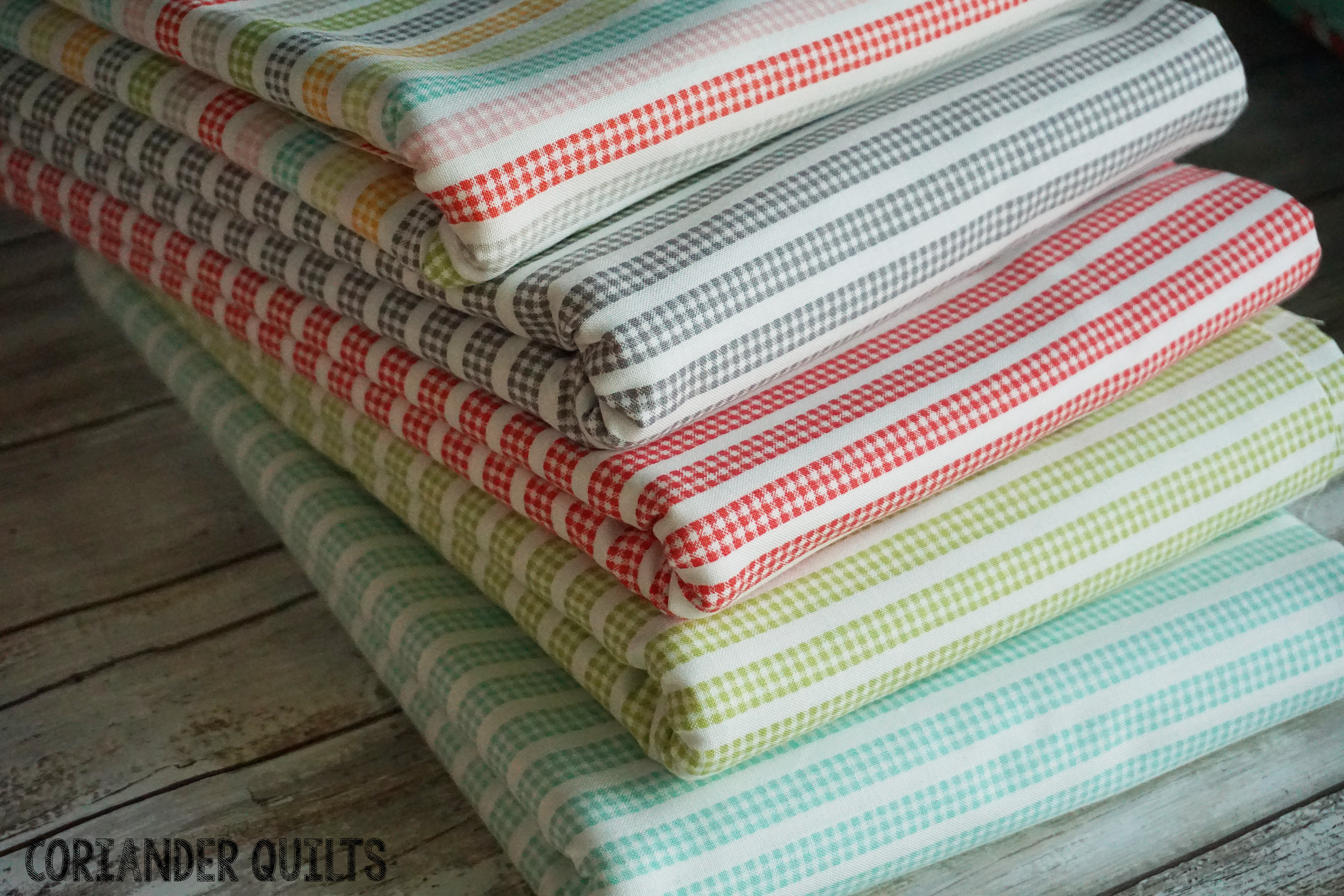 I always love the floral prints in every line but this little gingham stripe makes my heart sing!  I will be binding all things in gingham stripe–it is the perfect striped binding.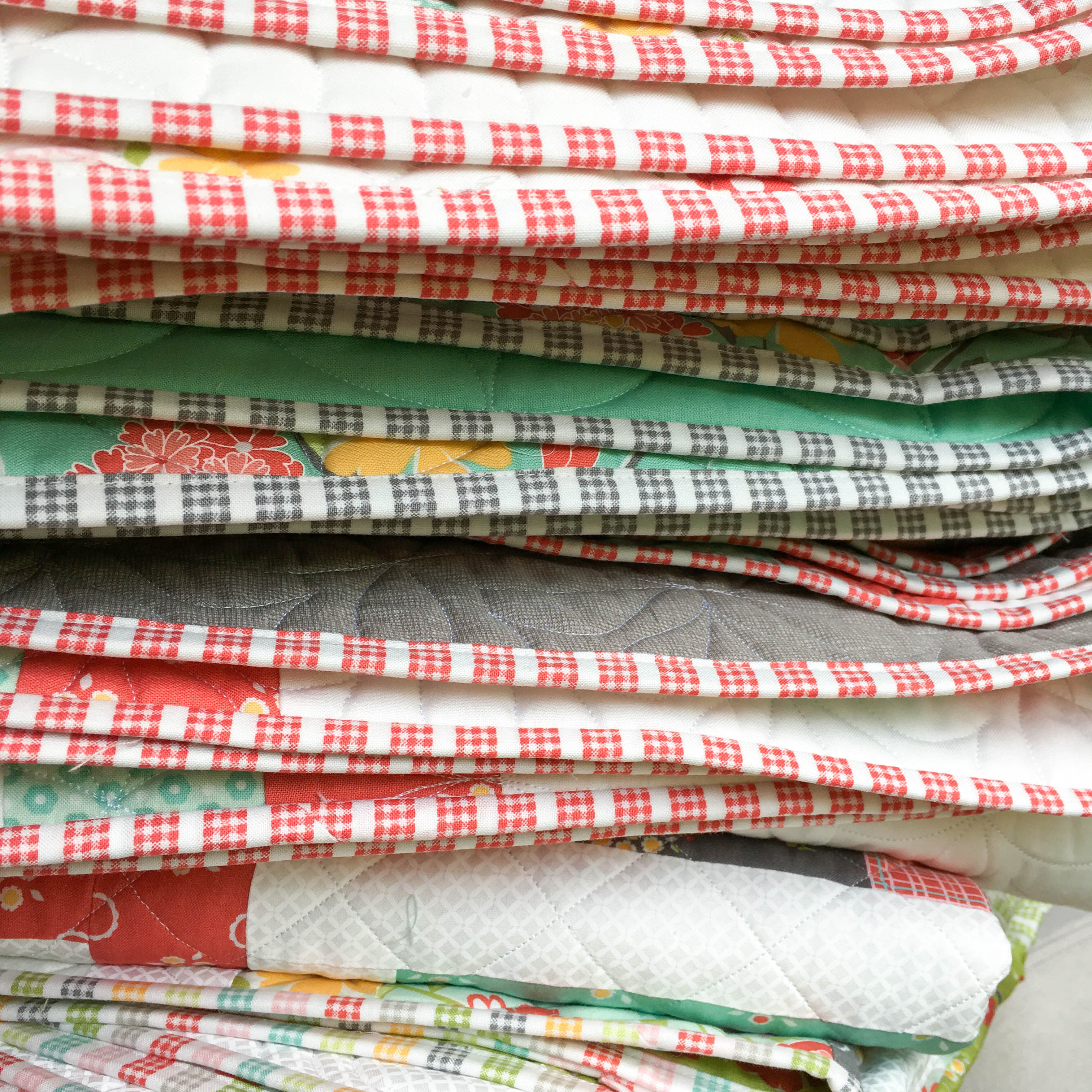 With a new fabric line comes new patterns.  I will be sharing those later this week.   I am on my third reprint on some of the patterns I released for this line and am expecting all of my print patterns to be back in stock again tomorrow.  If you want to take a peek at any of the patterns I'll be sharing, they are all listed in my shop & PDF's are available for each one.
Chat Soon!