Pepper & Flax Fabrics & Patterns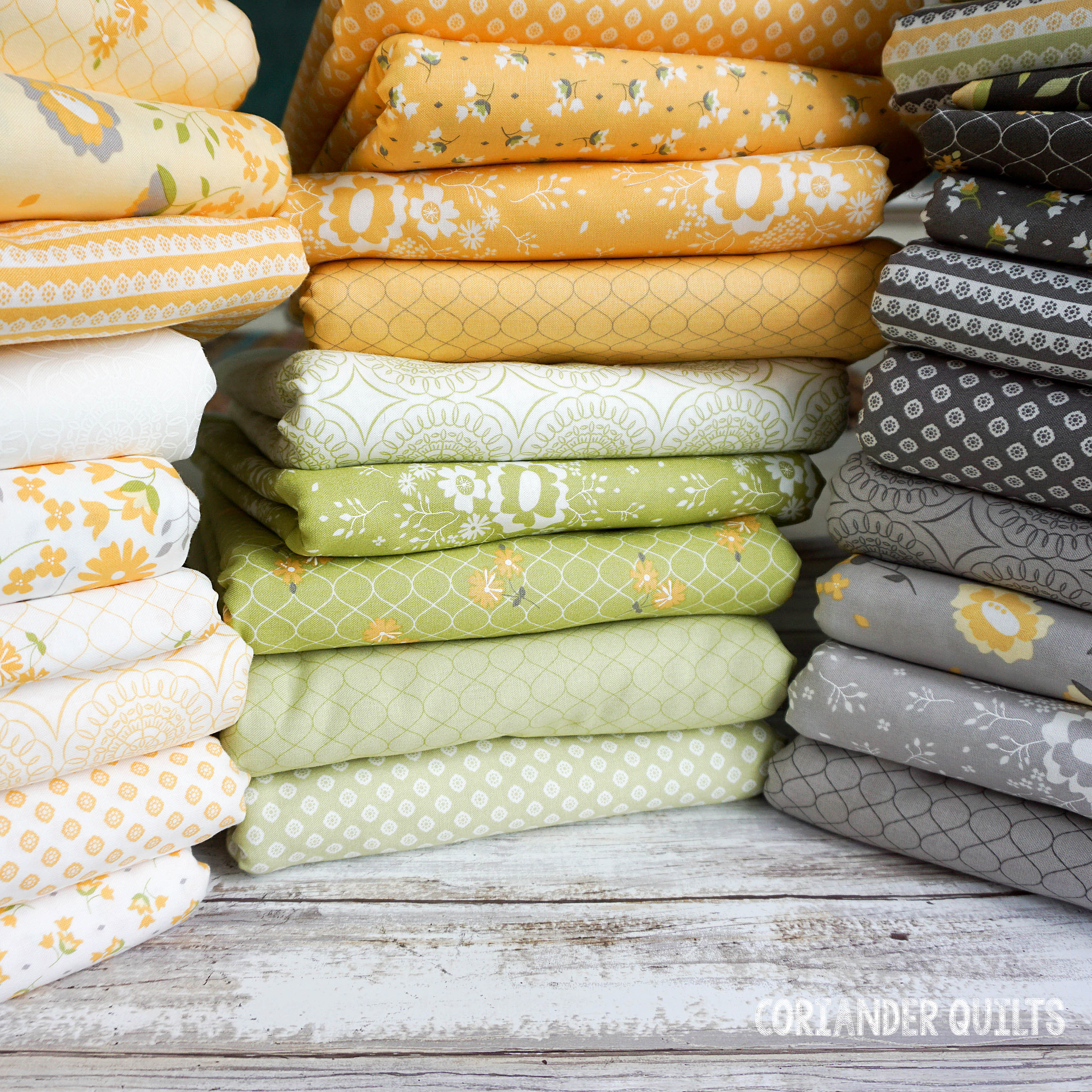 Happy Wednesday everyone!  Today, I thought I would take a little bit of time and talk about my newest line of fabric Pepper & Flax.
This line comes out in April and features yellows, greys and a little bit of green.  I don't know if you've noticed but I have been thoughtful about adding in yellow and grey fabrics in each of my lines so they could be used without all of the other colors if liked.  In fact, here's a little bundle I put together several weeks ago composed of fabrics from my previous lines of fabric:
So, when it came time to work on a new line of fabric, I decided that I wanted to pull just the greys and yellows and that little bit of green for this line.  Pepper and Flax uses those same warm shades of colors and mixes beautifully with my previous lines of fabric.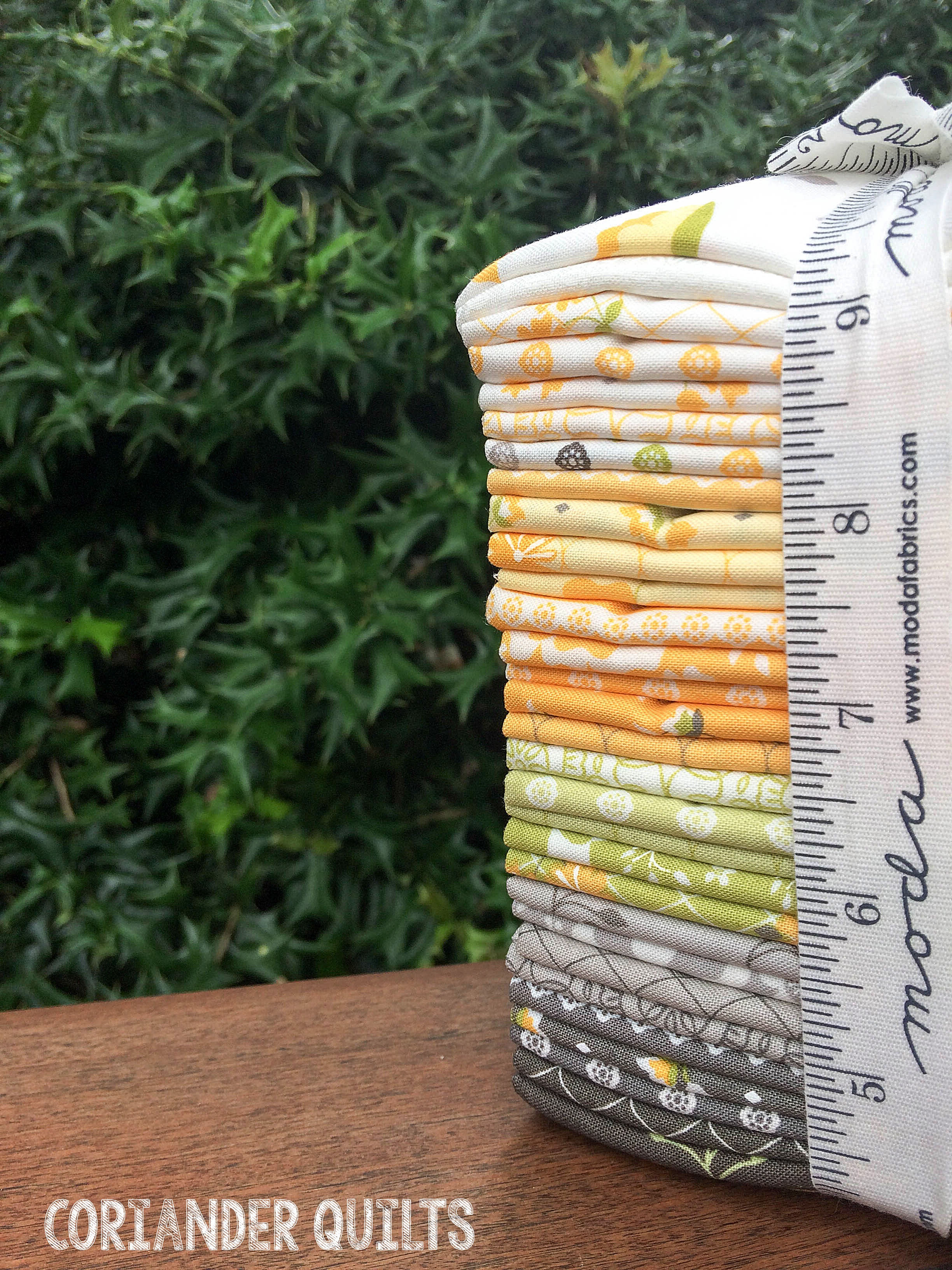 Along with new fabric comes new patterns.  For this line, I designed 5 new patterns.  Up first, 9th & Vine.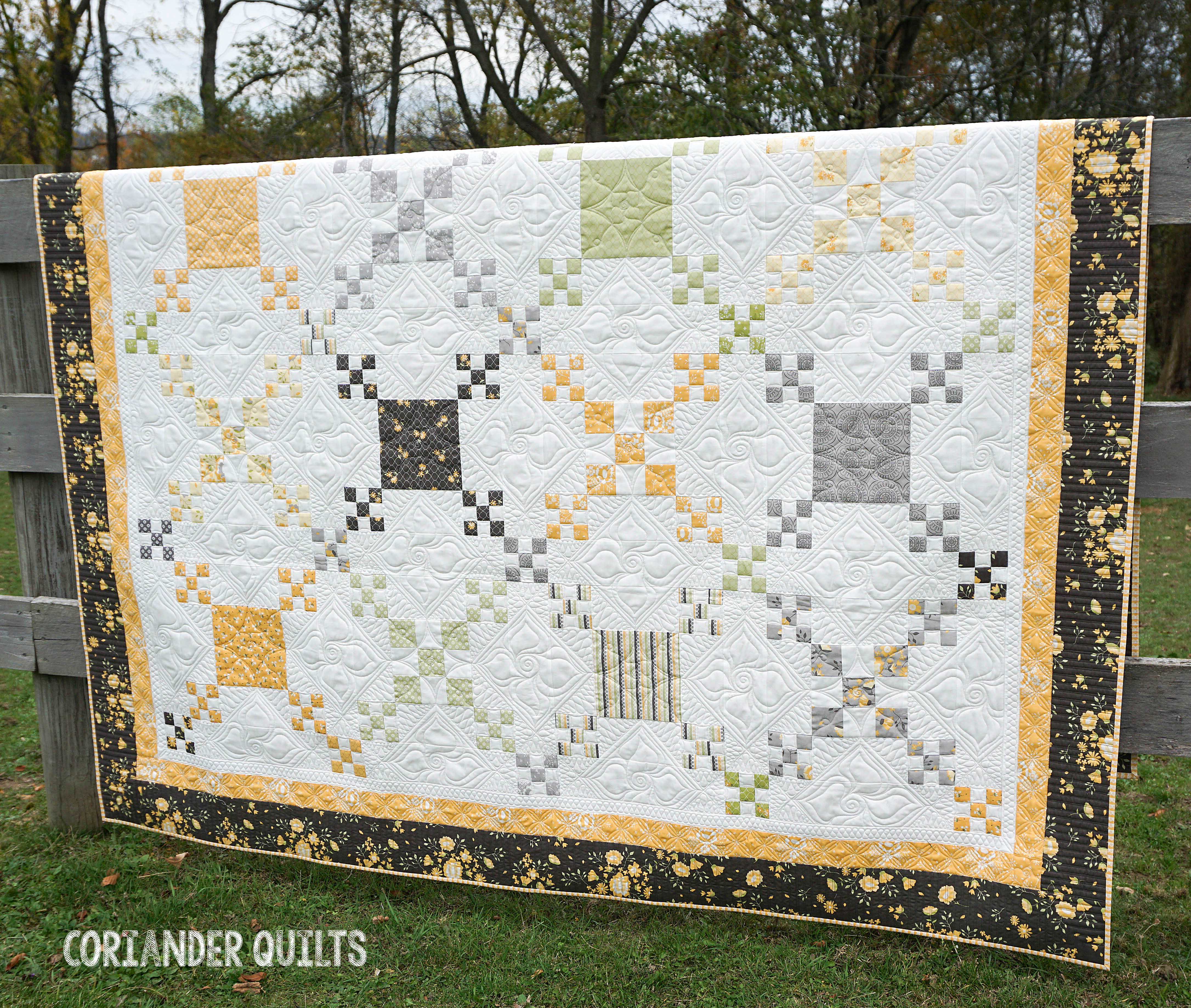 9th & Vine uses 20 fat eighths (9″ x 22″) and finishes at 77″ x 92″.  I love this mix of nine patch blocks.  Dorie Hruska of Forever Quilting did the beautiful quilting on this for me.  Let me tell you, it got lots of "ohs" & "ahs" at quilt market.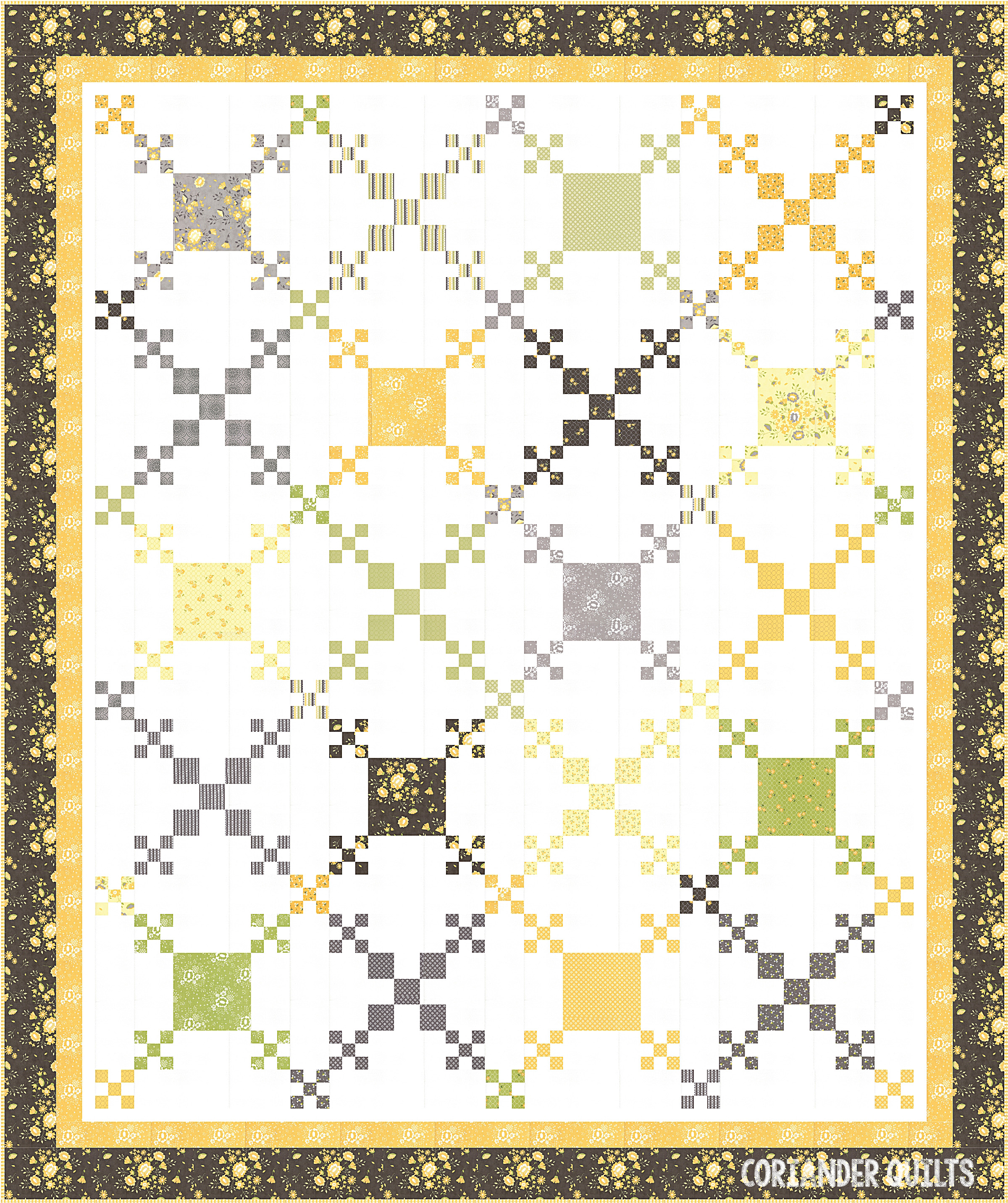 And look at this pretty fellow who wondered over to visit me as I was taking pictures.  He's almost the "where's waldo" of these photos as he can sometimes be seen here and there.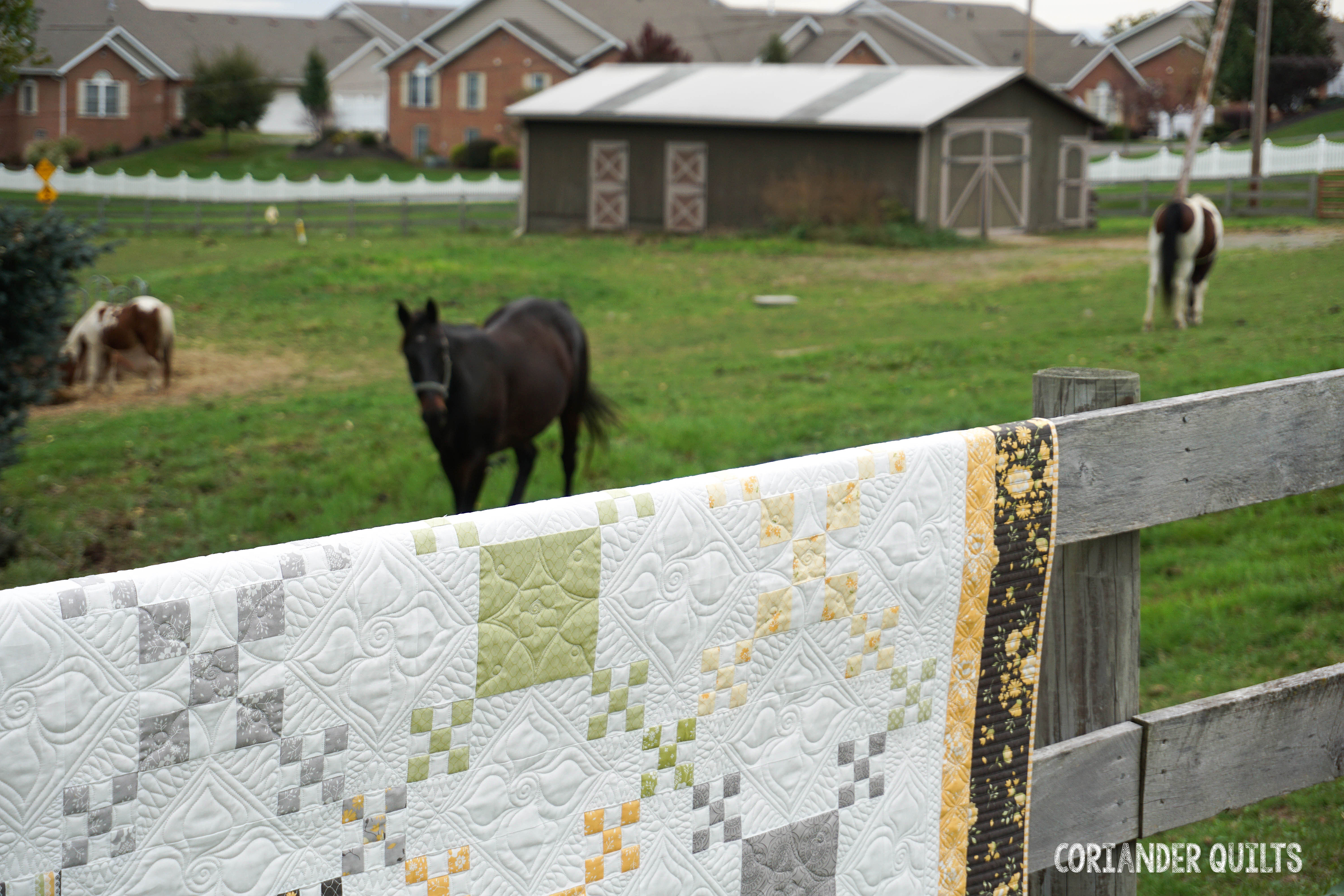 The next quilt I am sharing is Dappled.  I designed this quilt specifically to be hand quilted.  So I wanted something that had great negative space that would lend itself well to straight line quilting.  And lo and behold this quilt was born: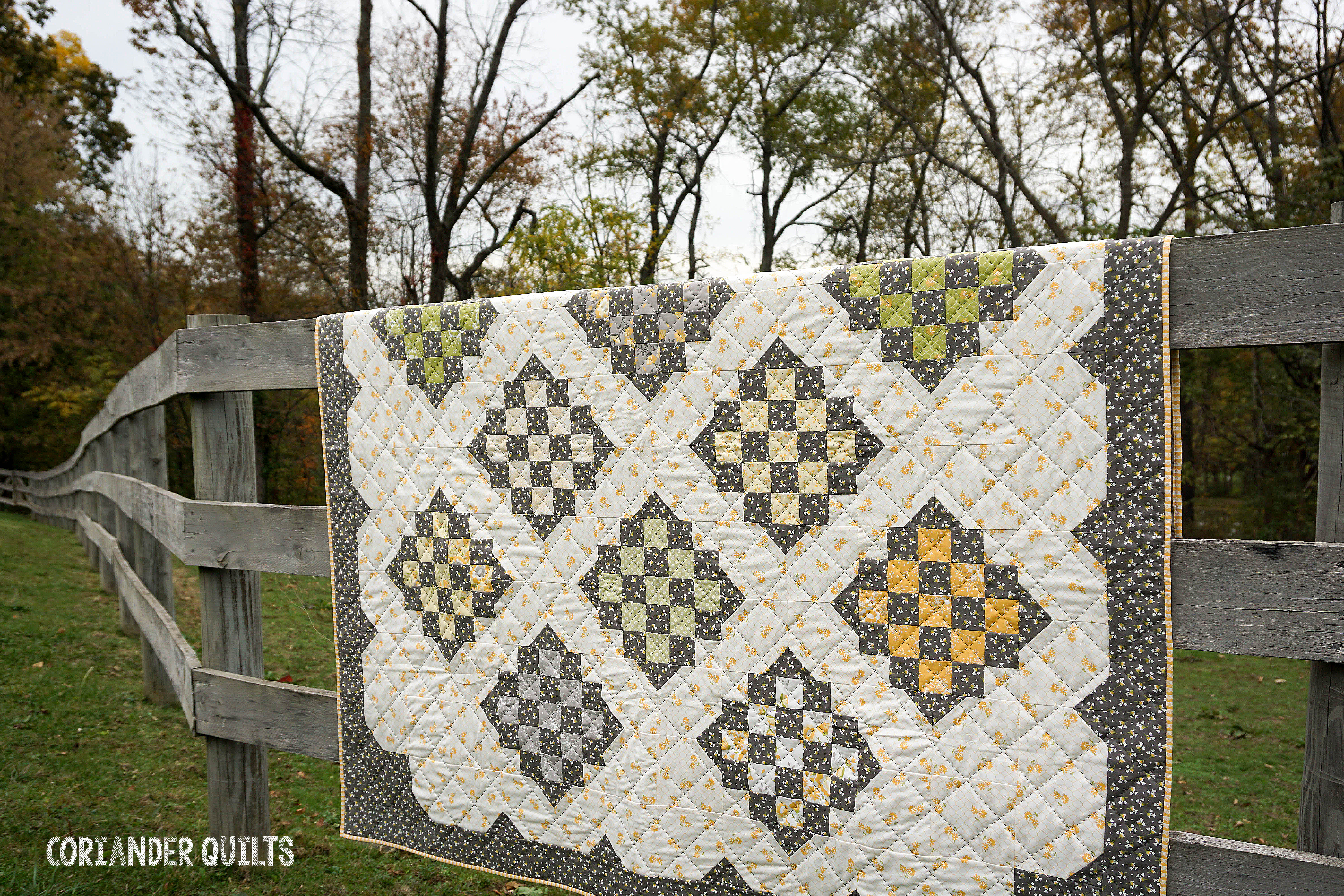 I used one of the low volume prints as the background fabric and my mom hand quilted this one for me using the dark grey 12 wt. thread from my Aurifil thread box.  I love that she hand quilts my large quilts for me.  She is so speedy and precise!  The grey thread color is #5013.  Also, Pepper & Flax has a great scalloped stripe fabric to use for binding.  That's another thing I like to include in my lines–a great stripe to use for all of the bindings.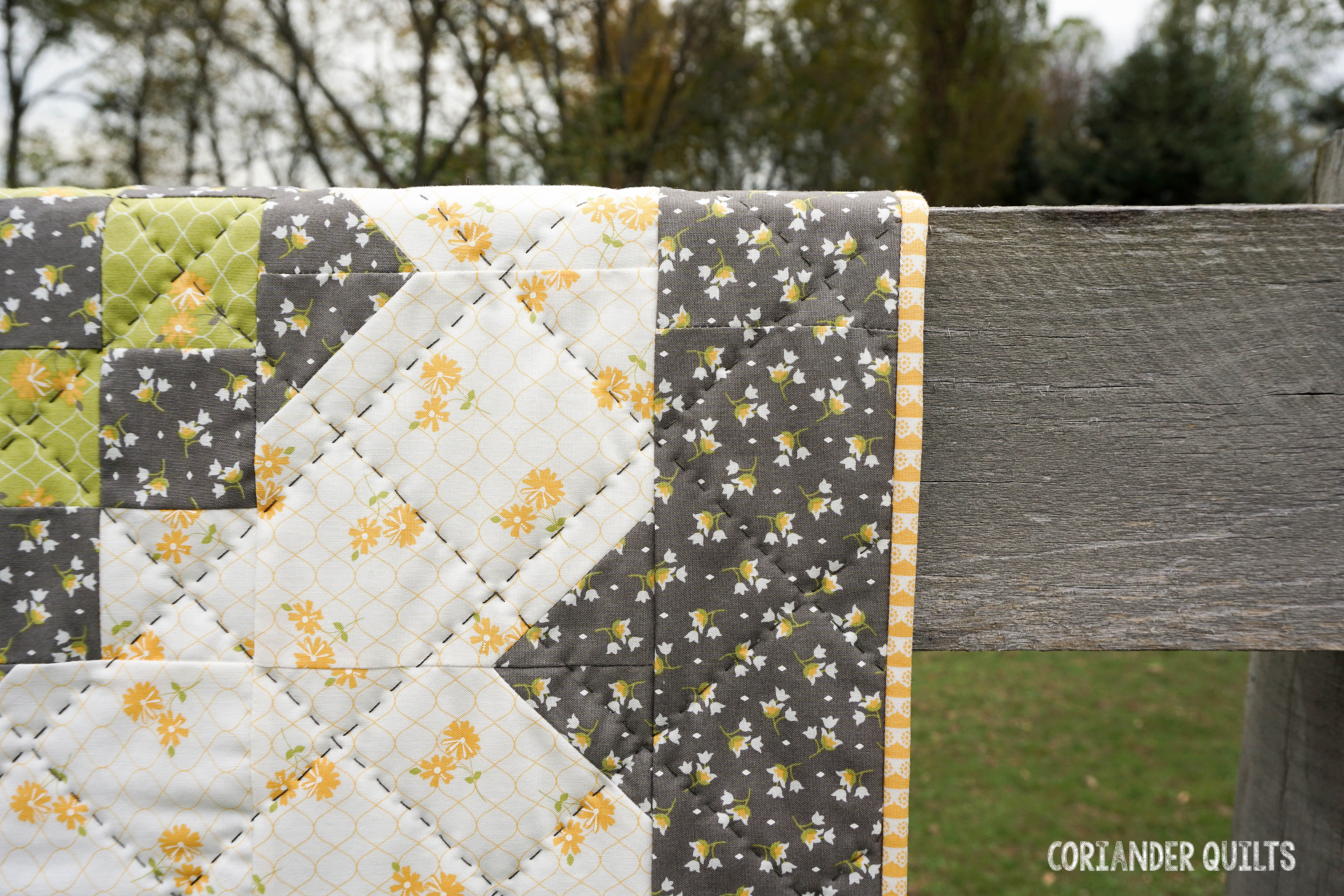 Dappled uses 12 different straight cut 1/8 yard pieces of fabric.  I like offering straight cuts of fabric for some of my patterns rather than precuts all the time.  This allows you to walk into your fabric shop and choose your favorites for a quilt.  Dappled finishes at 66″ square.  And that fun scalloped edge!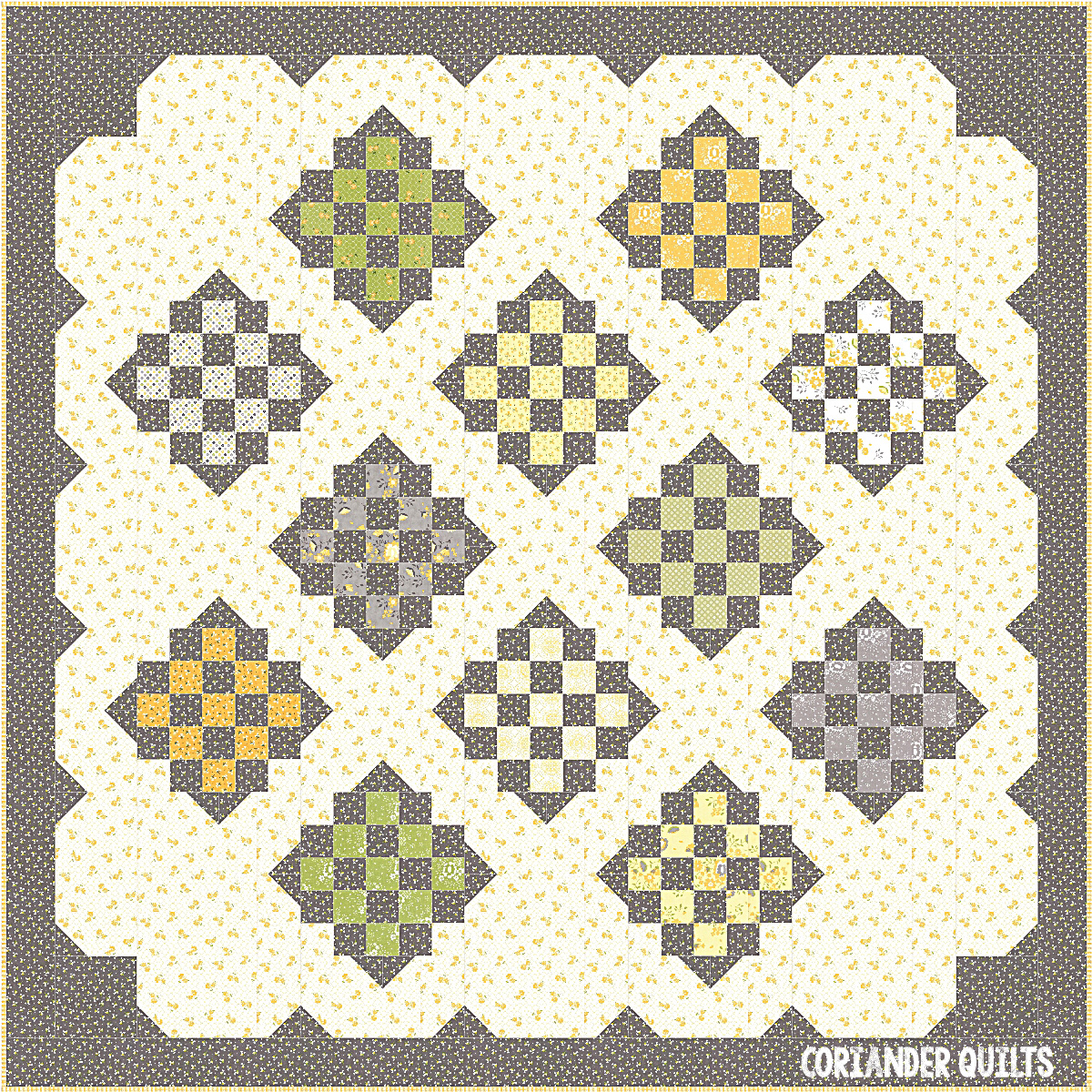 Lemongrass is the next quilt I am sharing today.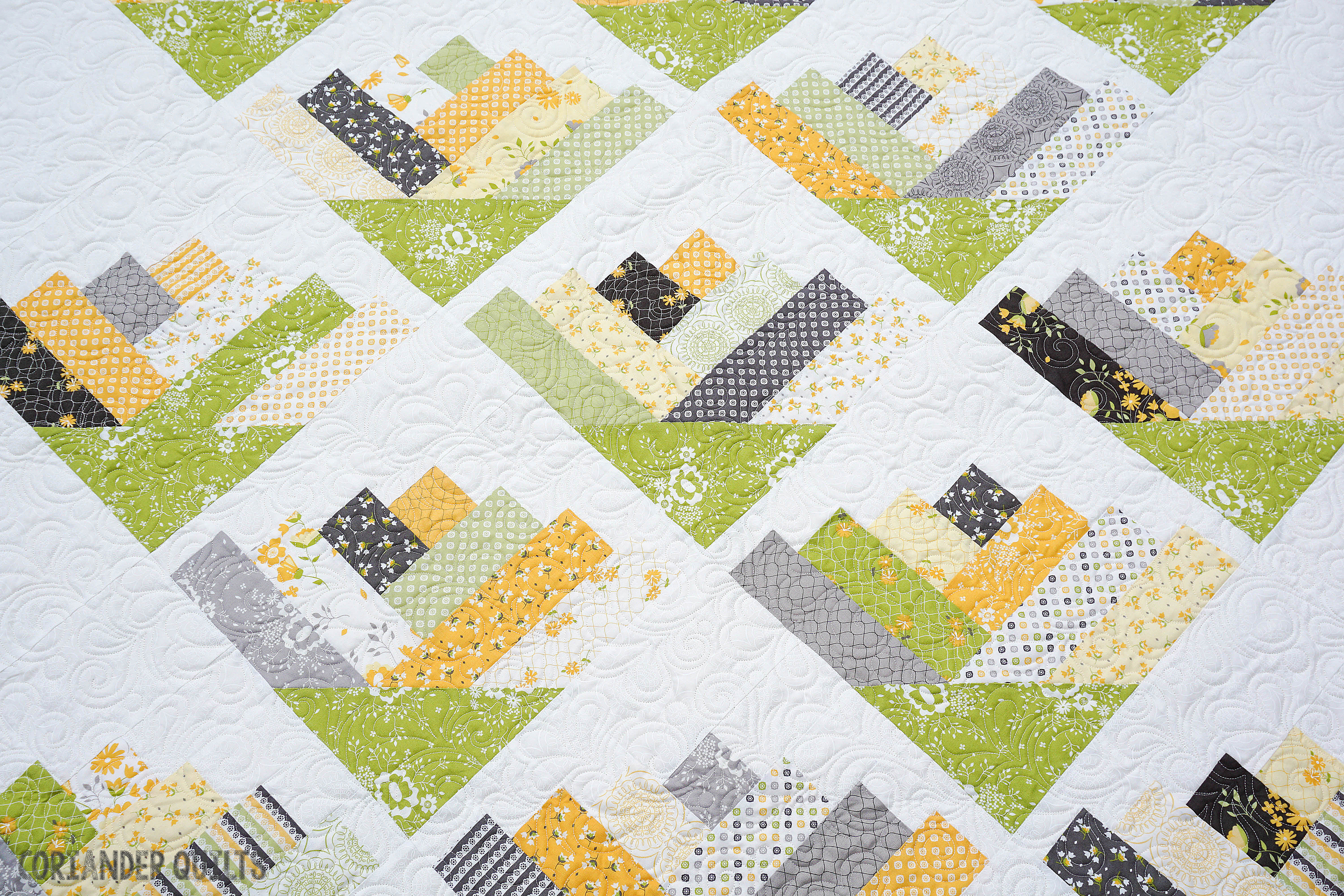 Lemongrass is a jelly roll quilt and requires (36) 2 1/2″ strips.  It finishes at 69″ x 83″.  Kaylene Parry of @quilterlove66 on Instagram quilted this one for me.  She always does such a nice job when I am looking for an all over quilting design.
One of my favorite pieces from this line is the white floral I used on the backing of this quilt.  I love that it looks like a sunny, vintage sheet.  I keep thinking I need to make new sheets for my bed using this fabric!  And you can also see the striped binding in the dark grey.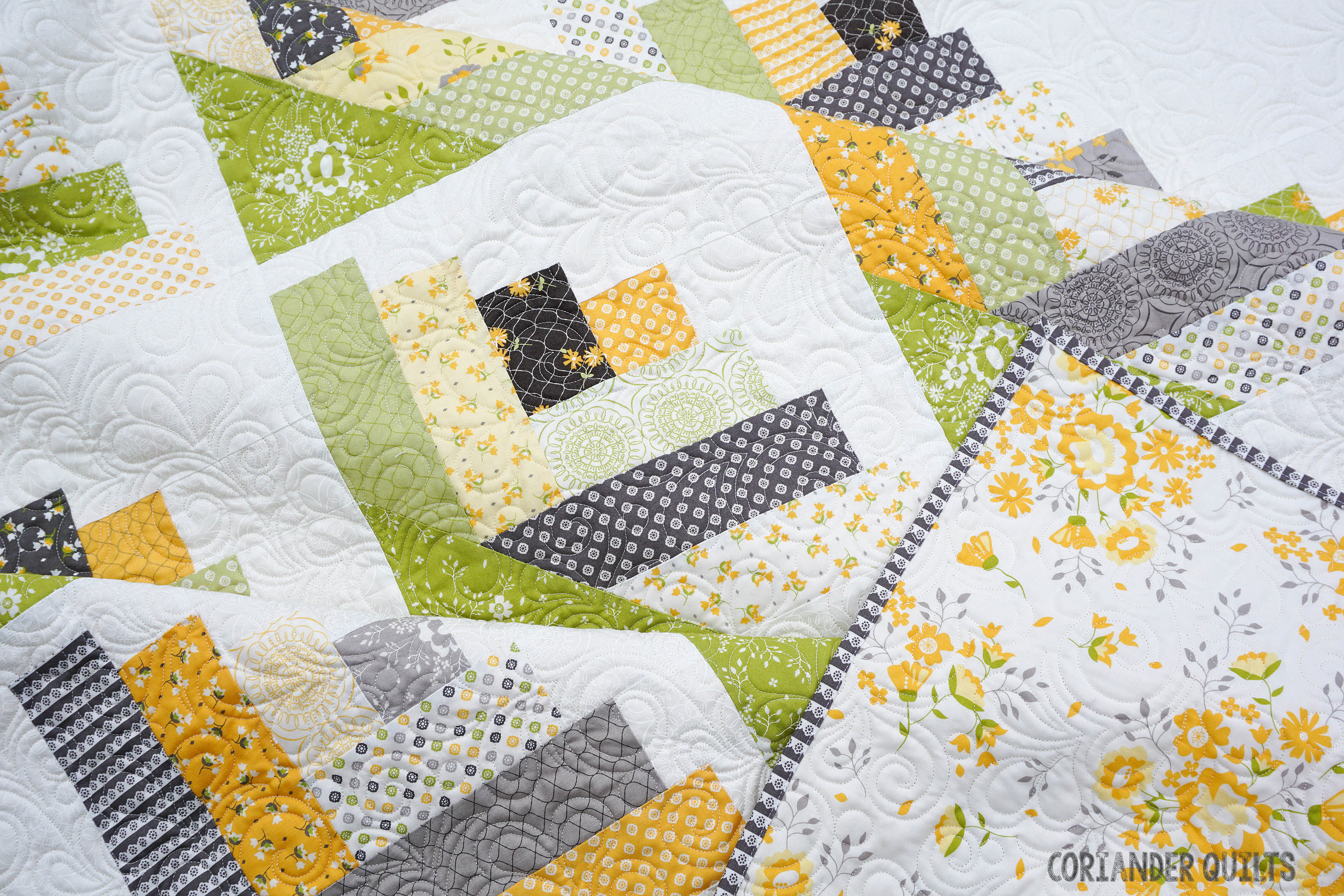 I added in a touch more green to this quilt with the green border.
The last larger quilt I designed is Garden District which is another fat eighth quilt.  It uses 24 of them (9″ x 22″).  I must have had fat eighths in my mind as I was designing these!  Actually, when I design quilt patterns, I start with the quilt pattern first and then decide what precut makes the most sense to use–or straight yardage if none of the precuts work quite right.  Can you spot my little friend hiding in this picture?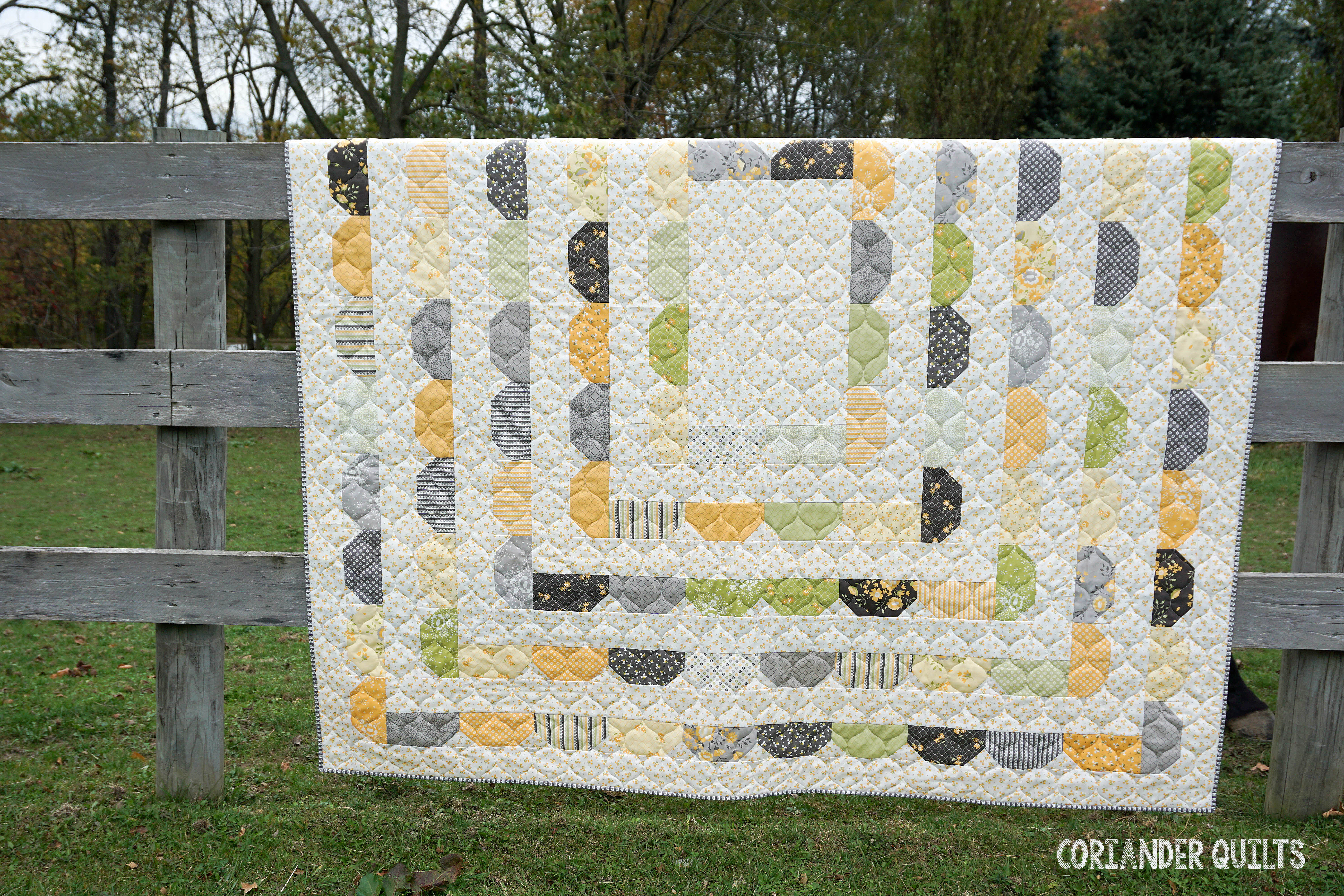 He was such an ornery fellow.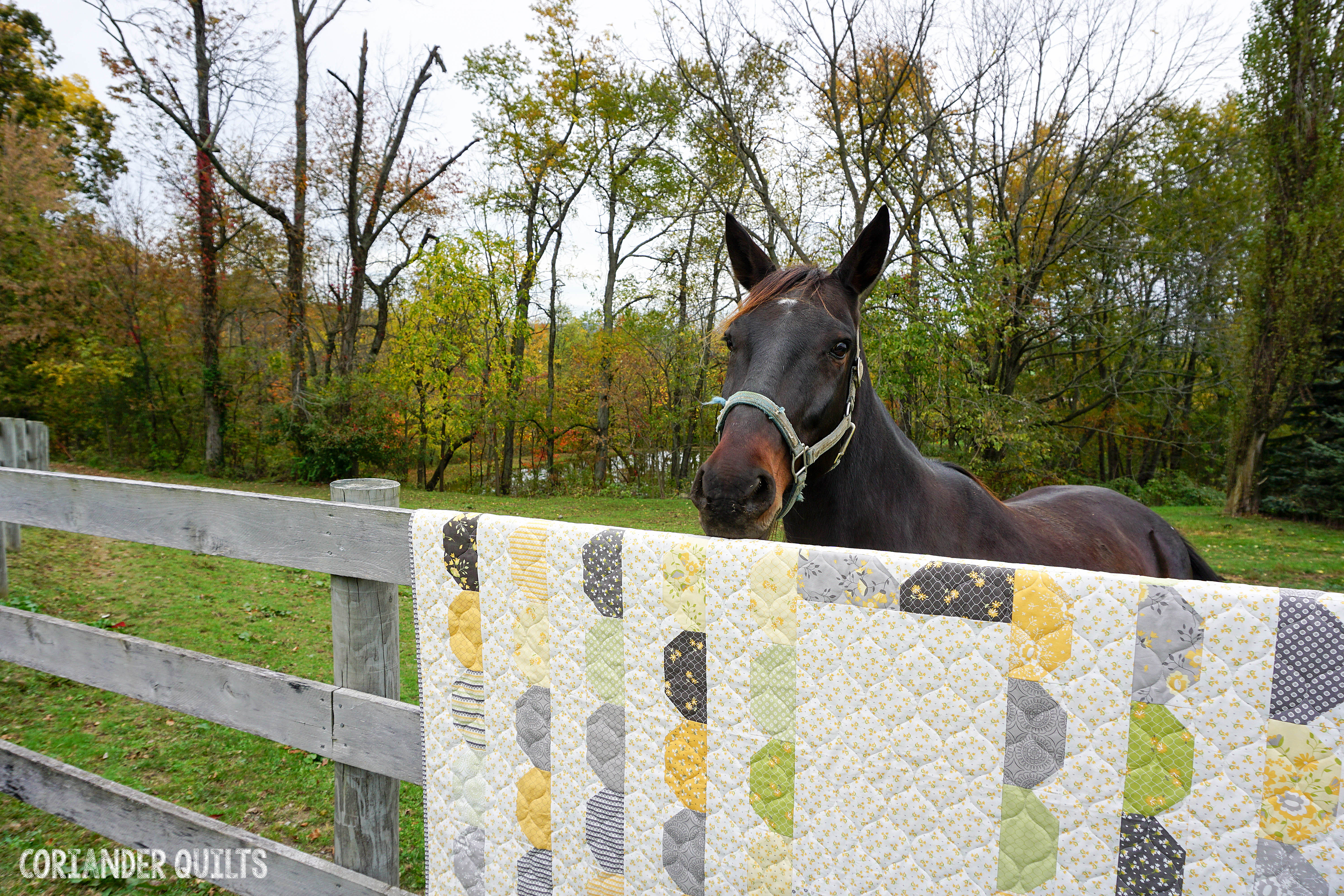 Kaylene also quilted this one for me.  And I used a different low volume print for the background.  This line has some great background prints.
Garden District finishes at 72″ x 78″
The last quilt I am sharing is Barn Star which is a 40″ square wallhanging.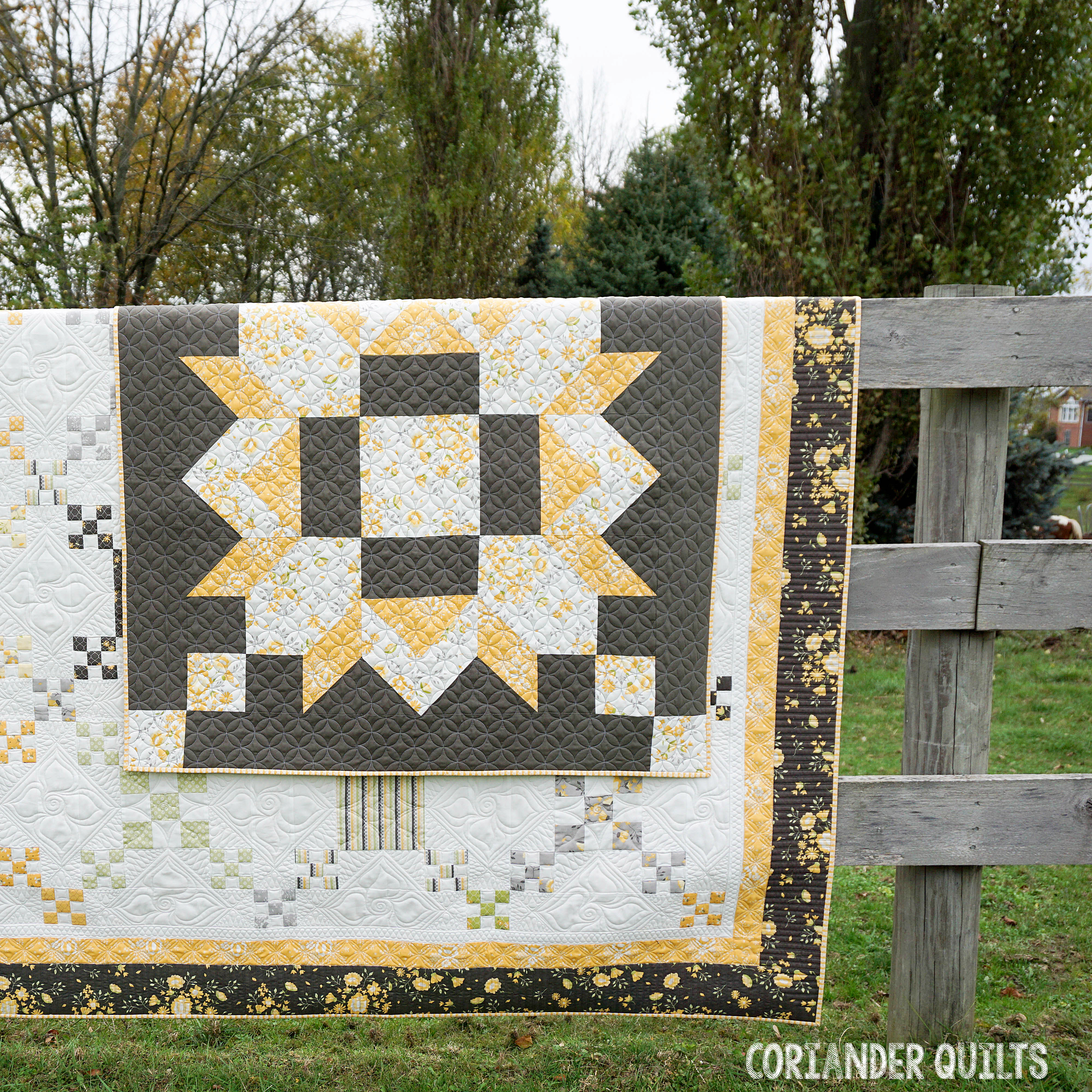 Barn Star uses yardage and was also quilted by Kaylene.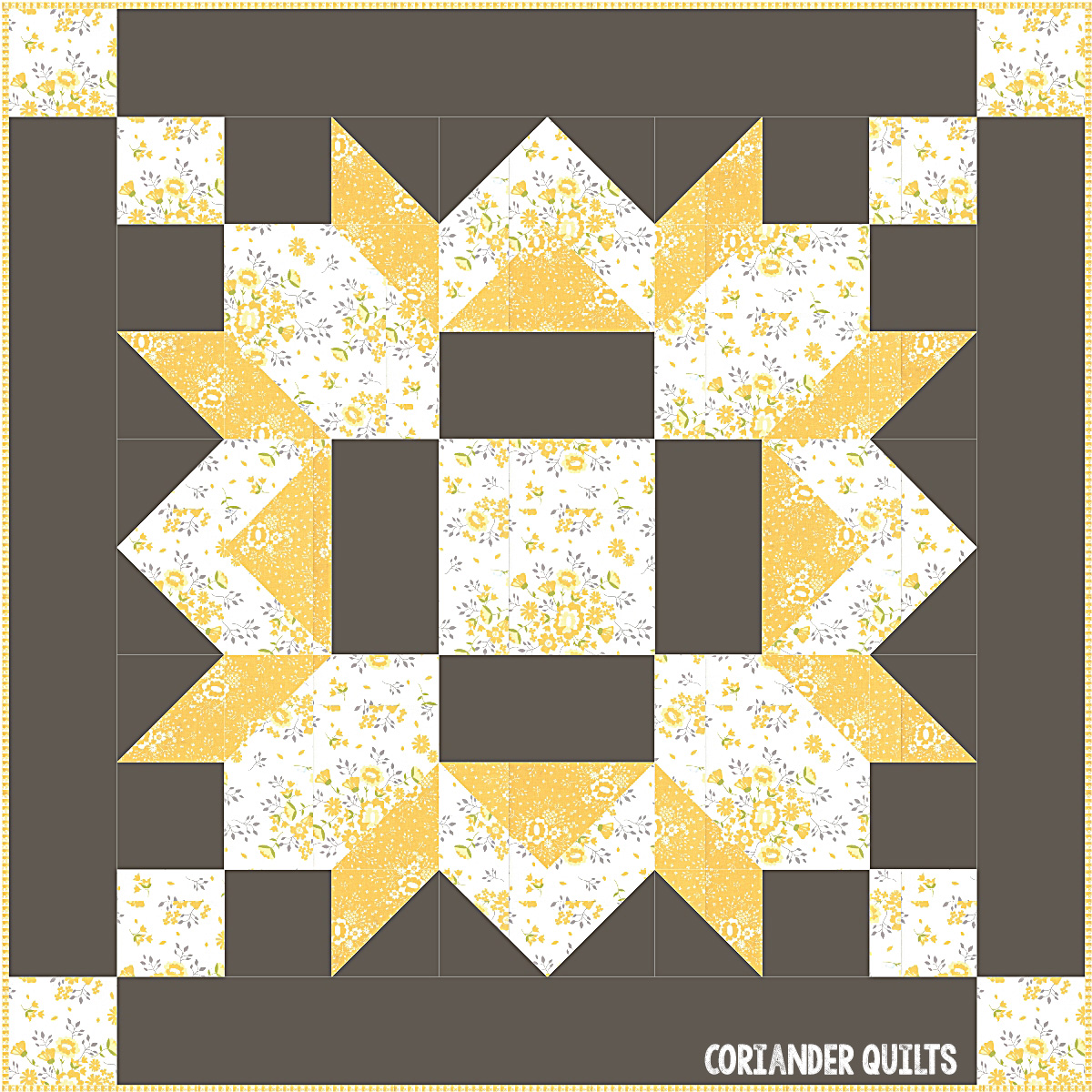 So, there it is–all of the new fabrics and new patterns.  The new patterns are all listed in my shop in Paper version or PDF version.  I offer a bundle price on all 5 Pepper & Flax patterns if you'd like to purchase them all.  You'll see that bundle in my shop as well.  And, you'll be able to purchase Pepper & Flax fabrics in quilt shops in April.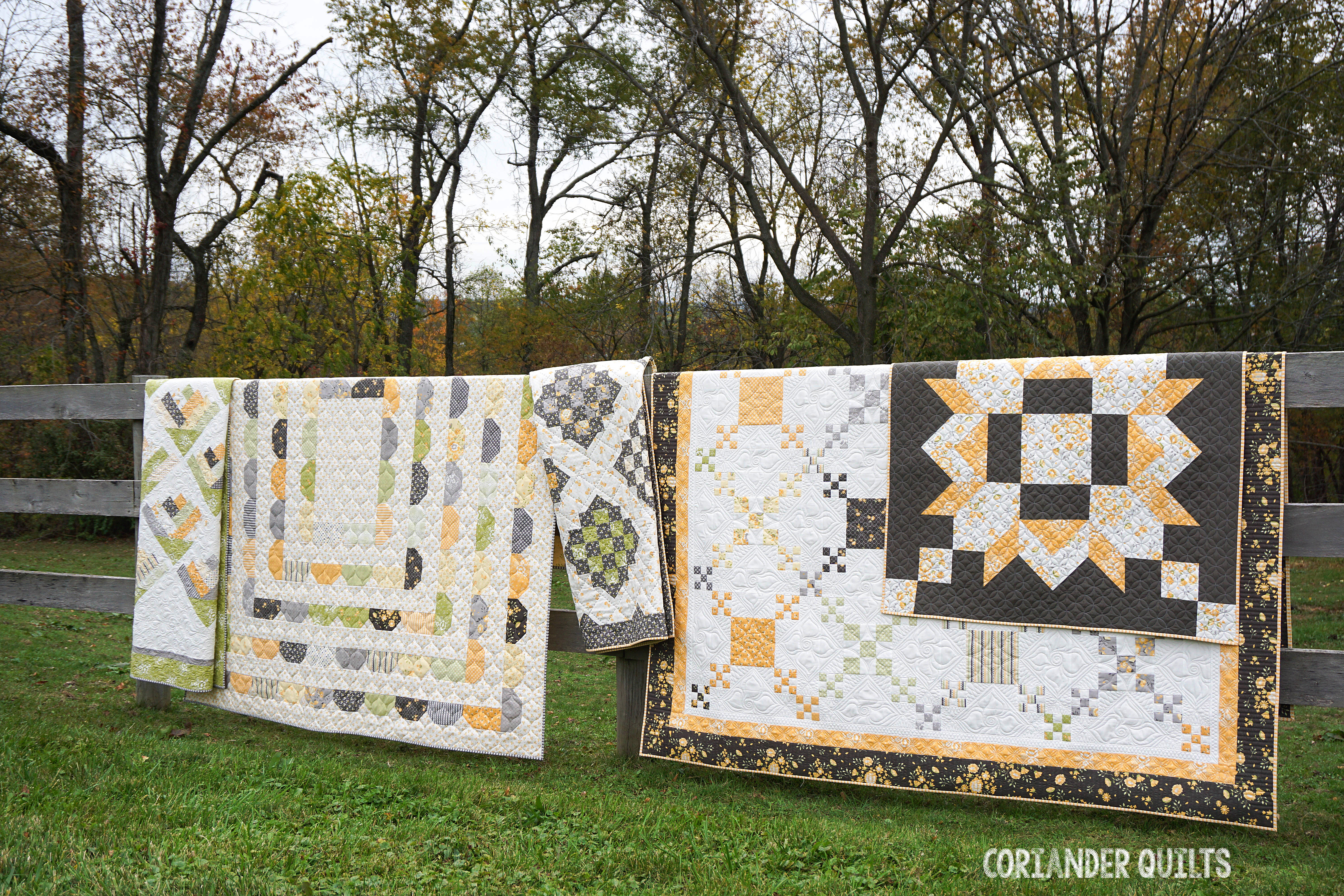 I would love to hear which is your favorite quilt!
Happy Sewing!