Introducing Sunnyside Up Fabrics & Patterns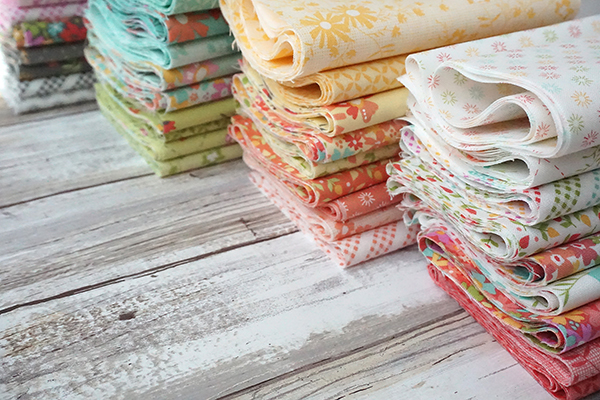 Welcome back everyone!  You may have noticed I have been blogging more this summer.  I plan to continue blogging regularly so if you'd like to stay up to date on what's happening here, make sure to follow via email.
Today, I am introducing to you Sunnyside Up, my 6th collection for Moda fabrics.  This line of fabric just showed at Quilt Market in May and will begin shipping to your local quilt shops in November.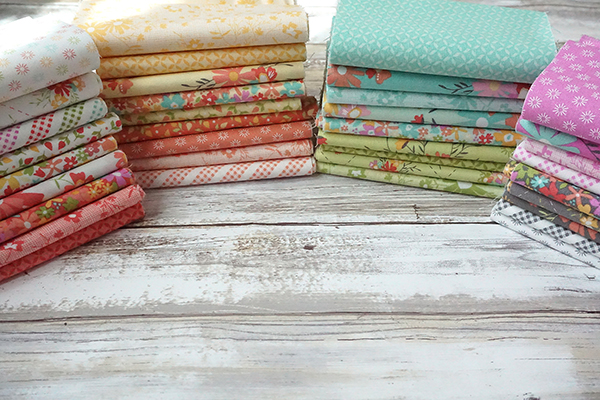 I always like my collections to play together nicely and you'll notice Sunnyside Up is full of those Sherbet-y colors I love.  I've added purple in to this collection which gives a full rainbow of color.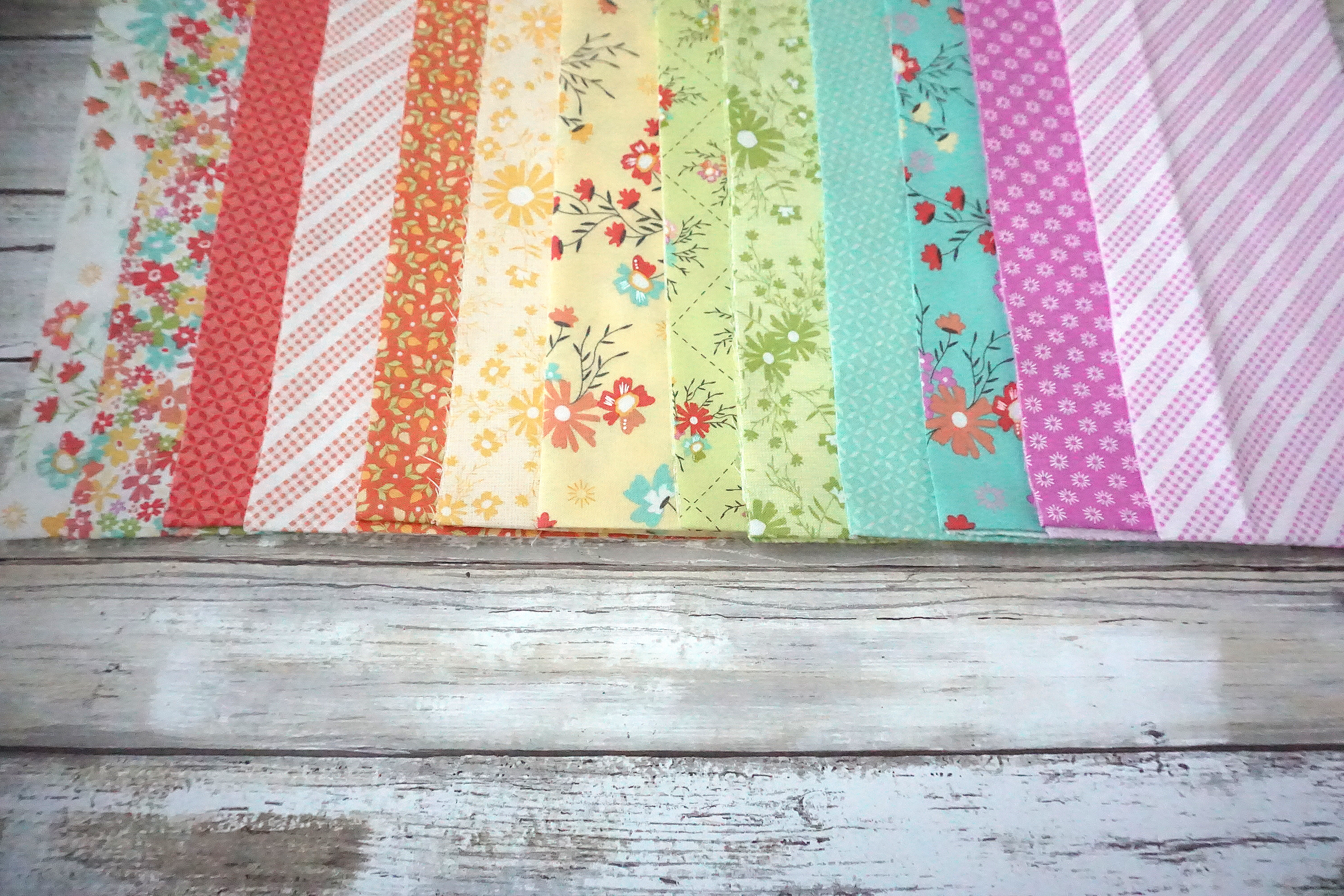 And, you'll see this collection has a diagonal gingham stripe for all of you bias stripe lovers out there.  And of course, lots of pretty flowers.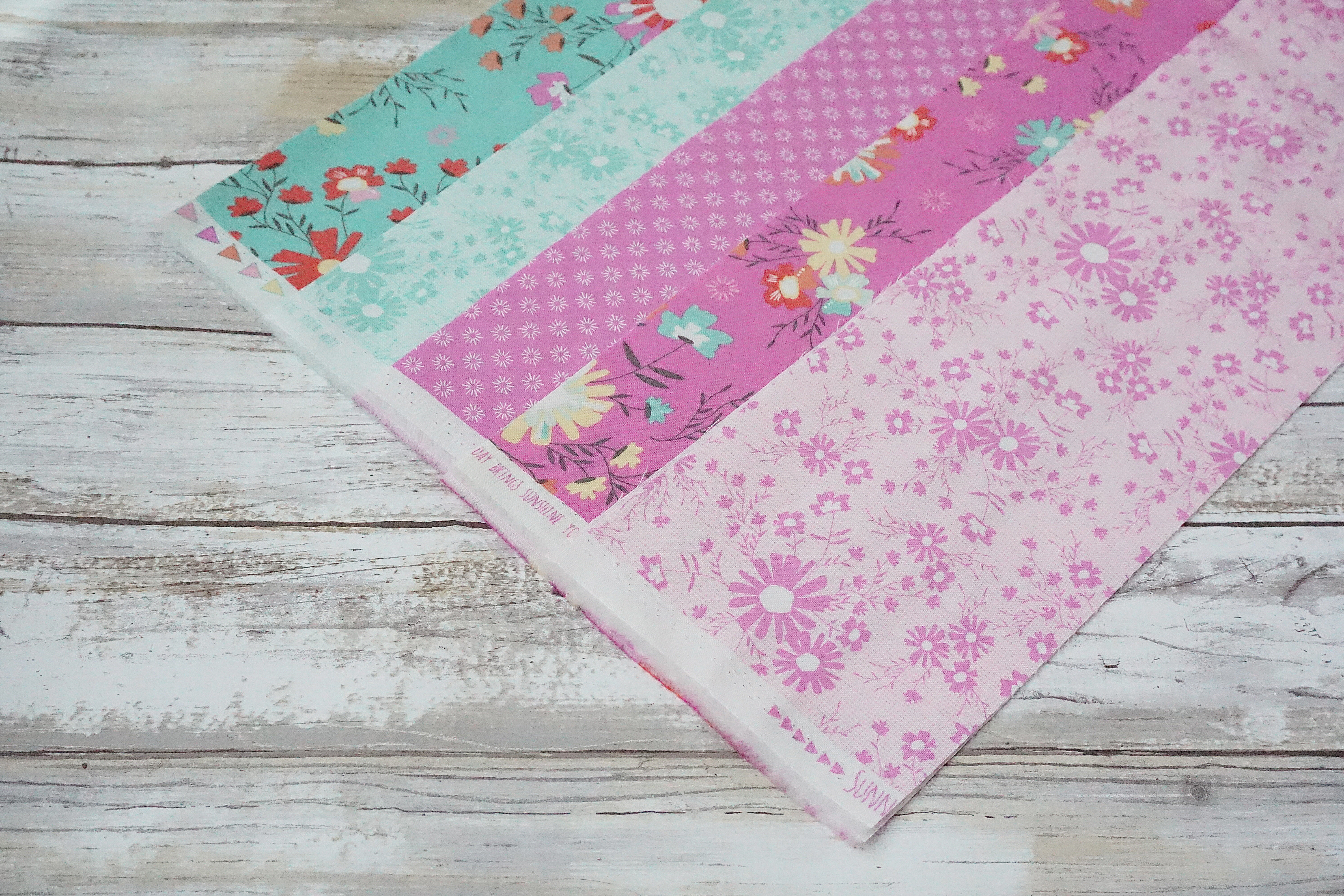 And fun basics.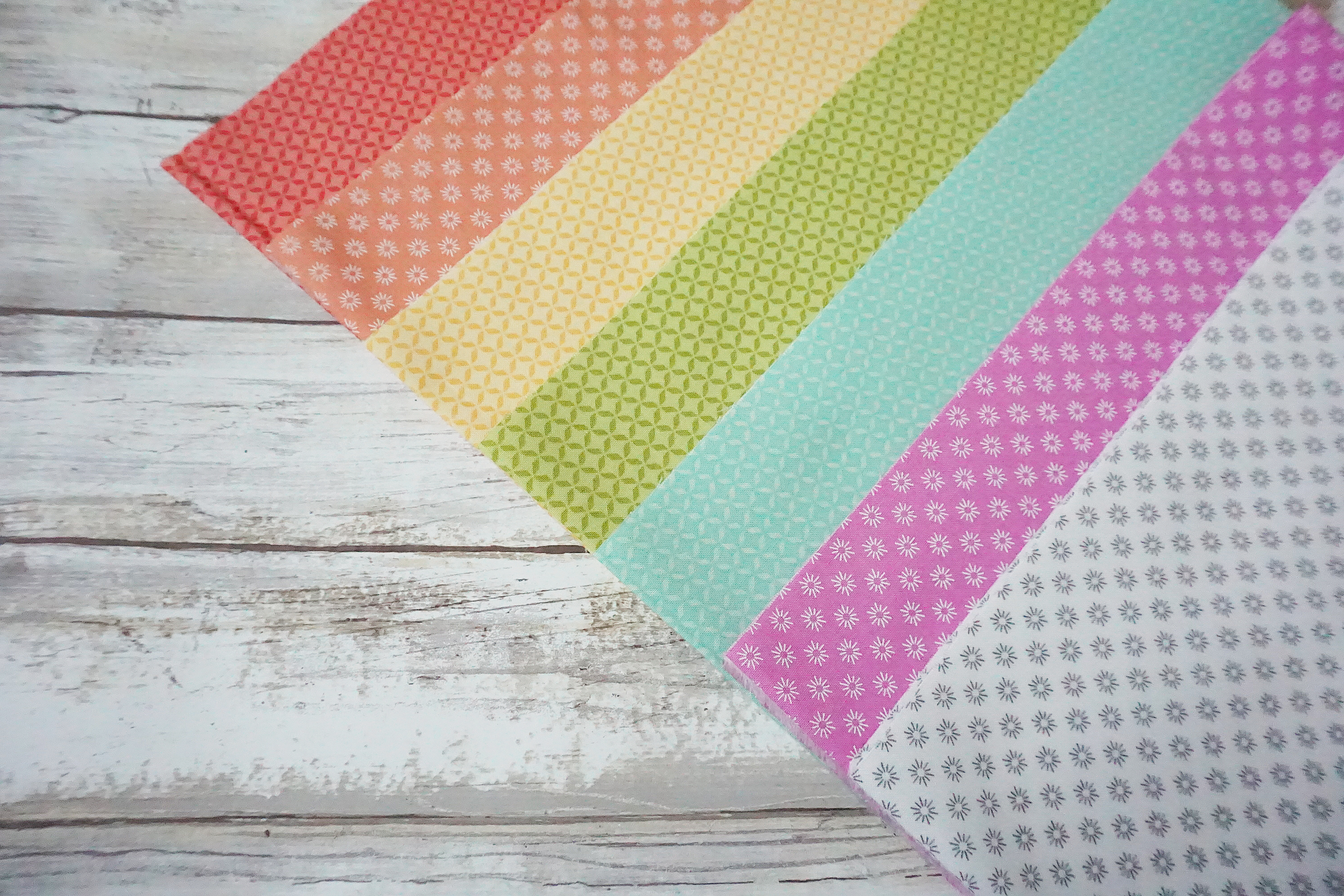 The other extra fun addition to this collection is a fun panel I designed to coordinate with the line.  It includes 8 different motifs–4 word based ones and 4 quilt block based ones.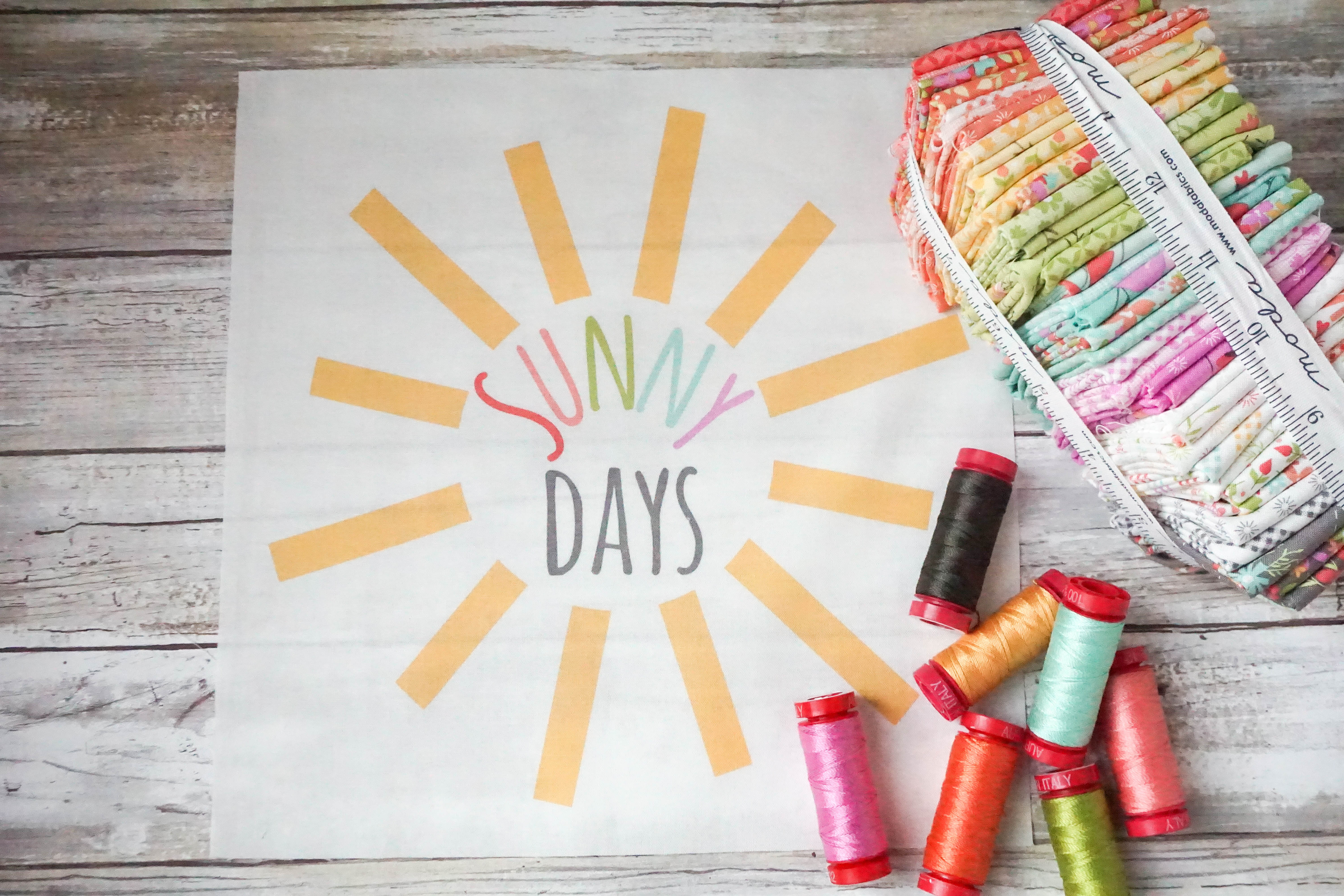 And now, on to the quilts….I am only going to share a few of the quilts today.  I may have gone overboard with my quilt designs!  I don't want to overwhelm you all with too many quilt pictures but you can see all of the new quilts in my Etsy shop if you'd like.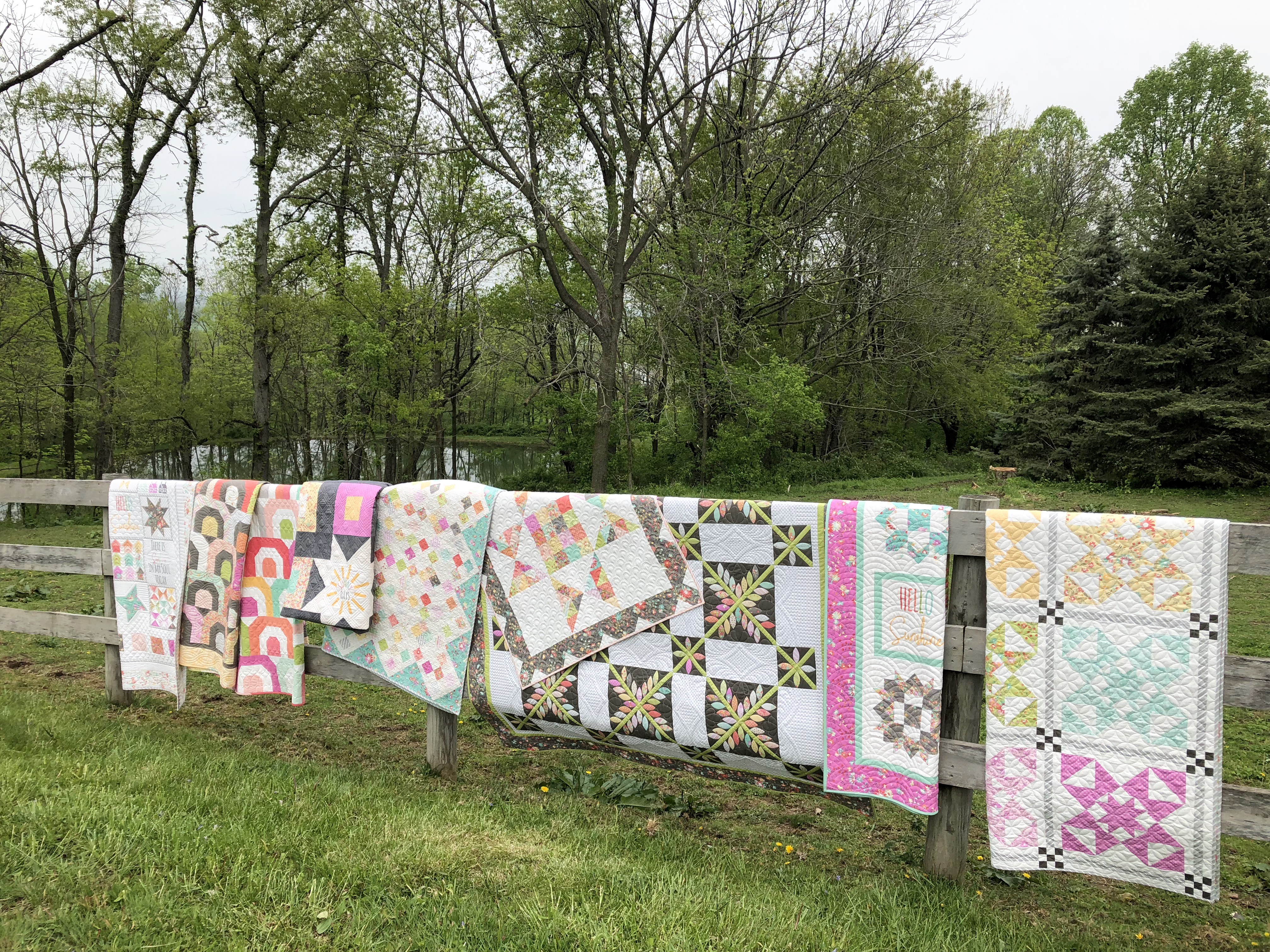 I designed a total of 8 new patterns with this release.  First up is Sunny Sampler.  I designed this quilt to showcase my new panel.  It looks like it contains a lot of piecing, but there is actually less piecing than you would think.
In the photo below, the following blocks are included in the panel: Top Row 2nd and 4th block, 2nd row 1st & 3rd block, 3rd row 1st & 3rd block, Bottom row 2nd block.  That means only 9 of these blocks are pieced.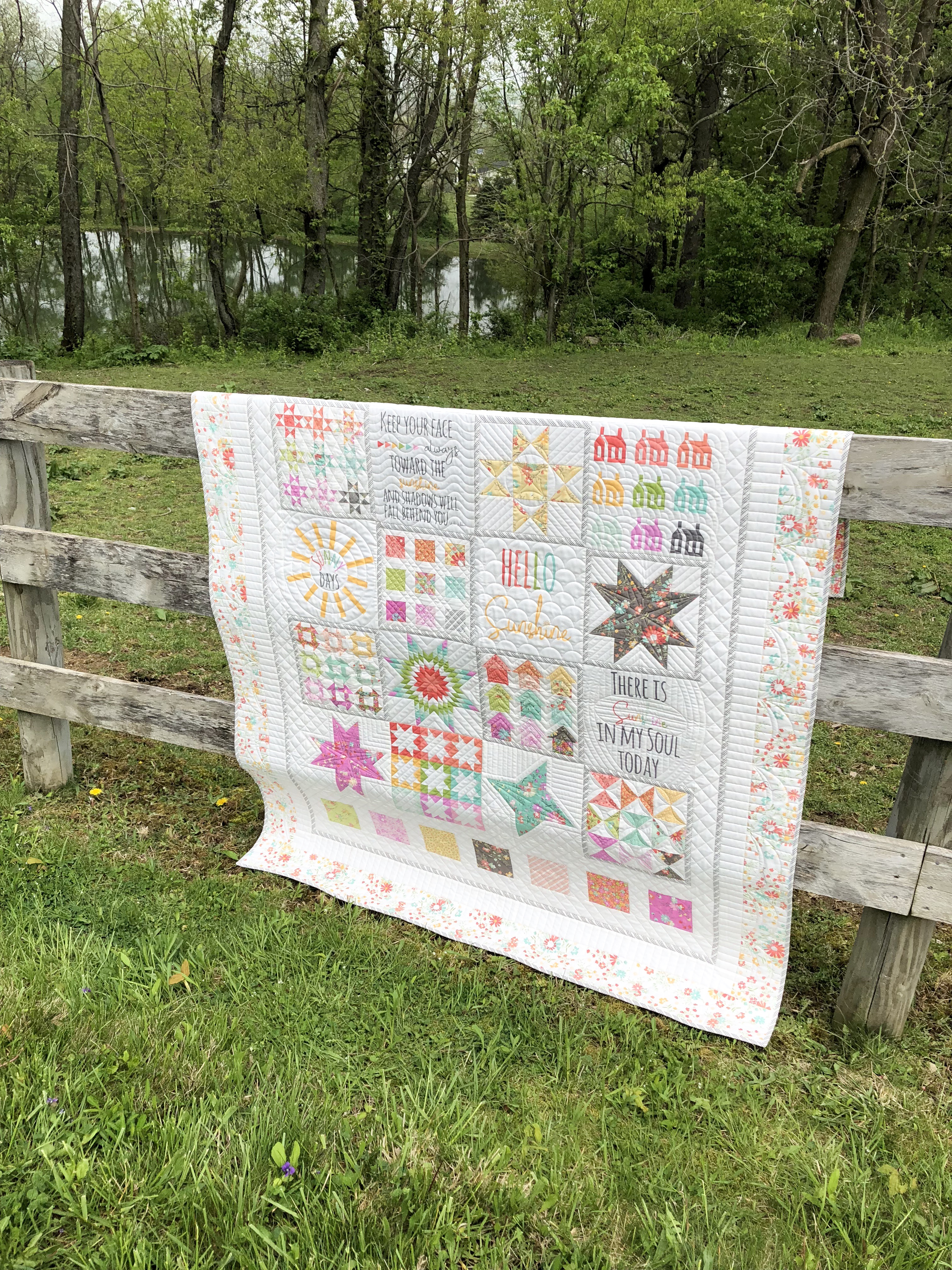 Moda Fabrics is offering this as a boxed kit.  And let's talk about the quilting on this beauty.  It was done by Rebecca Silbaugh of Ruby Blue Quilting and boy did she outdo herself!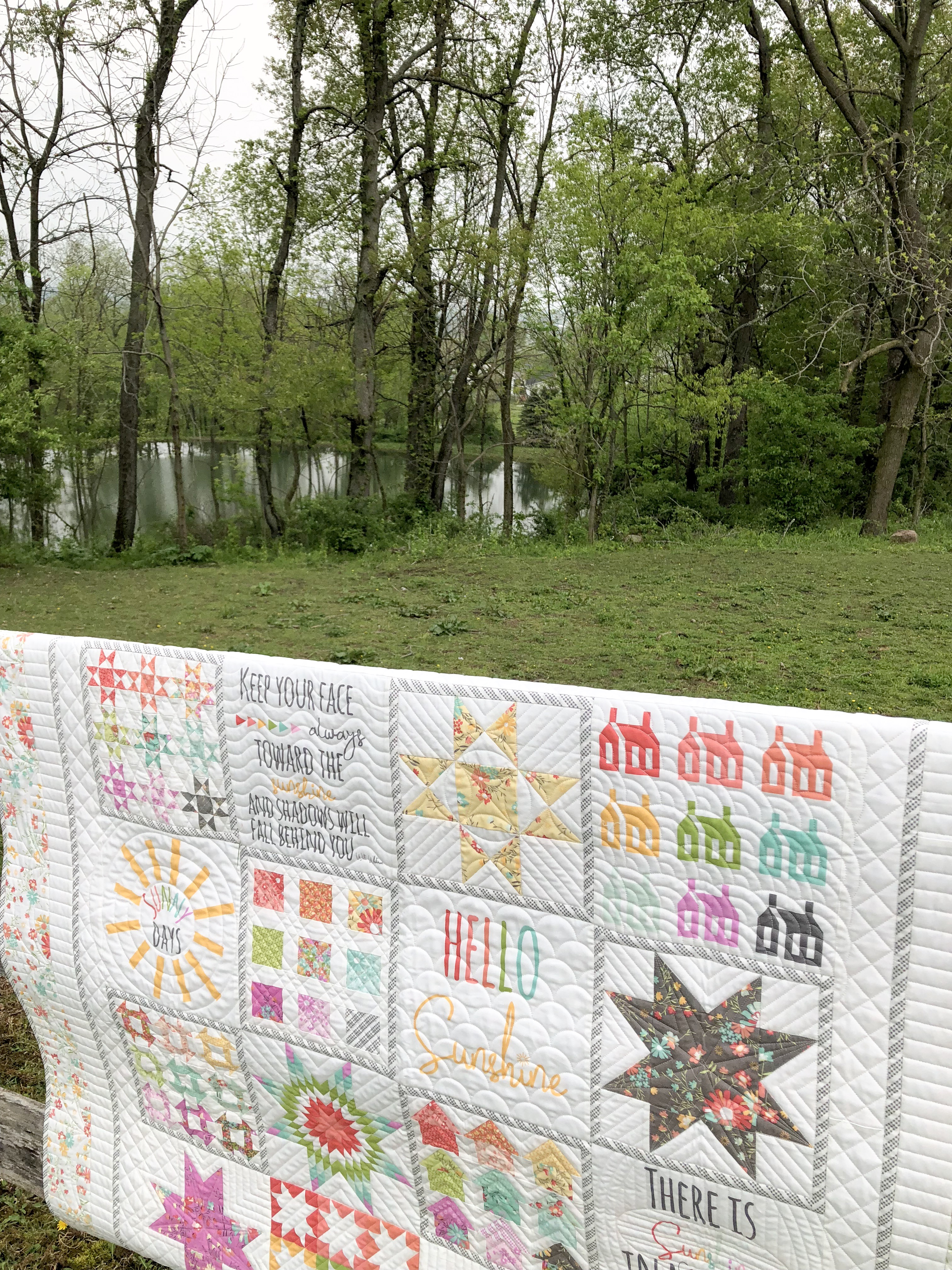 I really love the way it turned out–so much happy goodness.
Next up is Barn Star 2.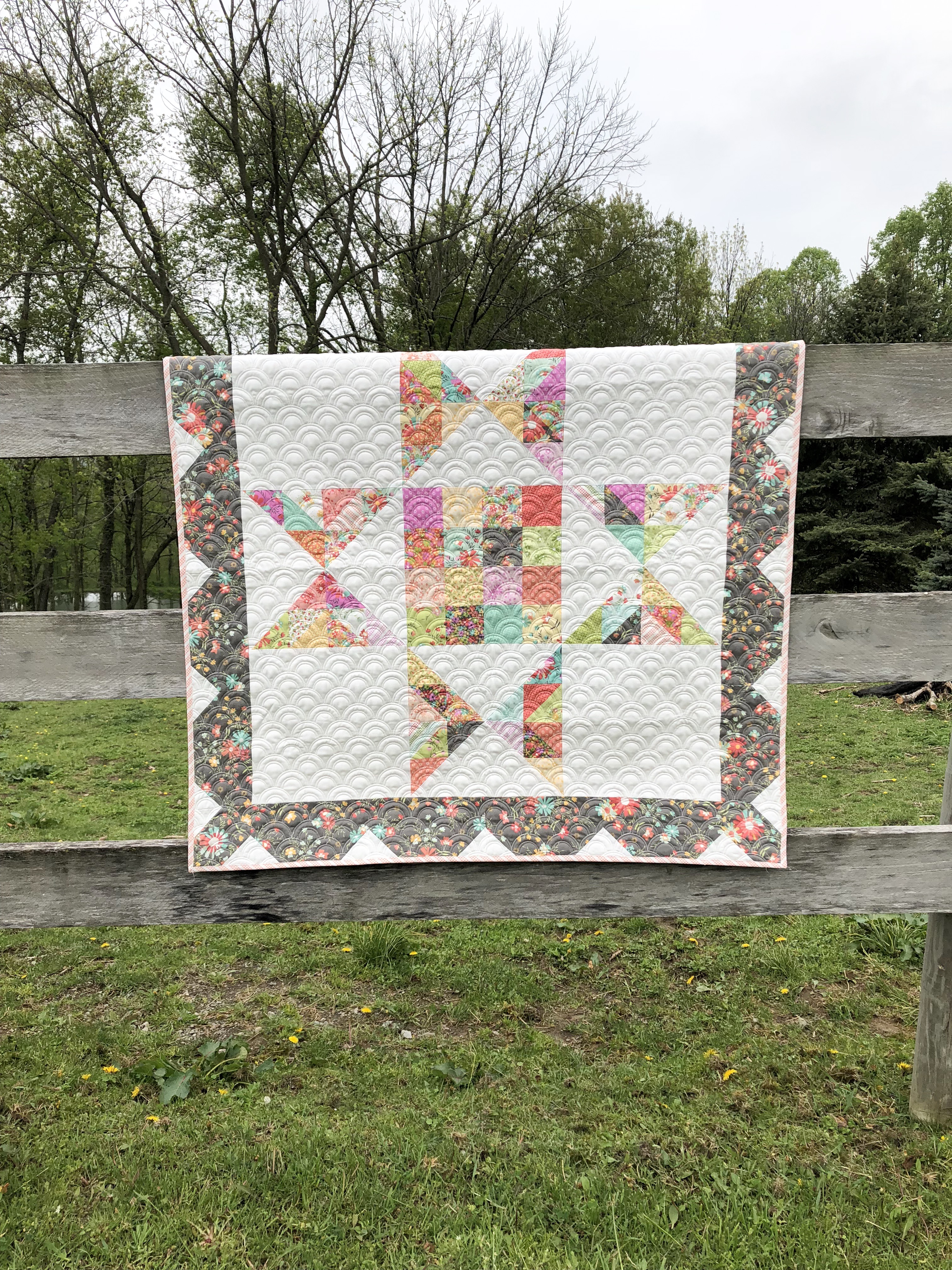 If you loved Barn Star, this is the 2nd in the series.  These quilts are 40″ square and piece fairly quickly.  For the backing on this quilt, I used fabric from Lulu Lane.  It mixes beautifully.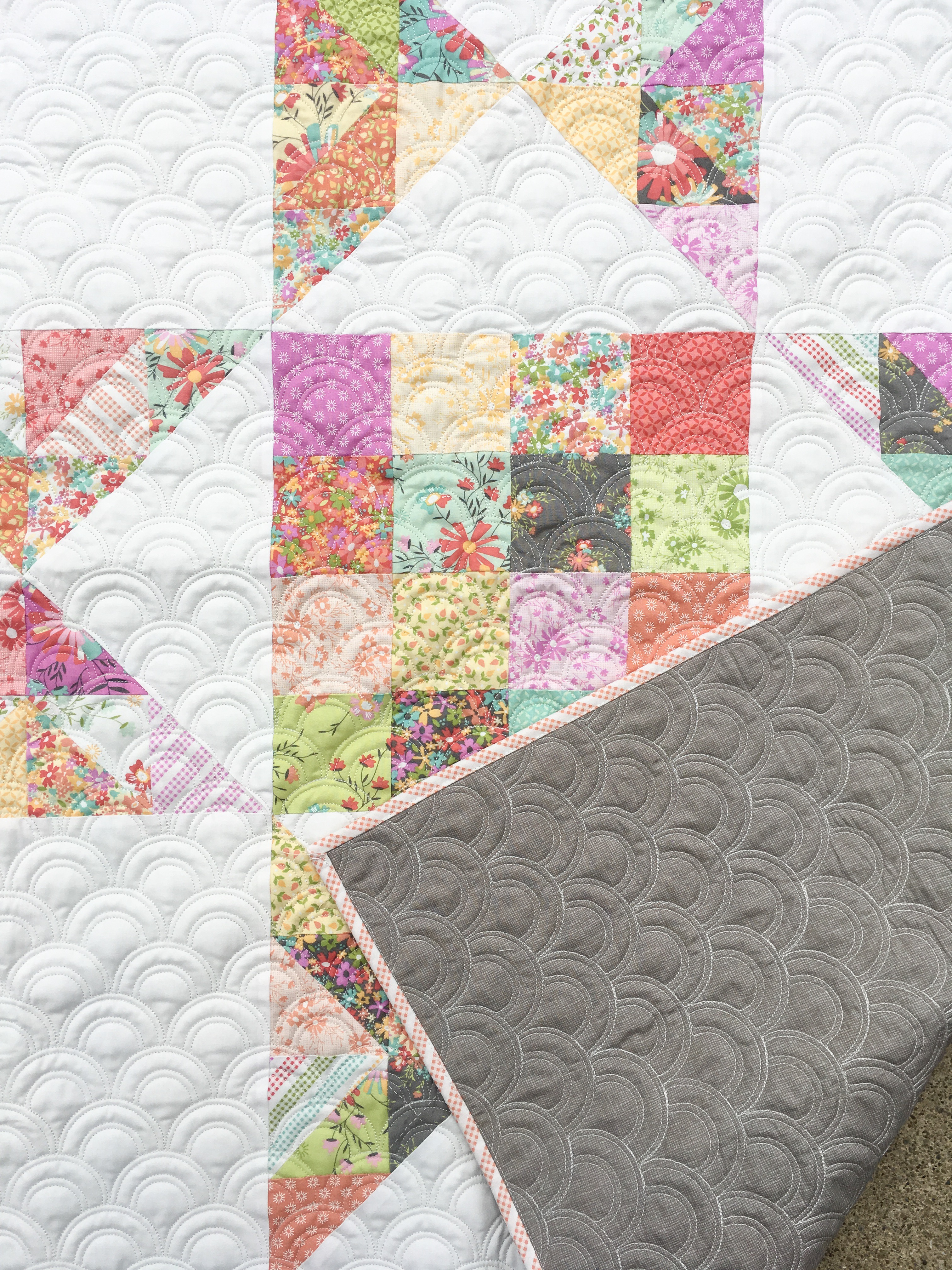 Kaylene Parry (@quilterlove66 on Instagram) did the quilting for me on this quilt.  I love those adorable little rainbows.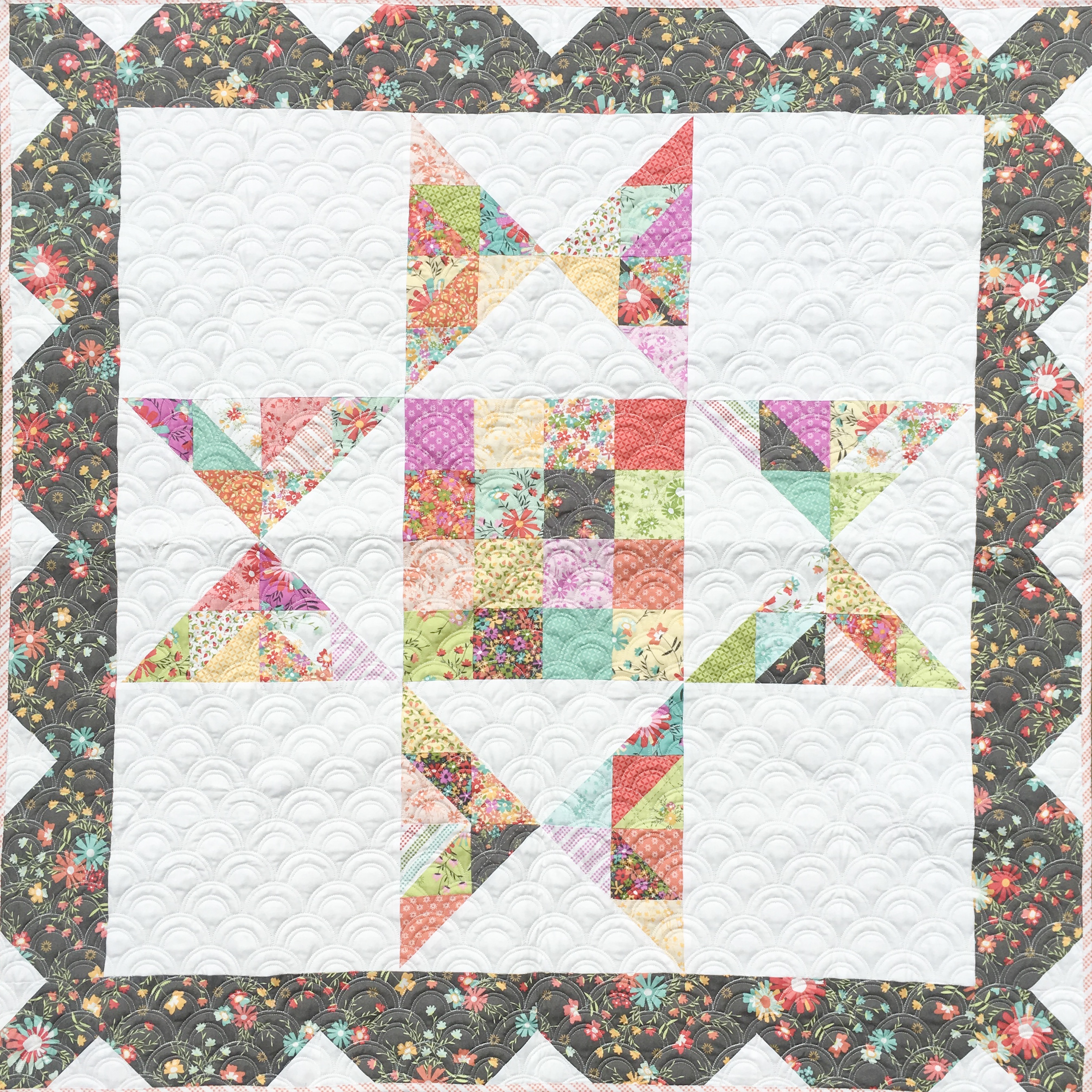 And the gingham stripe binding….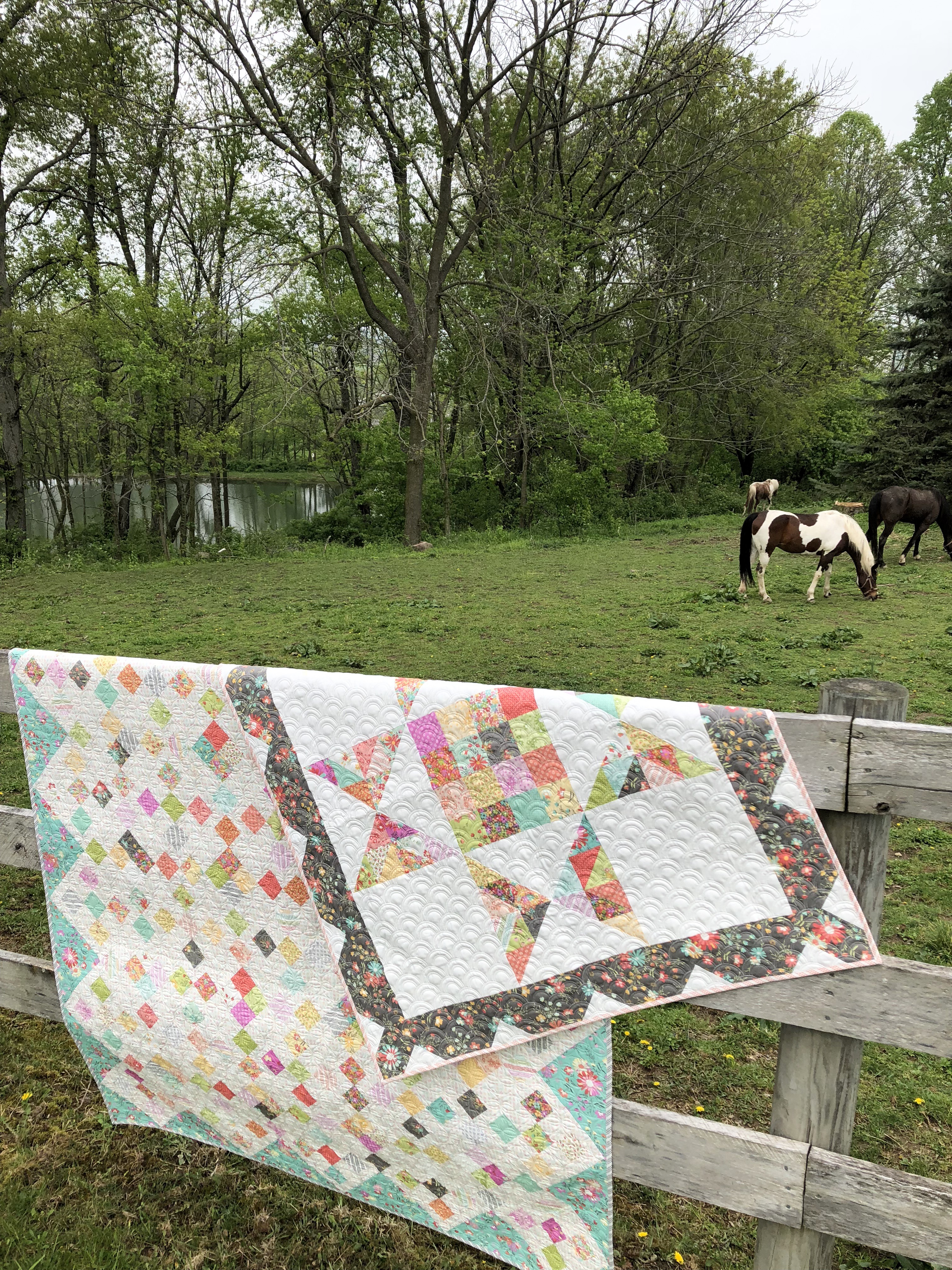 The last quilt I'm sharing today is Smattering.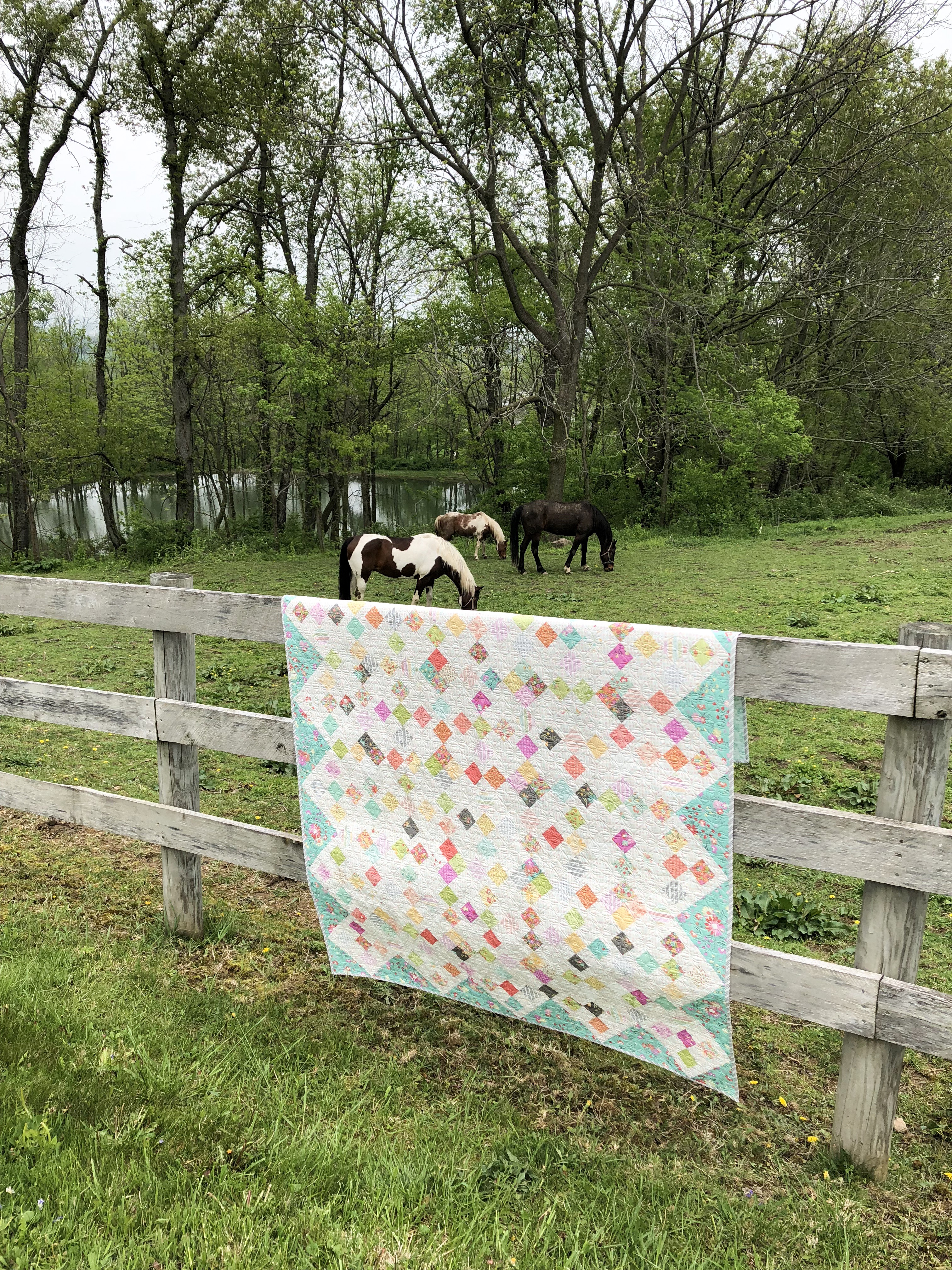 It's a charm pack or mini charm pack friendly quilt.  And full of scrappy goodness.
I used one of the low volume prints from Sunnyside Up as my background fabric and I really like how it turned out.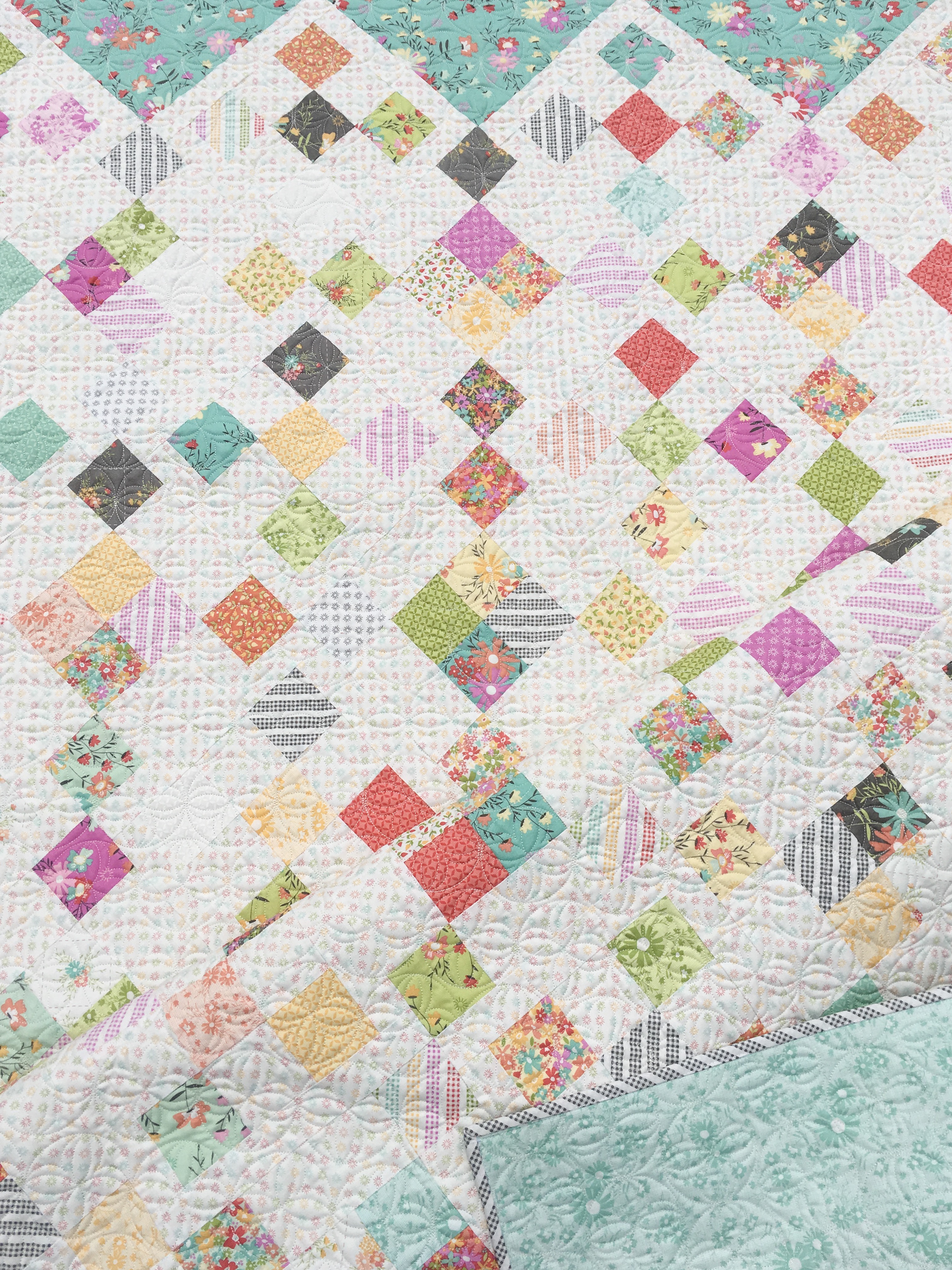 Kaylene Parry did the quilting on this one for me as well.
The border print is one of my favorites from this line.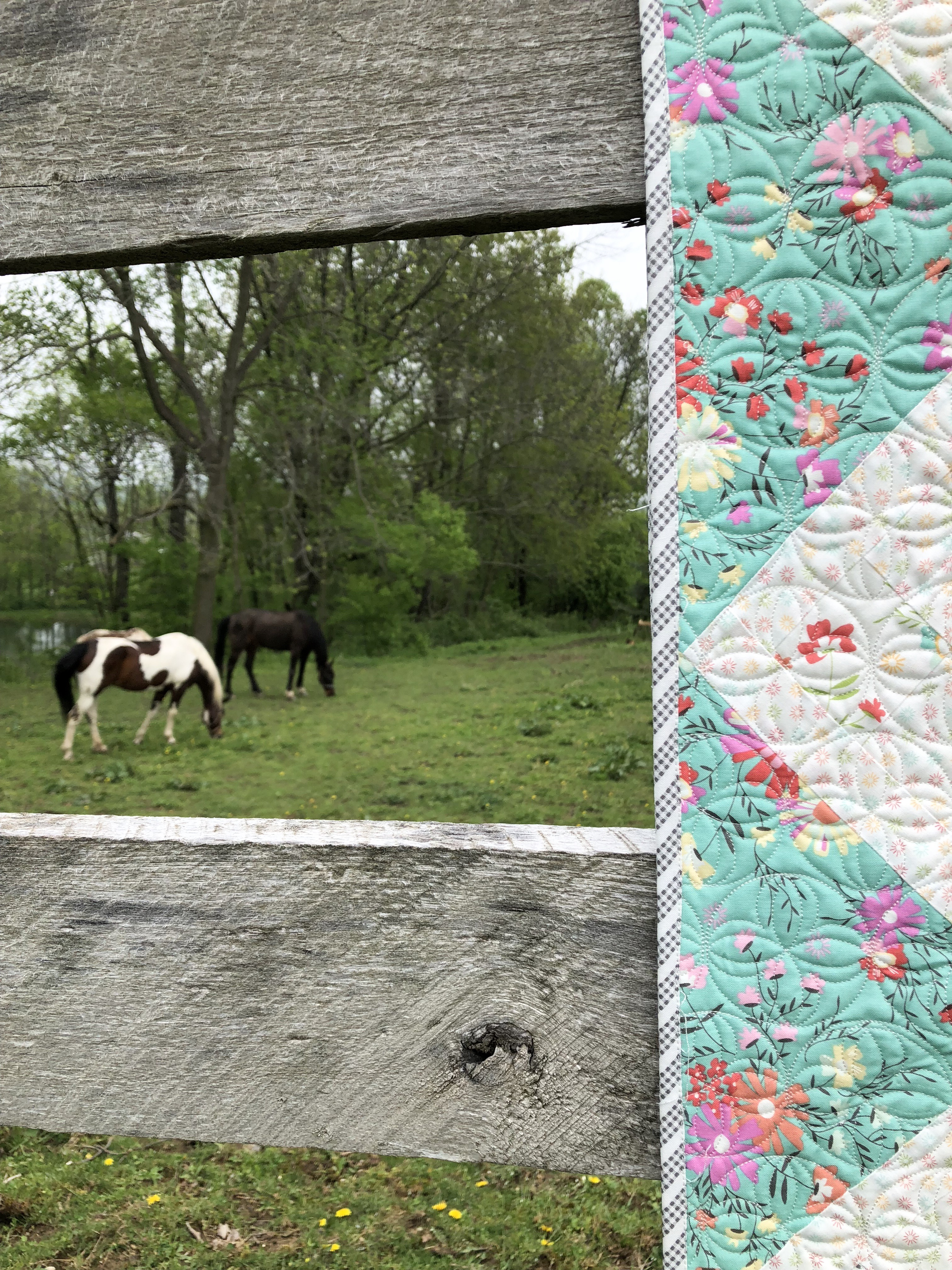 You could easily make this quilt super scrappy by mixing and matching fabric collections.
And those are the quilts for today!  Be sure to stop by on Wednesday for my next Blockheads 2 block.  And on Friday, I'll be sharing more Sunnyside Up quilts.
All of my quilt patterns can be found in my Etsy shop in both Paper & PDF formats.  I have the fabric requirements listed in each quilt listing on Etsy so you can easily see what you might need to make the quilt.
Have a Beautiful Day!